Shaun Deeb Wins $25k PLO High Roller; Sam Sternfield Claims Two SHRPO Titles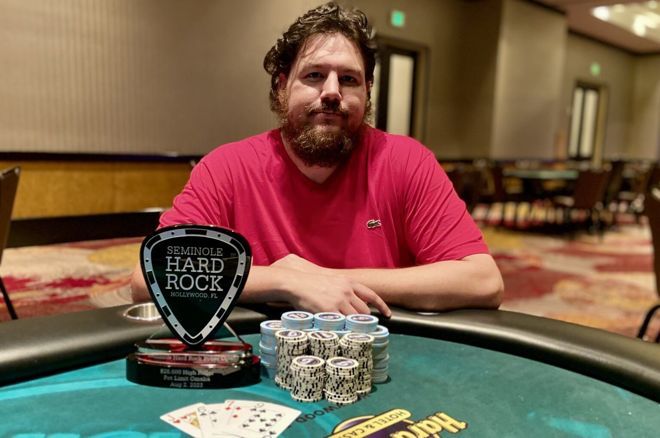 Table Of Contents
Shaun Deeb continued his winning ways at the Seminole Hard Rock Poker Open by taking down the $25,500 buy-in High Roller Pot-Limit Omaha tournament for $239,100. In the same South Florida poker series, Sam Sternfield captured multiple victories in non-hold'em events.
The series began July 26 and with a bang as 6,253 entrants competed in the $400 Deep Stack No-Limit Hold'em tournament, creating a prize pool of $2,063,490. Johnny Bromberg was the last player standing and received a trophy and $219,090, quite the return on investment.
Thus far, the Seminole Hard Rock Hotel & Casino in Hollywood, Florida has seen a number of big name pros, not just Deeb, secure wins. That includes Anthony Zinno and Justin Liberto.
Deeb Gets it Done
It might have seemed like a glorified sit n' go with only 22 players registered, but Deeb got the job done against some of the best players in the world, including Alex Foxen who finished in third place ($97,800).
The trimmed-down Deeb defeated Roger Teska heads-up to win the tournament for $219,090, while the runner-up took home $141,300. Ren Lin was the only other player to cash, and he earned $65,200 for fourth place.
Deeb now has over $12.3 million in live tournament cashes, according to Hendon Mob. He's coming off another strong World Series of Poker (WSOP) performance. Although he didn't win Player of the Year — Ian Matakis did — he finished in second place and won his sixth bracelet, putting him in great position to reach the Poker Hall of Fame when he becomes eligible at age 40 in 2026.
Twice the Fun for Sternfield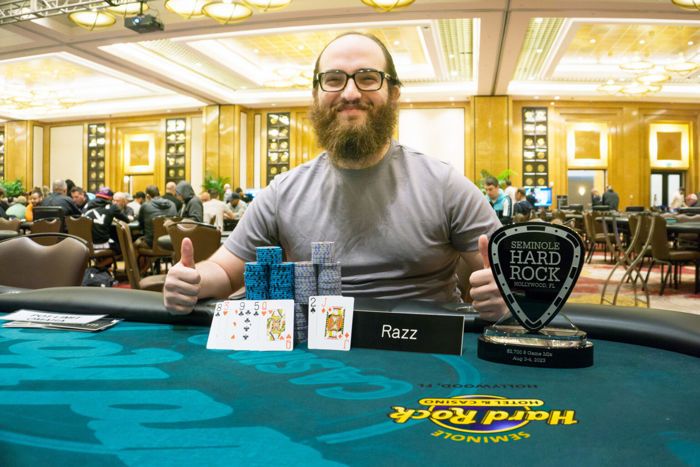 Sternfield might not have the name recognition of Deeb, but he deserves press for crushing it at the Seminole Hard Rock Poker Open. The Florida native did some damage in his home state, winning multiple events within a matter of days.
The first tournament he took down started on July 27 and it was the $600 Deep Stack Six-Max Pot-Limit Omaha. There were 173 players registered, generating a prize pool of $90,825. When all was said and done, the champion received $23,260, his second largest payday ever.
On August 4, he won again in the same series, this time the $2,700 Eight-Game Mix, a 65-entrant field, for $55,745, a career best score. He now has $340,000 in lifetime cashes, and most of the damage has been done in the state in which he resides.
2023 SHRPO Winners Thus Far
| | | | | | | | | | |
| --- | --- | --- | --- | --- | --- | --- | --- | --- | --- |
| *Date | Tournament | Entries | Prize Pool | Winner | Prize* | | | | |
| July 26-31 | Event #1: $400 Deep Stack NLH | 6,253 | $2,063,490 | Johnny Bromberg | $219,090 | | | | |
| 7/26/23 | Event #2: $400 Seniors 50+ | 214 | $71,690 | Dan Van Dyke | $12,192 | | | | |
| 7/26/23 | Event #3: $600 Deep Stack Big O | 145 | $76,125 | David Shmuel | $18,903 | | | | |
| 7/26/23 | Event #4: $200 Quad Stack Double Green Chip Bounty | 243 | $26,730 | Eric Ward | $3,625 | | | | |
| 7/27/23 | Event #5: $600 Limit Omaha 8 | 89 | $46,725 | David Thurston | $14,600 | | | | |
| 7/27/23 | Event #6: $600 Deep Stack Six-Max PLO | 173 | $90,825 | Sam Sternfield | $23,260 | | | | |
| 7/27/27 | Event #7: $200 Big Stack NLH | 340 | $54,400 | Zachary Harrell | $11,300 | | | | |
| 7/28/23 | Event #8: $600 Eight-Game Mix | 100 | $52,500 | Nick Zivolich | $8,020 | | | | |
| 7/28/23 | Event #9: $600 Double Black Chip Bounty Turbo NLH | 85 | $28,050 | Carlos Bermudez | $9,030 | | | | |
| 7/28/23 | Event #10: $600 Black Chip Bounty 5-Card PLO | 158 | $67,150 | Donald Maloney | $15,653 | | | | |
| 7/29/23 | Event #11: $600 Mixed PLO | 139 | $72,975 | Chris Tsiolis | $20,425 | | | | |
| 7/30/23 | Event #12: $400 Deep Stack NLH | 460 | $154,100 | Ethan Bennett | $18,001 | | | | |
| July 30-31 | Event #13: $1,100 Deep Stack NLH | 186 | $180,420 | Jason Min | $38,100 | | | | |
| July 31-August 1 | Event #14: $600 Deep Stack PLO | 429 | $223,060 | Peter Ng | $44,270 | | | | |
| 7/30/23 | Event #15: $300 Quad Stack Black Chip Bounty NLH | 312 | $48,460 | Antuan Bunkley | $8,239 | | | | |
| 7/30/23 | Event #16: $400 Deep Stack Turbo NLH | 81 | $27,540 | Kevin Naim | $8,785 | | | | |
| July 31-August 1 | Event #17: $1,100 Deep Stack Seniors 50+ | 117 | $113,490 | Steven Bennett | $33,010 | | | | |
| July 31-August 2 | Event #18: $200 Big Stack NLH | 1,756 | $280,960 | Jose Ordonez | $33,354 | | | | |
| 7/31/23 | Event #19: $400 Black Chip Bounty NLH | 180 | $42,300 | John Binns | $9,810 | | | | |
| 7/31/23 | Event #20: $600 Deep Stack Turbo PLO | 40 | $21,200 | Christopher Hice | $8,690 | | | | |
| 8/1/23 | Event #21: $1,100 HORSE | 61 | $59,170 | Lawrence Berg | $21,110 | | | | |
| 8/1/23 | Event #22: $600 Deep Stack Six-Max NLH | 169 | $88,725 | Nick Palma | $16,446 | | | | |
| 8/1/23 | Event #23: $10,000 Deep Stack NLH | 84 | $798,000 | Justin Liberto | $257,000 | | | | |
| 8/1/23 | Event #24: $600 Double Black Chip Bounty PLO | 75 | $24,375 | Rafael Lima | $6,825 | | | | |
| 8/1/23 | Event #25: $300 Quad Stack Black Chip Bounty NLH | 171 | $26,505 | Esteban Garcia | $6,540 | | | | |
| 8/1/23 | Event #26: $1,100 Deep Stack Turbo NLH | 67 | $67,000 | Min Zhang | $23,450 | | | | |
| 8/2/23 | Event #27: $1,100 8-Handed PLO | 119 | $115,430 | Anthony Zinno | $25,714 | | | | |
| August 2-3 | Event #28: $1,100 Deep Stack NLH | 251 | $243,470 | Mike Graffeo | $55,285 | | | | |
| 8/2/23 | Event #29: $25,500 High Roller PLO | 22 | $543,400 | Shaun Deeb | $239,100 | | | | |
| 8/2/23 | Event #30: $200 Quad Stack Double Green Chip Bounty NLH | 350 | $38,500 | Diana Prkacin | $5,076 | | | | |
| 8/2/23 | Event #31: $1,100 Purple Chip Bounty Turbo NLH | 124 | $62,000 | Stanley Lee | $17,740 | | | | |
| August 3-4 | Event #32: $2,700 Eight-Game Mix | 65 | $159,250 | Sam Sternfield | $55,745 | | | | |
| August 3-4 | Event #33: $2,200 Deep Stack NLH | 227 | $454,000 | Mike Vanier | $105,570 | | | | |
| 8/3/23 | Event #34: $50,000 Super High Roller | 17 | $824,500 | Brandon Wilson | $362,780 | | | | |
| 8/3/23 | Event #35: $600 Black Chip Bounty NLH | 194 | $82,450 | Tanupat Punjarojanakul | $13,774 | | | | |
| 8/3/23 | Event #36: $1,100 Deep Stack Turbo NLH | 64 | $64,000 | Gil Ben-Simhon | $23,025 | | | | |
| 8/4/23 | Event #39: $300 Black Chip Bounty Turbo NLH | 165 | $38,875 | Chase Carlin | $6,695 | | | | |