From Runner-Up to Champ: Tyler Patterson Claims Largest RGPS Prize to Date in Season Finale ($200,422)
The RunGood Checkpoint Season Finale began with an over-the-top kickoff of its second annual $1,000,000 guaranteed RGPS Main Event, a $2,500 buy-in tournament that attracted 477 entrants and offered up a $1,064,187 prize pool, and concluded with another celebration atmosphere as hometown hero Tyler Patterson ended the event with a comeback victory against Paul Sampson.
With the win, Patterson is now ranked second on the Thunder Valley Casino Resort all-time poker money list, trailing only to Brett Murray. It was a huge moment for Patterson, a World Poker Tour (WPT) champion, as he was the runner-up in this same event back in December, to none other than, you guessed it, the aforementioned Brett Murray-, who also took down the Rendezvous tournament on Monday for around a $28,000 score.
"Yeah, I finally win a tournament here and this motherf****r goes and wins one on the same day," Patterson joked as he and Murray congratulated each other.
RGPS Checkpoint Season Finale Final Table Results
| Place | Player | Prize |
| --- | --- | --- |
| 1 | Tyler Patterson | $200,422 |
| 2 | Paul Sampson | $141,585 |
| 3 | Darren Rabinowitz | $90,315 |
| 4 | Shijia Liu | $63,945 |
| 5 | Kevin O'Donnell | $49,055 |
| 6 | Adam Hannula | $41,025 |
| 7 | Phatseluck Yang | $33,905 |
| 8 | Michael Zimmer | $27,040 |
| 9 | Alexander Rodriguez | $21,505 |
RunGood Poker Series (RGPS) Announces New Theme & Dates for Upcoming Season
Day 3 Action
The day began with 17 remaining contenders, and for a while, it looked as though Sampson was going to continue his hot streak as he claimed his first victim with Anubhav Jolly when he knocked him out in 16th place. He then later knocked out Deven Cannon in 13th when his king-jack trumped Cannon's ace-nine by turning a gutshot straight.
Meanwhile, on the other table, Patterson drew the first blood on the day by knocking out John Kenner by hitting an ace on the river to crack Kenner's tens. Although he started the day with only 26 big blinds, he used this as momentum to get things moving in his direction, but it really wasn't until a crucial pot when he knocked out Adam Dunkle in 11th place that he really started to gain traction.
The Final Table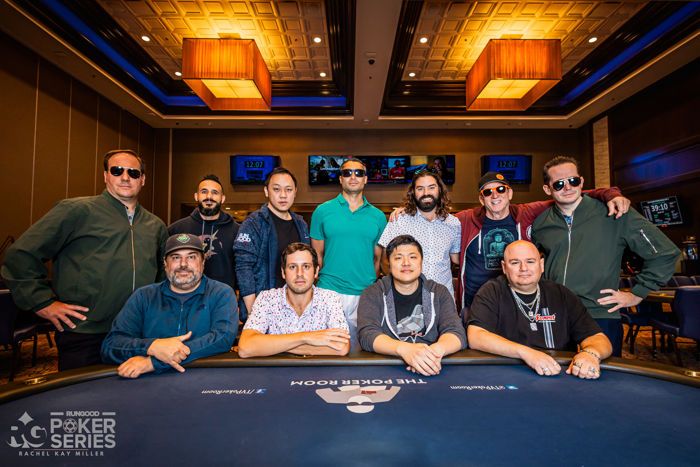 When Kevin O'Donnell knocked out Tongzu Ding in 10th place, Patterson was still in the middle of the pack in fifth while Sampson and Darren Rabinowitz sat atop the counts. First to go at the final table was Alexander Rodriguez who lost several big pots in a row, mostly to Sampson, and then got it all in against Patterson and O'Donnell. O'Donnell ended up making two pair on the turn which left Rodriguez drawing dead without a pair and was sent out in ninth place.
Next came Michael Zimmer in eighth place, who had flown relatively under the radar the entire day until he got his stack in with ace-six against Sampson's superior ace-jack and failed to improve. In seventh came Phatseluck Yang who got it in with pocket sixes but was beaten by Rabinowitz's ace-queen that really catapulted him to a solid standing in the counts. Eliminated in sixth was Adam Hannula who got it in good with ace-queen against Sampson's inferior king-jack, but of course, the latter flopped trip jacks and sent Hannula on his way.
Fifth place was awarded to O'Donnell, who was up and down in the counts all day but finally suffered his fatal blow at the hands of Sampson when he shipped ace-five into his foe's pocket queens and a queen appeared on the flop to knock him out. Next to fall on the last hand before an impromptu break was Shijia Liu in fourth who shipped the last of his chips with jack-four against Patterson's dominating jack-six which Sampson later coined "The Tyler."
"Yeah, it's actually one of my favorite hands, and it felt really good to be able to knock someone out with it," Patterson mentioned later in the match.
Three-handed play between Patterson, Rabinowitz, and Sampson lasted for around 30 minutes before Rabinowitz started to trail behind and finally got it in with ace-king versus Sampson's pocket queens. An ace did appear on the flop, but unfortunately, it was followed by a queen to give Sampson a set and the turn gave him a full house to eliminate Rabinowitz in third.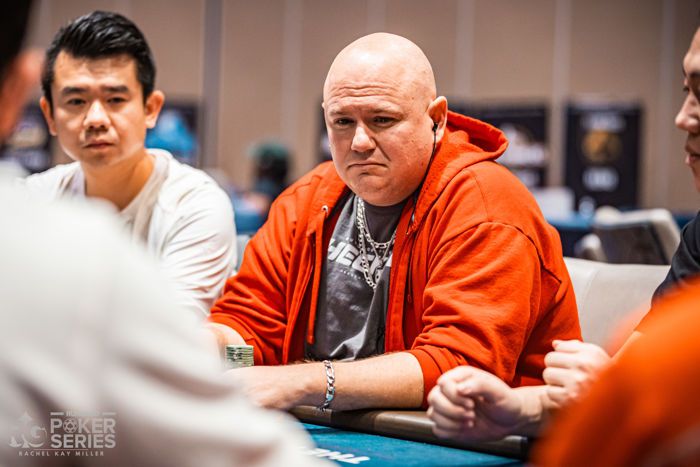 Heads-Up Battle
When heads-up play began, Patterson had a slight lead on Sampson and he slowly began to pull away and almost had him at 2:1 but after winning several medium-sized pots, Sampson was back in the game with the lead. After a while, it was then Patterson who was on the ropes and he dwindled all the way down to almost being a 3:1 dog.
Fortunately for him, he managed to claw his way back by taking down pots in key spots, and really things started going his way when he took a sip on his first RunGood Railbird of the day. After winning a few more big pots, it wasn't long after that Sampson became short-stacked and eventually moved all in with jack-three of diamonds and was snapped off by Patterson's ace-eight of diamonds. An ace came on the flop and the turn paired the board to leave Sampson dead in the water for a second-place finish, crowning Patterson the Checkpoint Champion.
Jagdeep Bal Wins First-Ever The Hendon Mob Mid-Major Championship on USA Soil
Tyler Patterson, a Winner Again
Patterson then went straight to his mom, who had been watching from the rail for several hours, and gave her a giant hug. It was definitely an emotional moment for the hometown favorite.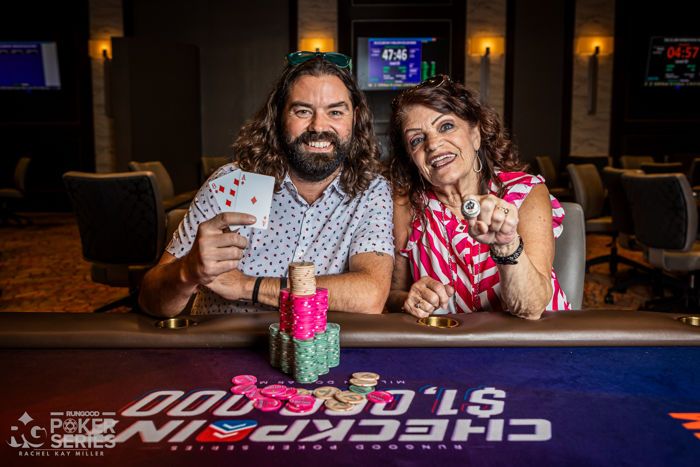 "It was so crazy being back in the same spot as I was back in December, heads-up for the ring, but then it was way more fun and we had made a deal so it wasn't as stressful, but this was completely different," he said. "The biggest thing I was able to do was keep my composure, especially when I was down… I just had to keep reminding myself, this short stack is still 30 big blinds! Once I was able to master that it was game over."
This $200,000 score is his fourth-largest tournament cash (behind a WPT title and a WSOP bracelet), but it is his largest Thunder Valley and RGPS score, which is worth mentioning because he now holds the record for the largest RGPS payout to date. Along with his cash prize, Patterson was also presented with the RGPS ring as well as an entry into the DreamSeat invitational that will also be hosted right here at Thunder Valley this December.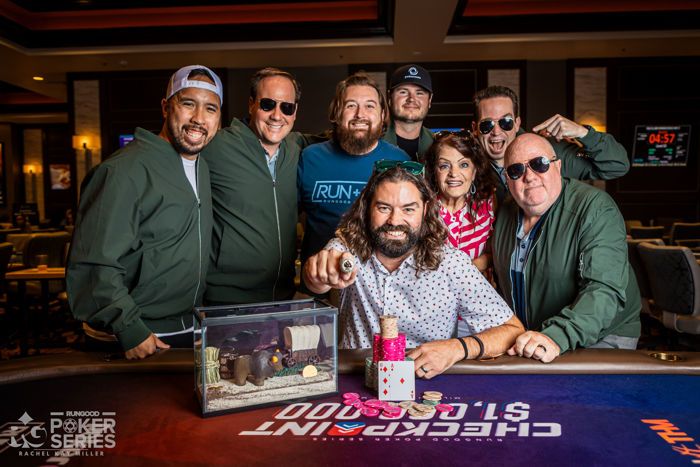 RGPS Thunder Valley Side Event Winners
| Tournament | Entries | Prize Pool | Winner | Prize |
| --- | --- | --- | --- | --- |
| Event #1: $400 Monolith | 1,519 | $516,460 | John Kenner | $68,660 |
| Event #2: $300 Action 8 NLH | 500 | $127,500 | Victor Paredes | $24,685 |
| Event #3: $200 Omaha 8 | 145 | $23,925 | Alan Burgess | $3,654 |
| Event #4: $200 Knockout NLH | 120 | $19,800 | Trevor Brown | $3,157 |
| Event #5: $200 Bankroll Builder | 91 | $15,015 | 14 winners | $1,072 each |
| Event #6: $600 Hendon Mob Mid-Major Championship | 1,605 | $834,600 | Jagdeep Bal | $71,036 |
| Event #7: $300 Knockout NLH | 155 | $39,525 | Jose Esparza | $5,800 |
| Event #8: $200 Freezeout NLH | 141 | $23,265 | Randal Spence | $4,840 |
| Event #9: $150 Ambassador Bomb Pot Bounty | 153 | $17,595 | Brandon Matthews | $3,570 |
| Event #10: $400 Omaha 8 | 93 | $31,620 | Mohammad Dirsiye | $7,570 |
| Event #11: $400 HEROS Mix | 35 | $11,900 | Ed Smith | $4,465 |
| Event #12: $600 Summit Stack NLH | 252 | $131,040 | Rifki Yazid | $19,919 |
| Event #13: $600 Heads-Up NLH | 64 | $33,280 | Brett Hildebrand | $9,985 |
| Event #14: $400 PLO Knockout | 89 | $21,360 | Adriano Wise | $5,225 |
Brett Hildebrand Victorious in Event #13: $600 Heads-Up NLH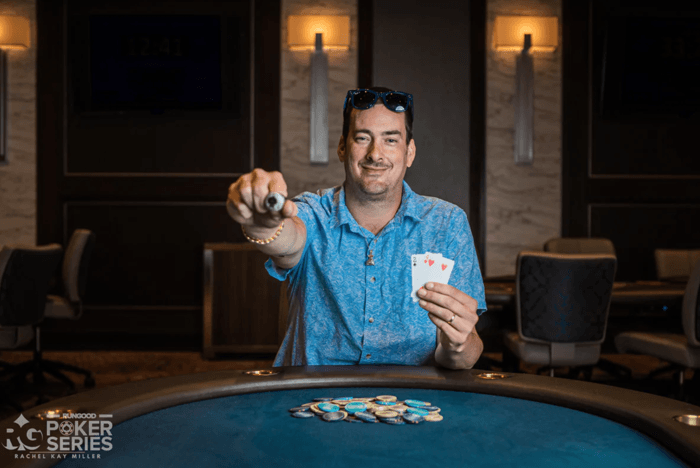 While all eyes have been on the $2,500 buy-in RGPS Million Dollar Main Event, it is just one of more than a dozen tournaments that have been playing out at Thunder Valley Casino.
Another was Event #13: $600 Heads-Up No-Limit Hold'em, which was capped at 64 players and awarded a $33,280 prize pool. Among those to participate were WPT champ Tyler Patterson, noted poker commentator Jeff Platt, and Survivor's "Boston" Rob Mariano.
However, only the "Elite Eight" made the money, and in the end, it came down to Brett Hildebrand taking on Travis Fujisaka for the title. The former ultimately prevailed in the final match to claim the RSPG ring and $9,985 in prize money.
Event #13 Final Results
| Place | Player | Prize |
| --- | --- | --- |
| 1 | Brett Hildebrand | $9,985 |
| 2 | Travis Fujisaka | $6,655 |
| 3 | Justo Avalos Palacios | $3,660 |
| 4 | Joseph Ricard | $3,660 |
| 5 | Scott Foss | $2,330 |
| 6 | Steven Crick | $2,330 |
| 7 | Benjamin Underwood | $2,330 |
| 8 | Tracy Rogers | $2,330 |
Check out the RGPS Hub on PokerNews here!
John Kenner Wins RGPS Thunder Valley Player of the Series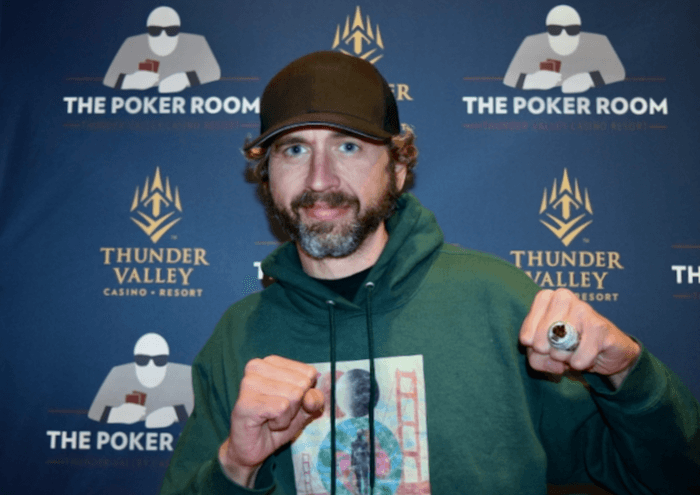 Through the first 14 events on the RGPS Thunder Valley stop, a Player of the Series race was held. Players earned points for cashing in eligible open-field tournaments, and the player with the most points received a complimentary entry into the $2,500 buy-in, $1,000,000 GTD RGPS Million Dollar Main Event.
That player wound up being John Kenner, who finished atop the leaderboard with 166 points. That staved off the likes of Joseph Ricardo, who had 161 points. Below is a look at others to amass big points as tallied by Dan Ross of Hold'em Live Updates.
Player of the Series Leaderboard Top 10 Results
| Place | Player | Points |
| --- | --- | --- |
| 1 | John Kenner | 166 |
| 2 | Joseph Ricardo | 161 |
| 3 | Kulwant Singh | 153 |
| 3 | Victor Paredes | 153 |
| 5 | Shane Miller | 152 |
| 6 | Pedro Rodriguez | 148 |
| 7 | Hieu Le | 129 |
| 7 | Michael Mendonsa | 129 |
| 9 | Brett Hildebrand | 125 |
| 9 | Travis Fujisaka | 125 |