Atlanta Bar Poker Room Raided, 18 Charged with Illegal Gambling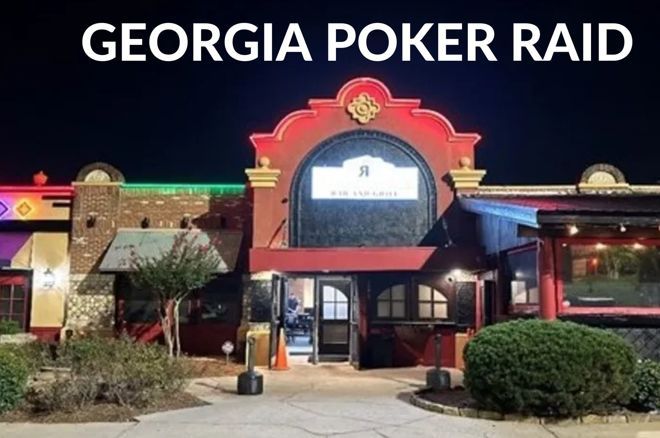 Table Of Contents
Police on Sept. 11 raided a bar near Atlanta at around 5:00 a.m. on suspicion of illegal gambling stemming from a poker game operated by a nonprofit organization played inside the business.
According to the local Fox 5 news channel, authorities issued a search warrant for Royal Flush Bar & Grill in Duluth, Georgia, and arrested 13 customers and five employees from the partner nonprofit organization. During the raid, investigators from the Gwinnett County Police Department's Vice Unit confiscated $50,000 in cash, gambling-related paraphernalia, and other undisclosed evidence.
The employees are being charged with illegal commercial gambling, while the patrons face other gambling charges. Police are still searching for three others connected to the business. According to a legal representative for Royal Flush Bar & Grill, who spoke with PokerNews via telephone, despite local news reports, only one of the three individuals owns the bar.
Strict Poker Laws in Georgia
Georgia, like many southern states, has some of the strictest anti-poker laws in the United States. There are some legal bar poker clubs and a few charity poker clubs across the state. But poker players won't find legal brick-and-mortar card rooms anywhere in the Peach State.
According to the Royal Flush representative, the arrested individuals are "innocent and their names are being dragged through the mud." He is hoping to get in front of a judge soon to clear the matter, although no court date has been set.
Royal Flush operated as a restaurant and bar while leasing out space to a nonprofit organization, which hosted the poker games (mostly low-stakes such as $1/$3 and $2/$5). They worked in such a manner due to Georgia's strict gambling laws, but the state does allow for nonprofits to operate a raffle.
Georgia
Online Poker is forbidden
Online Casino is forbidden
Sports Betting is forbidden
Using the 'Raffle' Model
As the bar's representative explained, Royal Flush rented out space to the nonprofit, and the customers paid $20 per hour as a seat fee, which is similar in some ways to how poker rooms in Texas operate. But one difference is that Royal Flush attempted to run poker rooms on the basis of Georgia Code 16-12-22.1: Raffles operated by nonprofit, tax-exempt organizations.
"It is the intention of the General Assembly that only nonprofit, tax-exempt churches, schools, civic organizations, or related support groups; nonprofit organizations qualified under Section 501(c) of the Internal Revenue Code, as amended; or bona fide nonprofit organizations approved by the sheriff, which are properly licensed pursuant to this Code section shall be allowed to operate raffles," Section A reads.
The legal representative from Royal Flush PokerNews spoke with expressed confidence that the raffle model the bar used to spread poker games is legal and that the employees and customers will be exonerated.
According to Georgia code: "Raffle means any scheme or procedure whereby one or more prizes are distributed by chance among persons who have paid or promised consideration for a chance to win such prize. Such term shall also include door prizes which are awarded to persons attending meetings or activities provided that the cost of admission to such meetings or activities does not exceed the usual cost of similar activities where such prizes are not awarded."
Royal Flush, which first began spreading poker games a few months ago, attempted to operate under the raffle exemption. The thought process was that "you pay for a chance to win money" in a poker game and that poker is a game of skill, not random chance like a slot machine.
Only once has the same business model been tried in the state, and it didn't end well for Little Kings and Queens charity after felony charges were slapped on the operator for keeping a gambling place in June 2022. The Royal Flush representative, however, said that operation was mismanaged and rules weren't followed. Things were run differently at Royal Flush and within the law, the representative said.
The raid at Royal Flush Bar & Grill took place early in the morning and authorities arrived with guns drawn, which sent staffers into a panic. No court date has been set, but the representative said he's hoping those arrested, all of whom were bonded out by the bar, will never face a trial once he gets in front of a judge and is able to explain the legality of the business model in further detail.
Those who were arrested in the raid are "scared and concerned" as they face some potential legal issues going forward. Royal Flush Bar & Grill is no longer in operation as the majority of the revenue came from the poker space rental.