Doyle's Room Online Poker Site History: Brunson's $235 Million Offer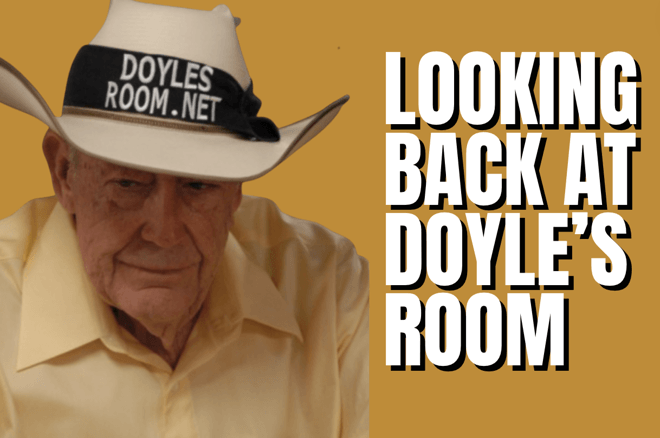 Table Of Contents
Once upon a time, poker players from all over the world flocked to the now defunct Doyle's Room for some juicy cash games and tournaments.
While the site never reached PokerStars or Full Tilt Poker levels in terms of popularity and traffic, it did have an audience and a sizable player base during the poker boom era. The internet poker platform named after Doyle Brunson launched in 2004 and was among the April 15, 2011 "Black Friday" casualties.
As we celebrate the first-ever "Doyle Brunson Day" on 10/2 to honor the late poker legend, we look back at the interesting history of the somewhat forgotten old-school poker site, and how Brunson left over $200 million on the table from a missed opportunity.
The Early Days of Doyle's Room Poker Site
In 2004, the Tribeca Poker Network (TPN) launched Doyle's Room, hoping to gain immediate notoriety off Brunson's name. "Texas Dolly" is a two-time world champion and had won nine World Series of Poker (WSOP) bracelets at the time (he'd finish his career with 10). His name was synonymous with poker as much as Michael Jordan is with basketball.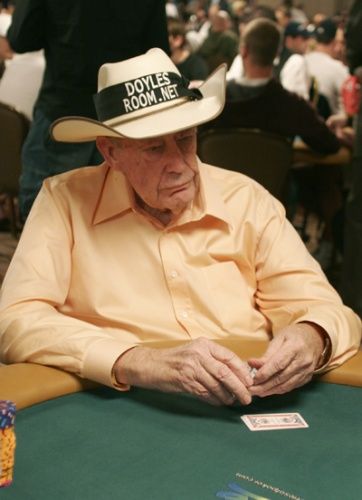 At the time, online poker was booming but still in its infancy. Sites such as PokerStars and PartyPoker had a stranglehold on much of the market. But numerous secondary sites were beginning to pop up and would claim a chunk of the market share.
Doyle's Room was always one of those secondary poker sites — never a true competitor to PokerStars and the other big dogs in the industry. But popular enough in an era where demand was so high that even the second-tier poker sites could thrive.
Brunson's poker platform was originally licensed out of Curaçao, Netherlands Antilles. In 2007, TPN moved Doyle's Room to Microgaming Poker Network (MGM), which then moved it to Cake Poker Network (CPN) in 2009, which then moved it to Yahtay Network in January 2011.
Brunson, who didn't handle the day-to-day operations of Doyle's Room and was mostly a figurehead, brought on some prominent members of the poker community to promote his site, including his son Todd Brunson, who would later go on to, like his father, reach the Poker Hall of Fame in 2016. Hoyt Corkins, Mike Caro, and Cyndy Violette were also among the Doyle's Room ambassadors.
Black Friday Scandal
April 15, 2011 (aka "Black Friday"): The day poker forever changed (for the worse). Online poker players all around the United States woke up that morning to discover the U.S. Department of Justice (DOJ) had seized all of the top poker sites (Full Tilt, PokerStars, Ultimate Bet/Absolute Poker) in relation to illegal gambling.
Players were locked out of their online poker accounts and could no longer play on those sites. On May 26, 2011, the DOJ seized Doyle's Room as part of the online poker crackdown in the US. Brunson, wanting nothing to do with a sinking ship, severed ties with his namesake poker site in 2011.
Americas Cardroom (now ACRPoker), an unlicensed US-facing poker site that is part of the Winning Poker Network (WPN), then acquired the site in October 2011. Following the transition, ACR honored outstanding Doyle's Room player account balances and offered online poker games to American players. But the acquisition mostly just resulted in the growth of ACR. Doyle's Room's days were over.
Doyle's $235 Million Missed Opportunity
Brunson made millions of dollars playing poker during his 50-year career, and he also made plenty of money via sponsorships and from putting his face on the Doyle's Room brand.
The "Godfather of Poker" didn't make many mistakes in poker, but there is one mistake he wished he could have gotten back. In a May 2020 tweet, Doyle shared a story about how he turned down a $235 million offer for Doyle's Room prior to Black Friday.
https://twitter.com/TexDolly/status/1261001106739478528
"I thought it was going to be worth twice that and it would have been," Brunson wrote in reference to the offer he declined.
Brunson never said which company or individual made the nine-figure offer for his poker site. He didn't anticipate a Black Friday scandal would pop up to destroy the online poker industry in the United States. But he sure would have been even wealthier had he accepted the deal, and the investor he sold it to would have ended up losing big time.
Remember the Doyle Brunson Beer Pong Invitational here!