F1 Day 2: Q&A With Racing Superstar, PokerStars In the Red Bull VIP Suite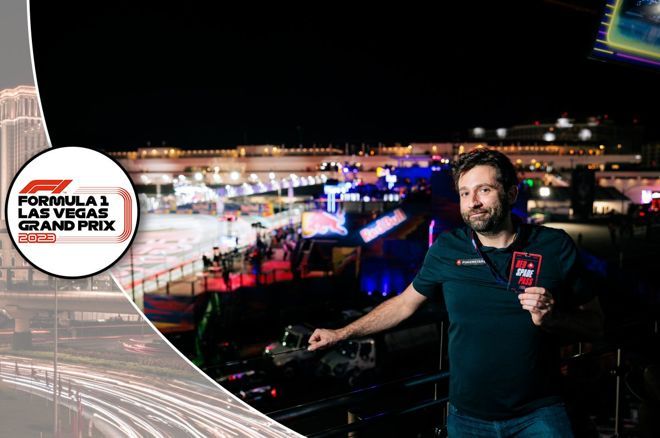 Table Of Contents
While the F1 Las Vegas Grand Prix got off to a bumpy start with the first two practice races, things were fully back on track by Friday evening's FP3 and a captivating Qualifying Race that produced several notable upsets.
Up in the Red Bull VIP Hospitality suite, several members of the PokerStars team enjoyed a complimentary full bar, fine dining and an epic view of the track looping around the iconic Las Vegas Strip.
Read About The First Night Of F1 Las Vegas!
Q&A With a Racing Superstar
Before hitting the race track, Oracle Red Bull racer and Formula 1 superstar Max Verstappen was kind enough to sit down for a Q&A session with a few poker media members and the PokerStars crew.
https://twitter.com/Stapes/status/1725718673237983481?ref_src=twsrc%5Egoogle%7Ctwcamp%5Eserp%7Ctwgr%5Etweet
PokerNews was in attendance and asked the three-time world champion if he was looking ahead to the 2024 season with the current season already locked up.
"Personally, no, I always look at the next race (to see) how I can make sure I can win," Verstappen told PokerNews. "The team is already working on the car for next season for the dynamics and all that, so it's going to be exciting come next season."
PokerNews also asked about some fan concerns about the racing track, specifically with the pit exit being in the middle of Turn 2. "Yes, the pit exit is in the racing line; it would be the natural racing line of that corner, but I don't think it will be an issue during the race."
Check Out This Poker Player's F1 Villa!
PokerNews Employee Bests High-Stakes Pro
Friday's pre-race festivities also included a second PokerStars Charity event benefiting Wings for Life. A handful of PokerStars ambassadors who got in on the action, including beloved commentators Joe Stapleton and James Hartigan. Maureen Bloechlinger, an NAPT Las Vegas Platinum Pass winner, was also in the mix at Resorts World Las Vegas.
https://twitter.com/J_Hartigan/status/1725638789828358344
As the event got down to the wire, it was PokerNews' own Brad Whitehouse who found himself heads-up against high-stakes titan Sergio Aido, who just last week finished fifth in the NAPT Main Event for $71,080.
The PokerNews Social Media Manager wasn't afraid to take on the number-two player on Spain's all-time money list. In fact, he entered heads-up play with a chip lead that he earned from busting Aido twice earlier in the tournament.
A brief heads-up battle came to a close as Whitehouse open-jammed with jack-four, the "Robbi," and out-flopped Aido's ace-queen to win the coveted PokerStars Spade and even more coveted VIP tickets to the Red Bull Suite up top for the winner.
https://twitter.com/PokerNews/status/1725982180277473332
Whitehouse is usually the one conducting the winner's interview, but he got to be on the other side of things on Friday evening.
"It's always amazing to see the excitement of a player winning, so to be the one winning for once feels great," he told PokerNews.
The Birmingham, United Kingdom native said he enjoyed getting a chance to battle with an accomplished pro like Aido and couldn't wait to attend to check out the Red Bull VIP Hospitality suite.
"I'm a huge F1 fan! I've been to a few races across Europe, so to be on the Vegas Strip for its comeback is a dream come true," he said.
Qualifying Race In the Red Bull Suite
Thanks to Whitehouse's charity event prowess, a few members of the PokerNews team were able to enjoy the night's practice and qualifying race from the luxury of the Red Bull suite.
Inside the third-floor suite overlooking a turn of the F1 track, PokerStars personalities mingled over cocktails and gourmet meals that included prime rib and pasta alla vodka with jumbo prawns. Next Gen Poker's Jack and Rosey shared laughs as Hartigan requested the floor to announce a special PokerStars giveaway for those in attendance, while others lined up for the racing simulator at the front of the room.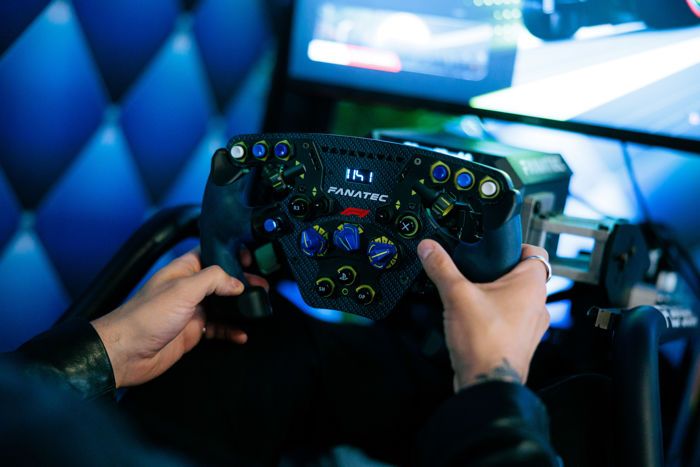 After the noisy and electrifying FP3, Oracle Red Bull Racing team principal and CEO Christian Horner made a suite appearance as he was greeted with a belated birthday celebration.
"It's nice they are holding this race for me!" Horner joked amid a chorus of "happy birthdays."
Horner also reflected on the team's "insane" year that included victories in 19 out of 20 races.
"It's been a fairytale year for us," he said. "Max has been on another planet; 'Checo' (Sergio Perez) started the year really strongly and is starting to rediscover some of that form again. So yeah, it's just been a nice, incredible year."
The evening culminated with the Qualifying Race that kicked off at midnight and saw Ferrari's Charles Leclerc winding up in pole position ahead of Saturday's main attraction.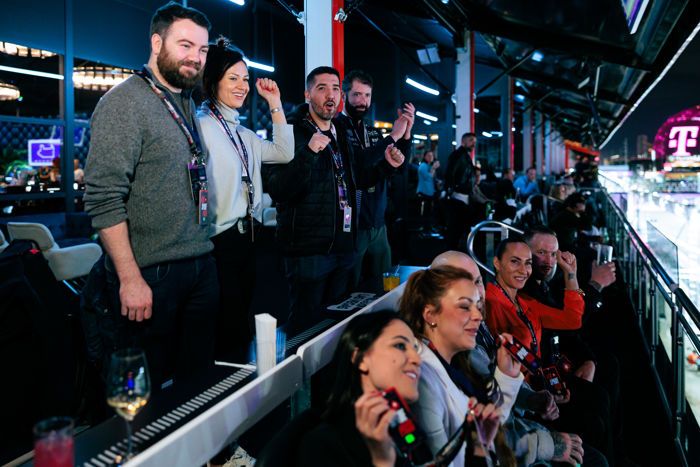 PokerNews will be back on-site tonight as the long-awaited Las Vegas Grand Prix reaches a climax, so be sure to stick around for more coverage.
*Photos courtesy of Danny Maxwell via PokerStars