Louis Ganser Wins First RGPS Ring For $102,225 in Cleveland Main Event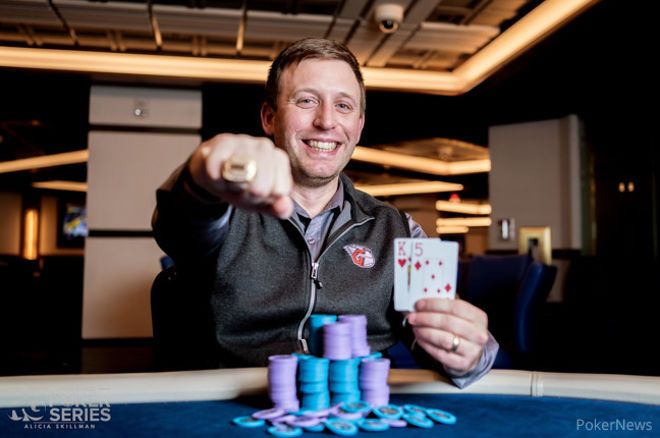 Table Of Contents
The RunGood Poker Series Road Trip has made its home this week in Cleveland, Ohio, at JACK Casino. A total of nine events were over the course of the trip here, with the biggest buy-in being the $1,000 buy-in RGPS Main Event, which saw three flights over the course of three days. A total of 590 players came out to smash the guarantee and create a prize pool of $508,580. The start of the day only saw 78 players guaranteed a cash, and from that starting field, players were whittled down over the course of 12 hours until there was just one standing.
At the end of it all, Louis Ganser ended as the newly crowned champion as well as the recipient of a career-best score of $102,225. After beating Jamie Teel heads up, he immediately called his wife to tell her the good news. "I'm just feeling a lot of gratitude," Ganser said with a wide smile across his face, "There were a lot of great players in the field, and I just wanted to thank everyone who believed in me. My friends, my wife, and my two kids."
Coming into the day with a stack just outside of the Top 20 players at the beginning of the day, Ganser found himself as one of the shortest stacks with three tables left. "We all know it's a never-stop-believing kind of game. You're up, you're down; just being mindful of every moment and making every chip count is extremely important."
The massive poker fan found himself at the final table, and despite starting as one of the shortest stacks, he doubled up in multiple big hands as the final table progressed and found himself five-handed with the chip lead. From that point forward, he would continue to extend his lead until the final hand, where he turned two pair against top pair and locked up the title.
Ganser's live earnings prior to this event were $14,533, with the biggest live cash he had being a deep run at the 2023 WSOP Colossus. With this massive score, he has nearly multiplied his live earnings by seven, and just in time for a trip he is going on with his family to Disney World. "I've been following the series on Twitter. It's definitely a hobby, it has been for a long time, and it will always be that way," Ganser said in regards to his professional life outside of poker. The Cleveland native exited the area as he left the tournament area with a new piece of RunGood Poker Series hardware.
Final Table Results
| Place | Player | Hometown | Prize |
| --- | --- | --- | --- |
| 1 | Louis Ganser | Cleveland, OH | $102,225 |
| 2 | Jamie Teel | Elyria, OH | $62,700 |
| 3 | Gregory Harris | Painesville, OH | $45,690 |
| 4 | William Kopp | Breckville, OH | $34,025 |
| 5 | Daniel "Donk" Hughes | Tulsa, OK | $25,760 |
| 6 | Shawn Nottingham | Canton, OH | $19,440 |
| 7 | Shane Pierce | Willoughby, OH | $15,065 |
| 8 | Blake Napierala | Amherst, NY | $11,665 |
| 9 | Chase Hounshell | Cleveland, OH | $9,235 |
Final Day Action
As the day began, legends fell. Nicholas Rigby (58th-$1,845) got his queens cracked early in the day by WSOP Main Event champion Greg Raymer (31st-$2,330). Katie Kopp (54th-$1,940), Ian Richardson (37th-$2,090), David Worden (18th-$4,860), and Adam Foster (12th-$7,290) all occupied the lists of players who fell throughout the day.
The final elimination before the final table saw Daniel "DJ" Swartz (10th-$7,290) get in his final chips against Daniel "Donk" Hughes with ten-nine suited, while Hughes held queen-jack suited. Despite turning a flush draw and gutshot straight draw, Swartz did not improve and he became the final player to exit before the final table, collecting $7,290 for his tenth-place finish.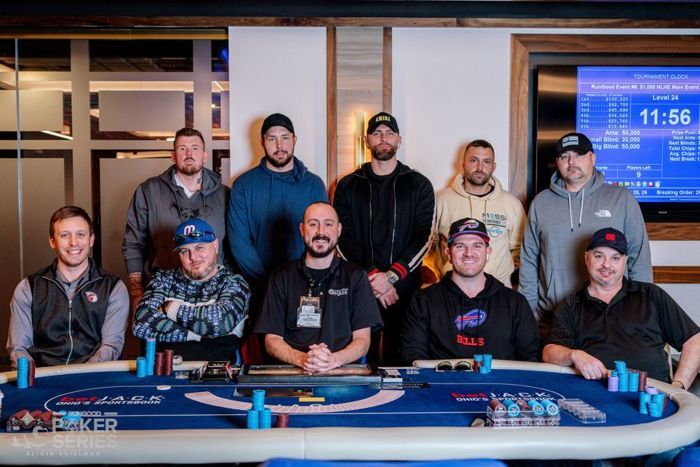 Final Table Action
The final table began quite interestingly when Shawn Nottingham began raising blind and pulling away from the rest of the pack into a comfortable chip lead. That started when Nottingham straddled to three times what the big blind was and Chase Hounshell moved all in for more with queen-ten. Nottingham looked at the hand he straddled, which was five-two, and he put in the remaining chips to call. With a five and a two on the flop, Hounshell's hand was soon cracked, and he exited the tournament in ninth place, collecting $9,235 for his ninth-place finish.
Nottingham's aggression continued as he moved all in with queen-two suited from the small blind in against Blake Napierala, who called holding pocket nines. The flop gave the queen two a wheel draw, but instead, it was running three of a kind for Nottingham as he took a commanding chip lead while Napierala exited in eighth place, which was good for $11,665.
Nottingham seemed unstoppable as he held close to half of the chips in play with seven left. His momentum was halted when he moved all in with ace-king only for Hughes to call with queens and double into the chip lead. The next big clash would see Jamie Teel raise with ace-eight offsuit and Shane Pierce moved all in for his last chips with ace-king which Teel called. An eight on the flop would put Teel in striking distance of Hughes while Pierce ended his run in seventh place for $15,065.
Nottingham would be the next player whose journey ended as he left in sixth place. He had moved all in over a raise from Louis Ganser, who snap-called holding pocket jacks. Nottingham had been caught as he turned over seven-two offsuit and was drawing dead on the turn to leave himself with very few chips. The next hand, he moved all in with nine-three offsuit, and Teel looked him up with ace-ten and held up to see the former baseball player collect $19,440 for his efforts.
Hughes and Ganser became the two big stacks entangled in battle multiple times. Ganser overtook the chip lead when Hughes three-bet and then jammed over Ganser's four-bet when Ganser held pocket aces, and Hughes held ace-four suited. Despite flopping a flush draw, Ganser's aces held up and became the biggest stack. Hughes would double up Gregory Harris a few hands later before clashing once more with Ganser when Hughes called Ganser's three-bet to queen-ten. The flop came four-high, and Hughes moved all in, and Ganser quickly called with pocket jacks and held to give him over 50% of the chips in play, while the RGPS ring winner finished in fifth place for $25,760.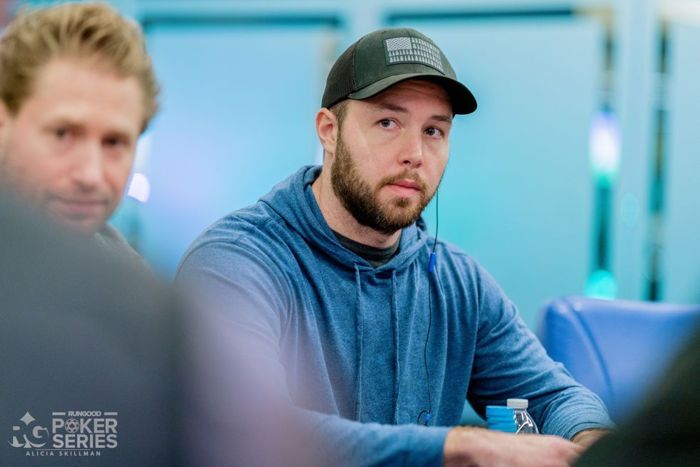 WSOP bracelet winner William Kopp was on the shortest stack for the majority of the final table but was able to ladder up amidst the chaos surrounding him. Despite all of this, he would end his run when he jammed in the small blind with ace-ten against Teel, who had called on the button held ace-king. No ten would appear on the runout, and Kopp walked out with his supportive rail of family and friends.
Three-handed saw Teel and Ganser holding most of the chips, with Harris on the shortest stack. Ganser moved all in from the small blind holding ten-nine off with the covering stack into Harris, who held king-queen off. Though Harris would turn a pair of queens, the river ten would be enough to sink his chances as Ganser made two pair. Ganser took the lead going into heads up, while Harris collected $45,690 for his third-place finish.
Heads up saw big pots as Teel pulled close to even at a point, but Ganser never lost the lead. The final hand saw Ganser call Teel's four-bet jam on the turn for the tournament. Teel held top pair, and Ganser held middle two, and a blank river saw no change in dynamics to give Ganser the title and Teel a career-best score of $62,700 for his second-place finish.