Poker Vlogger Eric Tsai Leads the Final Table of the WSOP Europe Main Event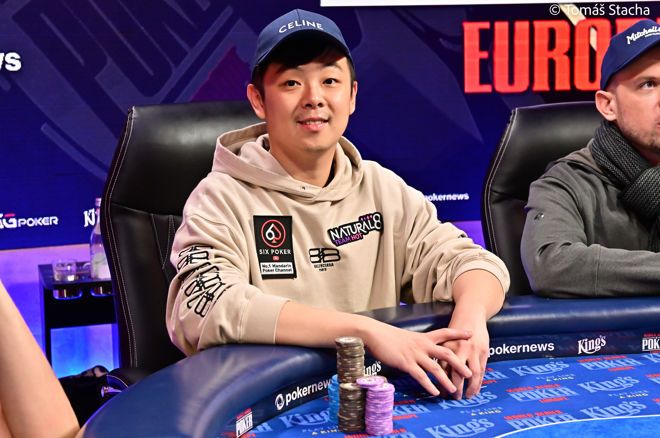 Table Of Contents
Eric Tsai has been followed around all week by a cameraman documenting his run at the 2023 World Series of Poker Europe. He put on a cinematic masterpiece that saw the Taiwanese poker ambassador take the chip lead into the final table of the WSOP Europe Main Event.
Tsai was on the right side of a flurry of eliminations, including the last one of the night when he busted Yulian Bogdanov in ninth place, to end up with 23,650,000 and in pole position to bring the Main Event gold bracelet back to Asia.
WSOP Europe €10,350 Main Event Live Updates
Flying the Flag for Taiwan
A number of Asian-born poker players have won WSOP Main Events in the past, but they had all settled in the United States long before achieving poker stardom. Tsai would be the first Asian-based poker player to capture a Main Event title. The popular content creator, with more than 125,000 subscribers to his SixPoker YouTube channel, recognizes what a win would mean for the poker community back home.
"In the past, poker in Asia, it's not so popular. Maybe 20 or 30 percent know about Texas Hold'em," he said after bagging up his chips. "But during COVID, poker is blooming now. Not just in Taiwan but also in Malaysia, Hong Kong, Singapore, Japan, and Korea. It's unbelievable. So, I think if I can get a good result, even win the bracelet. I think it's a very important milestone for Asia's poker."
In order to get there, Tsai has to overcome a talented group of seven opponents challenging him at the final table for the bracelet and €1,500,000 top prize. Kasparas Klezys, in second place with 13,950,000, already has five cashes at the WSOP Europe, including a third-place finish in the €5K Pot-Limit Omaha event. The Lithuanian pro is looking for his first bracelet, but he does have two WSOP Circuit rings and finished second in a WSOP Online event last year.
Final Table Seat Draw
| Seat | Player | Country | Chip Count | Big Blinds |
| --- | --- | --- | --- | --- |
| 1 | Michele Tocci | Italy | 6,525,000 | 26 |
| 2 | Michael Rocco | United States | 8,000,000 | 32 |
| 3 | Eric Tsai | Taiwan | 23,650,000 | 95 |
| 4 | Nils Pudel | Germany | 9,875,000 | 40 |
| 5 | Kasparas Klezys | Lithuania | 13,950,000 | 56 |
| 6 | Max Neugebauer | Austria | 10,325,000 | 41 |
| 7 | Ruslan Volkov | Ukraine | 6,000,000 | 24 |
| 8 | Alf Martinsson | Sweden | 3,150,000 | 13 |
Max Neugebauer (10,325,000) and Nils Pudel (9,875,000) are also in the top half of the leaderboard. Then there is Michael Rocco, the most accomplished player remaining at the final table with more than $4.3 million in live earnings. Rocco finished second to Daniel Dvoress in the GGMillion$ earlier this series and has four WSOP final tables on his resume, but he'll still be looking for his first bracelet when he returns with 8,000,000.
Rocco credits his recent success, including four six-figure cashes since the start of 2022, to a newfound focus on his health and fitness. He skipped the WSOP in Las Vegas this summer, enjoying the freedom of playing only when he wants and practicing meditation during the breaks to get in the proper mindset to survive the grind of long tournament days.
"I would say only playing when I want to play and working on myself the other time that I'm not playing," he said. "I'm grateful to be here. Been running well. Happy to be playing."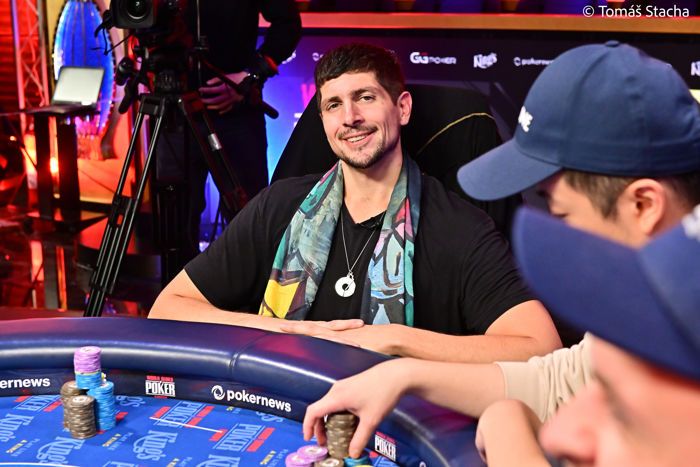 The rest of the final table is rounded out by Michele Tocci (6,525,000), Ruslan Volkov (6,000,000), and the unknown at the table, Alf Martinsson of Sweden, who has only one recorded live cash for $1,840 and is the short stack with 3,150,000.
Day 4 Action
Day 4 began with 35 players remaining out of a record-breaking field of 817. Aaron Duczak, the seventh-place finisher from the 2022 WSOP Main Event, and Uruguayan high roller Francisco Benitez were the first to be sent home on the day. Jacob Amsellem began the day third in chips but lost an early big pot to Andrea Radicchi when Radicchi flopped two pair to crack Amsellem's kings.
Davidi Kitai also hit the rail early when he shoved the river with kings but Volkov snap-called with a rivered flush to eliminate the three-time bracelet winner in 33rd place. Andrej Desset then got all his chips in the middle as part of a three-way all in against Darius Samual and Jonathan Pastore. All three players showed the same hand, ace-king, and were headed toward a chop until Desset hit a miracle flush on the river to triple up.
Pastore, runner-up to Omar Eljach last year, was eliminated the next hand. Amsellem's stunning collapse was then completed when he shoved for 1,100,000 with ace-nine and Radicchi picked him off with ace-king, becoming the first player to climb past 10,000,000.
Hyunsup Kim called off his last 300,000 with a pair of aces but Klezys had a higher kicker; Tamas Adamszki was eliminated at the same time at another table, bringing the field down to the last three tables.
Armin Rezaei, the only remaining player from last year's final table, shoved with king-queen and was called by Vito Vella with ace-jack. Rezaei couldn't improve and was eliminated in 22nd place, as was Borys Rozhanovskyi (23rd). Serkan Kuru then picked up kings and was all in for 1,300,000 against Klezys' deuces. The board, though, brought four hearts and Klezys held the deuce of hearts to crush Kuru's Main Event hopes and eliminate him in 21st place.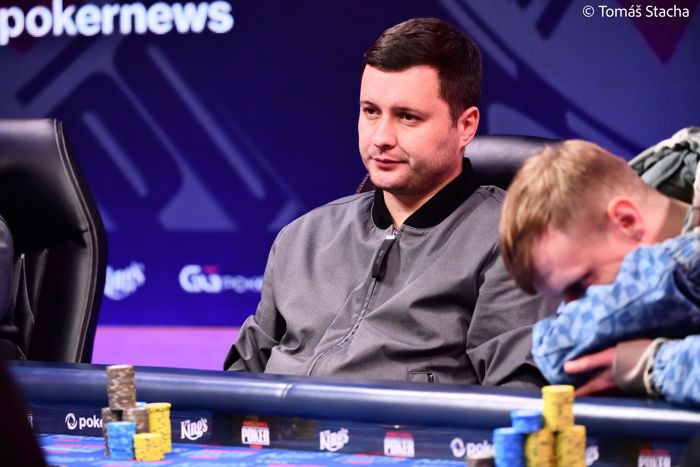 Dario Sammartino, trying to make his third WSOP Main Event final table and second in Europe just since 2019, flopped a set to eliminate Timo Kamphues in 20th place, followed soon after by Ion Tabacaru (19th).
Levan Rcheulishvili, the chip leader back on Day 1b, looked to reduce the field by one more as he woke up with aces after Vella shoved for 1,410,000 with two queens. The board was safe for Rcheulishvili through the turn and he was poised for the knockout, but the cruel river brought a queen and Vella spiked his two-outer to stay alive.
Rcheulishvili was visibly devastated by that beat, burying his face in his hands and shaking his head well after the hand was over. He was eliminated shortly after in 18th place before Eusebiu Jalba fell in 17th and the remaining players drew for seats at the last two tables.
Radicchi, who built up a big chip lead early in the day, began his downfall when he bluff-shoved the river with a missed straight draw and Pudel snap-called for 1,800,000 with the nut flush. Desset finally fell in 16th, then Lachezar Petkov was eliminated in 15th when he called Rocco's river shove for 2,640,000 with a pair of aces but Rocco showed a set of sixes.
Tsai then began his run, eliminating Sammartino in 14th and picking up kings to bust Vella in 13th. Andrej Cintula shoved with a flush draw on the flop, but Rocco already had a king-high flush and held on through the turn and river as Cintula was eliminated in 12th.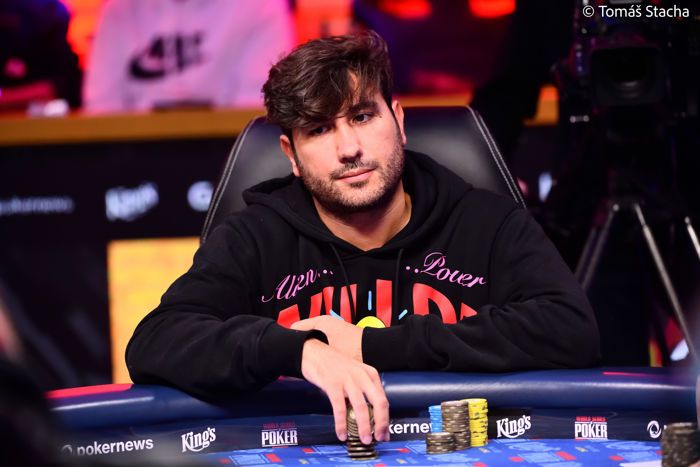 After Giuseppe Mazza-Boussemart departed in 11th, the field settled into a stalemate as the remaining ten players tried to avoid finishing on the final table bubble. Big pots were few and far between for the better part of an entire level until Tocci looked like he was going to be the one to fall short. He moved all in for 1,290,000 and was called by both Radicchi and Neugebauer. Neugebauer bet the flop to force out Radicchi and showed two queens, beating the two nines of Tocci until the turn brought the two-outer to give Tocci a triple up.
Radicchi then raised to 320,000 on the button and Neugebauer defended his big blind. The flop came jack-high, and Radicchi continued for 440,000. Neugebauer called, then called another bet of 480,000 on the turn queen. Radicchi shoved the river for 1,650,000 and Neugebauer tanked for several minutes until calling. Radicchi knew he was beaten and flipped over a king-high bluff as Neugebauer slammed down a pair of jacks to win the pot and set the nine-handed final table.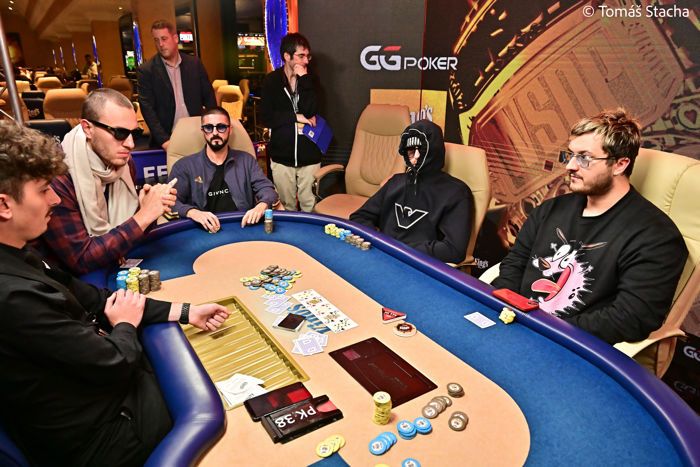 Bogdanov, who began the day as chip leader, was still amongst the leaders at the final table until two tough beats. In the first, Pudel was all in with ace-queen and Bogdanov had him at risk with ace-king. A queen fell on the flop and Pudel doubled up to leave Bogdanov a short stack. Bogdanov was then all in for 1,800,000 with ace-queen against Tsai's king-jack, and Tsai spiked a king on the flop to send Bogdanov out as the first casualty of the final table.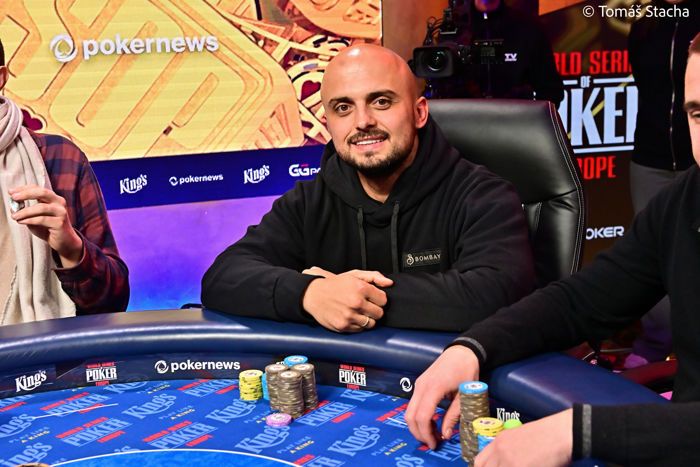 The remaining eight players return at 2 p.m. local time on Wednesday, November 15 to play down to a champion. The action picks up on Level 30 with blinds of 125,000-250,000 and a 250,000 big blind ante. The final table will be streamed on an hour-long delay on the King's Resort official YouTube channel, with PokerNews' coverage beginning at 3 p.m.
Eight players have a date with destiny. They've already locked up €148,000, but only one will be able to forever call themselves a WSOP Main Event champion. It's a short and illustrious list, an accomplishment that can make a poker career. It will have one more name, and PokerNews will be along as the WSOP record books are rewritten here in Rozvadov.
Poker Villain Martin Kabrhel Cracks Kings Twice to Beat Johan "YoH ViraL" Guilbert in $294,920 Pot
2023 WSOP Europe Winners
| Event | Entries | Winner | Prize |
| --- | --- | --- | --- |
| Event #1: €350 NLH Opener | 3,503 | Lukas Pazma | €110,000 |
| Event #2: €550 Pot Limit Omaha 8-max | 719 | Omar Eljach | €65,900 |
| Event #3: €1,350 Mini Main Event | 1,729 | Sokratis Linaras | €310,350 |
| Event #4: €2,000 Pot Limit Omaha | 206 | Hokyiu Lee | €91,183 |
| Event #5: €550 NLH Colossus | 3,436 | Ermanno Di Nicola | €200,000 |
| Event #6: €5,000 Pot Limit Omaha | 202 | Wing Po Liu | €230,000 |
| Event #7: €1,650 NLH 6-Max | 495 | Tobias Peters | €143,100 |
| Event #8: €25,000 NLH GGMillion€ | 89 | Daniel Dvoress | €600,000 |
| Event #9: €1,100 NLH Mystery Bounty | 803 | Tobias Garp | €92,300 |
| Event #10: €2,000 8-Game Mix | 97 | Dainius Antanaitis | €47,770 |
| Event #11: €1,100 NLH Turbo Bounty Hunter | 570 | Joakim Andersson | €70,000 |
| Event #12: €50,000 NLH Diamond High Roller | 37 | Santhosh Suvarna | €650,000 |
| Event #14: €1,000 No-Limit Hold'em Turbo Freezeout | 182 | Bernd Gleissner | €46,700 |
| Event #15: €550 NLH Closer | 628 | Maurice Nass | €60,000 |
Calum has been a part of the PokerNews team since September 2021 after working in the UK energy sector. He played his first hand of poker in 2017 and immediately fell in love with the game. Calum's proudest poker achievement is winning the only tournament he has ever played in Las Vegas, the prestigious $60 Flamingo evening event.