PokerStars Announces Official Partnership With Philadelphia 76ers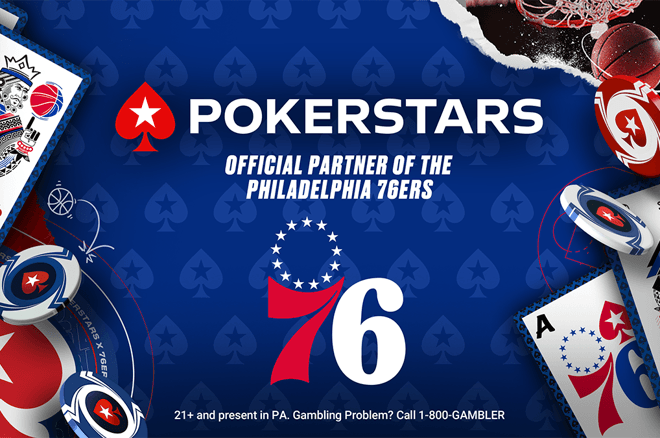 PokerStars has become the newest official partner of the NBA's Philadelphia 76ers, in a one-year deal promising to bolster the online poker giant's offering for players in the Philadelphia region and North America.
The partnership will bring PokerStars players closer to the action in Pennsylvania with monthly freerolls and chances to win merchandise and tickets to 76ers games.
The timing of the partnership coincides with a 2023-2024 season in which the 76ers will be among the top contenders in the Eastern Conference. Fans will also see a PokerStars presence with in-game experiences at Wells Fargo Center in Philadelphia, where the 76ers have played their games since 1997.
PokerStars have triumphed through North American sports partnerships over recent years with the Detroit Red Wings, Maple Leaf Sports & Entertainment (MLSE) and Oracle Red Bull Racing enabling players to get closer to the action both on and off the felt.
Following the successful growth of online poker in the market, as well as the announcement of the return of Live Events, with the North American Poker Tour returning to Las Vegas this November, PokerStars continues to expand in North America by bringing this exciting new partnership to fans in the state of Pennsylvania and wider.
Monthly Freerolls During Basketball Season
The major PokerStars sports partnership with the Philadelphia 76ers will see the addition of monthly freerolls on the PokerStars site during the basketball season, giving PokerStars players and Sixers fans the chance to win game tickets, merchandise, and PokerStars credit.
"We are extremely proud and excited to continue to build relationships with iconic sports teams in North America," said Rob Batista, PokerStars North America Senior Director, Marketing "The United States and North America continue to grow as a key market for PokerStars, and we look forward to rewarding our Pennsylvania based community, as well as those across the rest of the US, with even more epic experiences in conjunction with the Philadelphia 76ers."
As one of the most storied franchises in the National Basketball Association (NBA), the Philadelphia 76ers are a staple sports team in the key market of Pennsylvania, and PokerStars looks forward to aligning with the team and working together to build some spectacular experiences for players. PokerStars will bring the partnership to life with in-stadium branding as well as plenty of in-game experiences available for fans.
"We are thrilled about our new partnership with PokerStars, aimed to elevate our fan's experience during this season," said Owen Morin, 76ers SVP Corporate Partnerships. "We believe in creating a unique and innovative approach to engage with our fans, and PokerStars will allow us to craft those special and memorable experiences."
A former professional poker player with a background in sports marketing and journalism. Yori has been a part of PokerNews since 2016 and manages the content team.