Ontarian Engineer Matthew Aquino Wins WSOP Paradise Ticket on GGPoker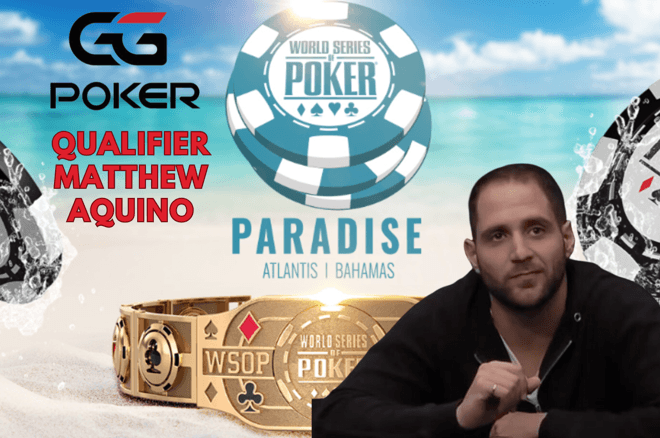 The World Series of Poker (WSOP) Paradise in the Bahamas is just a few weeks out now and online qualifiers are cropping up all over the globe. Ontario player Matthew Aquino is among those Road To Paradise winners who are eyeing up the prize pool and the hotel pool after winning a WSOP package.
Aquino joins several other players who won their seats in the main event and accommodation at the Atlantis Hotel on GGPoker.
PokerNews caught up with Aquino to talk about his online poker career, biggest scores, and which players he hopes to meet out in the Bahamas.
The Best Ways to Win Your Way to WSOP Paradise Online and Live
PokerNews: Can you tell us a bit about how you won your WSOP Paradise seat?
Auino: Of course. I qualified through GGPoker Ontario, playing a $1,500 Road To Paradise satellite. I believe it was the second tournament they ran for qualifiers. I was at a friend's wedding on the Saturday so I decided to play on the Sunday.
I started poorly in the satellite but I battled my way back to have a strong final table. The winning hand was my pocket jacks which held after going all in preflop against my opponent's sixes.
How did you get started in poker?
I have been playing poker for the last twenty years of my life, I started when I was eighteen at University.
I am a civil engineer by education and a construction manager by profession but have always enjoyed poker for the competition and the probability. I like to play when I can and enjoy live tournaments and Omaha cash games more than anything else.
I have played in the WSOP Main Event the last three years, bubbling in 2023 and cashing in 2022. I have also played in the Bahamas at the PCA in 2018 and the PSPC in 2023. The Bahamas and Vegas are my favourite vacation spots and Poker being my one of my favourite hobbies I like to combine them both.
What are some of your best poker experiences so far?
Winning a satellite and cashing in the main event was a good experience. My cash experiences have always been fun. I always enjoy playing poker and meeting different people across the globe.
I have played in Malta, Monte Carlo, Vegas, the Bahamas, and Spain. My most recent deep run was fifth-place in The Wynn Summer Classic, Las Vegas when I went for the Main Event this Summer and I really enjoyed the $2,500 8 Game Mix where I bubbled the event two from the money. Then of course there was my 653rd place finish at the 2022 World Series of Poker Main Event.
How are you prepping for your WSOP trip?
I'm just clearing my work prior to the trip so I can focus on having an amazing time. My girlfriend is joining me in the Bahamas and I have been teaching her the game. So, I am sure she will be joining in on some tournament action.
We try to live a healthy lifestyle, but of course, love the party culture of the Bahamas as well. We are excited for the lazy river, the aquariums, and are likely to go swimming with the dolphins. We're happy to be staying at the Atlantis as it's not just one of the best resorts in the Bahamas—I think it is in the top hotels in the world.
Here's Your Chance to Win a WSOP Paradise Getaway to The Bahamas on GGPoker
Is there anyone in particular you're hoping to play against while you're in the Bahamas?
Being from Toronto of course I am going to lead with Daniel Negreanu! I'm a huge fan. How could you not be given what he does for the game and how he has presented himself over the years?
I would say he is the LeBron James of Poker! He's consistent, never bad news, and more importantly a champion! I'm also a fan of so many other players, Shaun Deeb, Josh Arieh, etc. I like any player that engages with the table and makes it fun to play.
Do you know what you would do with your winnings if you take the event down?
Welcoming all my friends and family to the Bahamas will be a must if I make the Final Table.
Then I think I would hold most of it, as these interest rates aren't helping anyone. I'm sure I'd have some other ideas once the check is in my hands too!
5 Fun Non-Poker Activities in the Bahamas During WSOP Paradise
2023 WSOP Paradise Schedule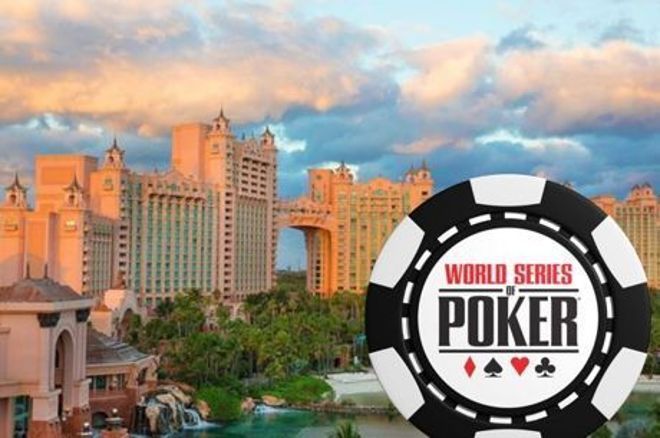 The 2023 WSOP Paradise shuffles up and deals in The Bahamas on December 3 with the $1,650 buy-in Mystery Millions. It boasts a $5 million guarantee on its prize pool, so will be the perfect curtain raiser for the 11-day festival.
Every bracelet-awarding event promises at least $1 million will be awarded, with the $1,500 Millionaire Maker and the $103,000 Ultra High Roller coming with a $5 million guarantee.
Of course, the biggest tournament of them all is the $5,300 Main Event, which will pay out $15 million to those fortunate and skillful enough to make it into the money place.
| Start Date | Event | Total Buy-in | Guarantee |
| --- | --- | --- | --- |
| Sun 3 Dec | #1: Mystery Millions | $1,650 | $5,000,000 |
| Mon 4 Dec | #2: Millionaire Maker in Paradise | $1,500 | $5,000,000 |
| Tue 5 Dec | #3: GGMillion$ High Rollers Championship | $26,000 | $10,000.000 |
| | #4: Mini Main Event No-Limit Hold'em | $1,100 | $1,000,000 |
| Thu 7 Dec | #5: High Roller Pot-Limit Omaha | $26,000 | $2,000,000 |
| Fri 8 Dec | #6: No-Limit Hold'em 6-Handed | $3,300 | $1,000,000 |
| | #7: Super High Roller No-Limit Hold'em | $53,000 | $2,000,000 |
| | #8: Mystery Bounty Pot-Limit Omaha | $2,100 | $1,000,000 |
| Sat 9 Dec | #9: Ultra High Roller No-Limit Hold'em | $103,000 | $5,000,000 |
| | #10: Main Event Championship | $5,300 | $15,000,000 |
| Tue 12 Dec | #11: Flip & Go | $800 | |
| Wed 13 Dec | #12: No-Limit Hold'em Freezeout (Online) | $1,050 | $1,000,000 |
| | #13: Pot-Limit Omaha Championship | $10,400 | $1,000,000 |
| | #14: The Closer Turbo Bounty | $2,200 | $1,000,000 |
| Thu 14 Dec | #15: High Roller No-Limit Hold'em 6-Handed | $10,400 | $1,000,000 |