Five Common Video Poker Superstitions Debunked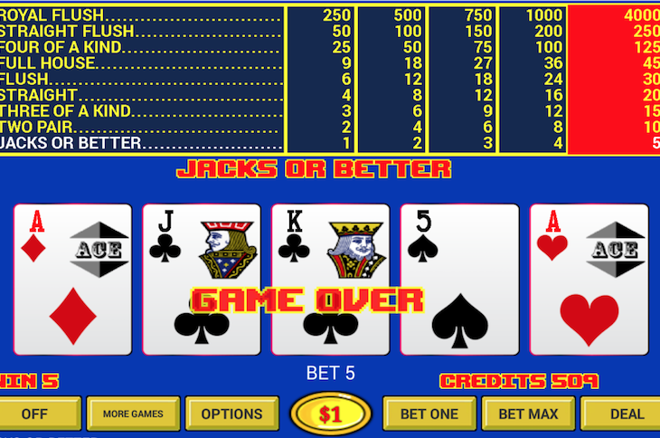 For professional gamblers, superstitious is synonymous with stupid when it comes to approaching casino game strategy.
Regardless of some of the crazy and utterly unfounded beliefs circulating the casino community, many of these superstitions are accepted as truths. When it comes to video poker, and any programmed casino game for that matter, the concept of algorithms and probability befuddle many prospective players.
The only way to win a game is to understand the odds and what you can do as a player to maximize your advantage. Likewise, the only way to debunk a myth is to replace foggy superstition with cold, hard facts. While washing your hands to get rid of a losing streak is an obvious tall tale, some myths are very difficult to distinguish from fact.
By the end of this article you will stop blowing on video poker machines or your favorite online casino's homepage, if you haven't realized that doesn't work already.
The Deck is only Shuffled When You Hit Deal
With a return rate that comes close to 100 percent, video poker is incredibly popular among players who enjoy games of skill but lack the expertise and experience to win big at table poker.
When it comes to differentiating between fact and fiction, a pretty tricky aspect of video poker that many people do not understand is the way cards are shuffled. While traditional poker involves a 52-card deck which is shuffled before each hand, or 53 if you are playing Joker Poker, video poker games work differently. Like the best slots games, the outcomes of the deck depend on a random number generator (RNG).
This program is constantly shuffling the deck of cards whether you are hitting deal or not. It is difficult to imagine, but the RNG of a virtual video slot or land-based machine is shuffling 24 hours a day, seven days a week. Hitting deal or draw does not activate a shuffle, but rather stops the program at whatever shuffle combination it has at that moment. Therefore, there is no pattern and not even the slightest possible way of guessing what the next hand will be.
Machines can be Hot or Cold
Now that RNG has been made clear, the concept of hot or cold machines should seem ludicrous. Thanks to the diligent shuffling of the RNG programming of video poker games, there are 2.6 million possible card combinations, all of which are drawn totally at random. This concept of leaving a machine when it's hot, or playing longer if it's cold, stems from next common misconception that the games follow a pattern. Because the deck is constantly shuffled, it is impossible to guess what cards will be dealt.
I Keep Losing, the Game Must be Rigged
Have you ever played a slots or video poker game and felt that it was just wired to make you lose? On the flipside, if you have ever played a game so well that you were convinced you could not lose, the unfortunate truth is that this is all in your head.
Contrary to what we like to believe about ourselves, especially when betting, human beings are creatures driven by emotion rather than logic. Considering this, it is important to note that there are no streaks and machines that are mistakenly referred to as cold do not have a big win coming up soon thanks to the game's RNG.
Triple Play Poker and Single-Hand Poker Strategies Should Differ
Many video poker players mistakenly believe that the more hands you play, the higher your odds at winning become. Whatever increase in odds this would give you is offset by the increase in risk that playing multiple games would cause. Moreover, some video poker fans believe that if you play multiple hands then your chance of being dealt a winning hand increases.
Video poker games do not work likes this, as each hand has its own deck. Therefore, there is no special multiple hand strategy and you should play each hand the same way you would in a single hand game. The only real advantage from a strategic perspective is that if you have reached a level of skill where playing one hand at a time bores you, you have the option to entertain yourself with several.
Some Casinos are Tighter than Others
Superstitions are not limited to the predictability of online games, but also extend to false ideas about online casinos. Some online bettors believe that certain casinos are tighter or looser than others. This suggests that certain online casinos tend to pay out their customers more frequently. While in a sense you can distinguish differences in payout rates between various online casinos, this has nothing to do with the casinos themselves, but rather the games they offer.
Some games have higher return to player (RTP) rates, meaning that if a certain casino has a higher percentage of slots games with low payout margins versus video poker games (which have significantly better odds), then that online casino may seem less favorable. Therefore, it is a myth to evaluate casinos in terms of their overall payout, since the best way to determine what your odds are is to find an online casino that offers more games with higher RTP and Hit Frequencies.
So, What Are the Facts?
Now that you know what not to believe, is there any sound advice on how to improve your chances while playing video poker online? The answer, of course, is yes. There are quite a few surefire ways to significantly improve your odds despite the RNG programming, the most important one being your choice of game.
As mentioned earlier, some games simply pay better than others. Full pay games, for example, are ideal for players looking to maximize their wins. The key is to look for pay tables with a 9:6 scheme, meaning that the game will pay out 9 to 1 for a full house and 6 to 1 for a flush. You do need to keep an eye out as certain games have full pay and standard versions. These usually have an 8:5 payout scheme which may not seem that much lower but will significantly increase the house's odds against yours.
One of the best, if not the top, full pay versions of online video poker is Jacks or Better, with 99.54 percent RTP rate, an 800:1 prize for Royal Flush, 50:1 for a Straight Flush and a grand prize of 4000 coins for players who get a Royal Flush with a five-coin wager. When playing Jacks or Better you are expected to have at least a pair of jacks or higher to be at even odds. You can find this game at Bet365 Casino. Click here to receive a €100 Welcome Bonus when you sign up.