TigerGaming Bad Beat Jackpot Passes $850,000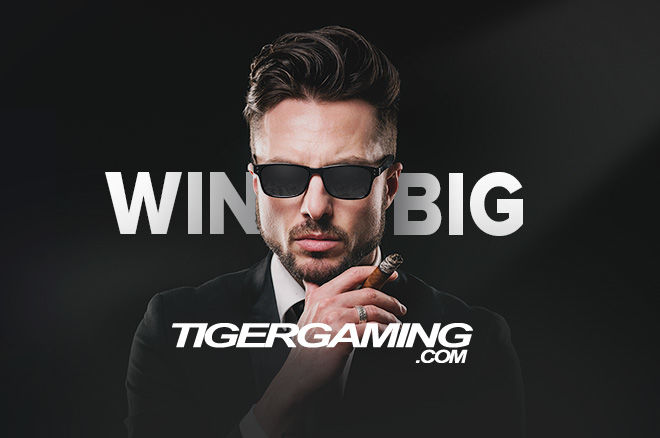 It was huge news when the Bad Beat Jackpot at TigerGaming passed the unprecedented level of $500,000. Players flocked to the site in the hopes of cashing big.
The jackpot has now grown leaps and bounds since then and stands at a huge $853,000 and growing!
Playing for the bad beat of your lifetime couldn't be any easier. Simply start playing at any of the bad beat tables with the letter "J" designating them for a chance.
To win the lion's share of the jackpot (35 percent), you must lose a hand with quad jacks or better whenever there are at least four players in the hand. Both you and your opponent must also use both of your hole cards to qualify.
You can even win big even if you aren't the player to "suffer" the bad beat. The player with the winning hand that triggered the jackpot will be awarded half as much as the person that lost the hand. Everyone else at the table will also be awarded handsomely.
The Bad Beat Jackpot is paid as follows:
35 percent of the bonus goes to the player who suffered the bad beat
17.5 percent goes to the winner of the hand, i.e. the player who caused the bad beat
17.5 percent is split evenly among the rest of the table where the bad beat took place
30 percent is used to seed the bonus for the next Bad Beat Jackpot
Based on where the jackpot is right now, the player to suffer the bad beat would be awarded almost $300,000. The winner of the hand would bank almost $150,000 and the rest of the table would share another $150,000. Thirty percent of the remaining funds would be used to seed the bonus for the next jackpot.
Need an Account?
The Bad Beat Jackpot isn't likely to get this high again for a long time. Obviously, in order to go for the big bucks, you will need an account at TigerGaming.
The news gets even better for you if you don't already have an account. Simply follow the instructions below to be awarded one of the biggest welcome packages available including a huge deposit bonus up to $2,500 and two $5,000 First Depositor Freeroll tickets.
- Download TigerGaming and create your account.
- Deposit at least $50.
- Email [email protected] with the subject line "NEWTG."
- Sit back and wait for TigerGaming to credit your account with a bonus up to $2,500.
This huge bonus releases into your available account balance in small $5 chunks for every 1,500 comp points earned. These points are earned at a rate of 100 points per $1 paid in cash game rake or tournament fees or at one penny per point.
TigerGaming gives you plenty of time with 60 days to clear the bonus. Any uncleared bonus after this time will be forfeited.