Blessing in Disguise? This Player Hit the Natural8 Bad Beat Jackpot Twice in Two Days!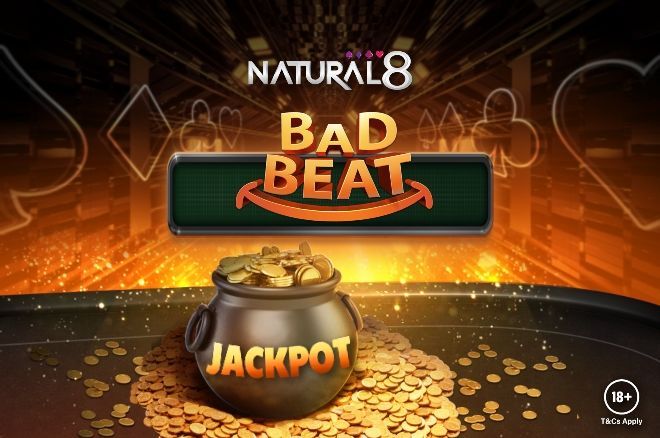 Thanks to the Natural8 Bad Beat Jackpot, bad luck can sometimes be "good"!
One player discovered this in an outrageous fashion after an incredible run of two Bad Beat Jackpots in just two days. Natural8 player "Stickingsimba" ended up with a combined reward of $698.11 - all while playing at stakes as low as $0.01/$0.02!
What is the Natural8 Bad Beat Jackpot?
Bad Beat Jackpots offer players a form of consolation when their seemingly great and nearly unbeatable hand is defeated. If all of the necessary criteria are met, players will earn a cut of the consolation prize pool. This prize is not only for the unlucky recipient of the bad beat; everyone else at the table also takes a share of the pot.
Check out the Natural8 Bad Beat Jackpot page to find out more about the payouts as well as how to qualify!
Best Free to Play Slots
Quads Over Quads Benefits "Stickingsimba"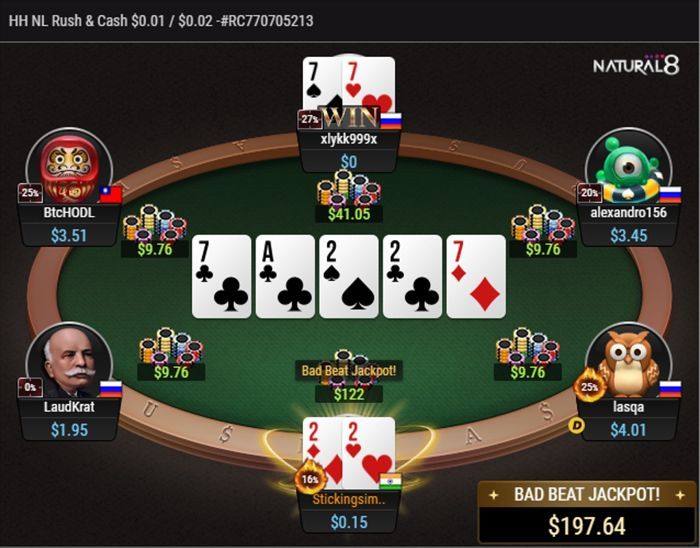 The story began with "Stickingsimba" grinding away at the $0.01/$0.02 Rush & Cash No-Limit Hold'em tables. It was just another session until he looked down at a pair of deuces in the small blind.
To cut a long story short, "Stickingsimba" and his opponent would both flop a set, similar to a hand that took place between Garrett Adelstein and Wesley Flan on Hustler Casino Live.
And like the hand between the high stakes poker players, all the money would end up in the middle on the river. "Stickingsimba" must have initially felt sick losing to quads over quads but as mentioned this was, however, a happy occasion for "Stickingsimba". Natural8 players qualify for the Bad Beat Jackpot when they lose with aces full of tens or better. As a result, they bagged themselves a tidy sum of $122 while a combined $80.09 was dished out between the rest of the table.
Natural8 Launches WSOP "Road to Vegas" Promotion
"Stickingsimba" Gets Another Bankroll Boost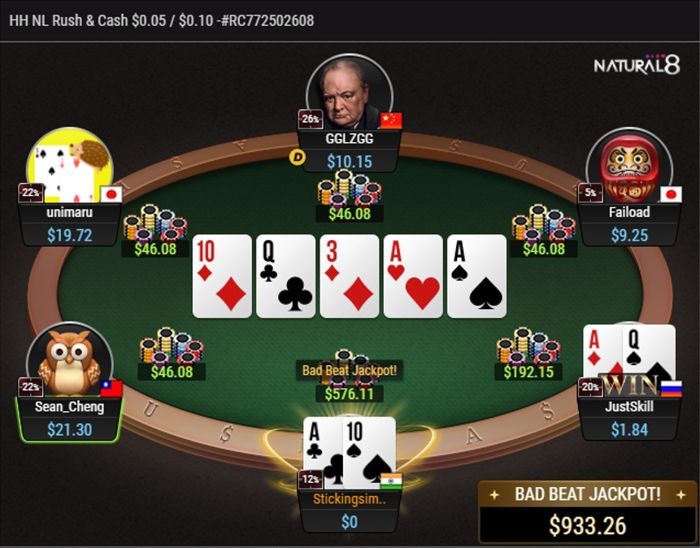 Not many people can say that a bad beat propelled them to play higher stakes, but that was the case for "Stickingsimba". Bypassing $0.02/$0.05, "Stickingsimba" jumped into the Rush & Cash No-Limit Hold'em fields once again, this time at the $0.05/$0.10 level.
On this occasion, the microstakes player would make second pair on the flop before hitting the turn and river to make a full house. Unbeknownst to "Stickingsimba", their opponent flopped topped pair and also went runner-runner to end up on the river with the stone-cold nuts.
As expected, all the money piled in on the final street of action and "Stickingsimba" was once again greeted by lady luck. Thanks to a second bad beat, "Stickingsimba" received an even bigger Bad Beat Jackpot payout of $576.11. The players at the table also benefitted again, seeing $933.26 being shared amongst the players.
Interestingly, "Stickingsimba" was never ahead at any point in this hand and only ahead on one street out of the two. However, the rules of the Natural8 Bad Beat Jackpot are clear. If you lose with aces full of tens or better at a Hold'em table, you are eligible for the prize.
Best Free to Play Slots
How to Play
All you have to do to start playing is sign up for your Natural8 account today!
Natural8 is Asia's largest online poker room that is geared towards recreational players. Anyone can join for free, and there are no hidden fees. On top of the $120 million guaranteed prize pool for tournaments every month, Natural8 also offers players extra incentives in the form of monthly promotions and cashback programs.
Natural8 also has a cashback loyalty programme called Fish Buffet, where players can earn points playing poker or casino games on Natural8. Points are awarded at different rates depending on the type of game played, and the more points you collect, the bigger your cashback!
There are plenty of promotions available for players new to Natural8, including the $8 Instant Deposit Bonus (with a minimum deposit of $10) as well as the First Deposit Bonus - where players can choose between a 200% match bonus (up to $1,000) or $100 in instant rewards. New user specials on Natural8 amount to a total of $1,608 - easily one of the best in the online poker scene.