mini MILLION$ Series Promises Big Guarantees for Low Buy-ins on Natural8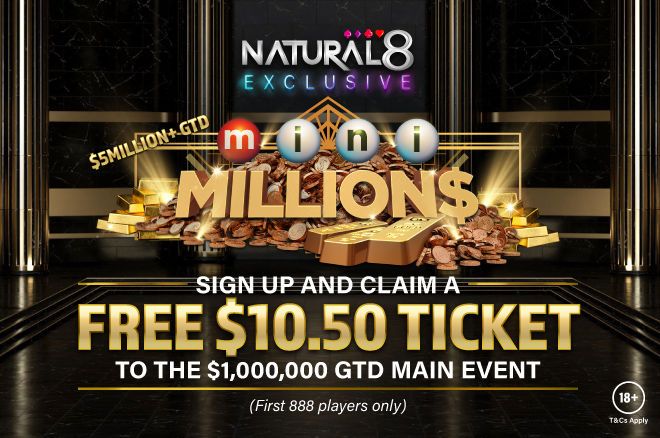 Big guarantees often come with some hefty buy-ins, but that all changes from October 2-17 on Natural8, as the platform hosts the fantastic mini MILLION$.
More than $5 million is guaranteed across the mini MILLION$ schedule and buy-ins range from just $1 to still a very affordable $11. Players can even make their bankroll go further as plenty of satellites are available if you are looking to join at a fraction of the original buy-in.
All Eyes on $1 Million Guaranteed Mystery Bounty
The mini MILLION$ Mystery Bounty is the series' show stopper and features a gigantic $1 million guarantee. As you're probably aware, mystery bounty events are setting the poker world on fire right now and even those with the smallest of bank rolls will be able to participate in this exciting tournament.
The tournament plays out like a standard tournament until Day 2, with each elimination on Day 2 awarding a mystery bounty prize! Some of those bounties are potentially life-changing with a guaranteed $1 million in the pot. The top mystery bounty prize is speculated to be around the $50,000 mark which is quite the return from an event that has a $10.50 buy-in.
Six Awesome Things You Can Do With PokerCraft on Natural8
Other Marquee Events
$1 Flip Friday - $25,000 GTD
$5 Global MILLION$ - $300,000 GTD
$5.25 Omaholic Mini Bounty MILLION$ - $100,000 GTD
$11 The Sunday Hundred Grand - $101,000 GTD
One event to note on the schedule is the The Sunday Hundred Grand which guarantees no less than $101,000 in prizes and all comes from just an $11 buy-in. The tournament offers insane value is not one to be looked over. Two more iterations of the event take place on October 9 and October 16 so make sure you're there for it.
Now everyone gets to enjoy mini MILLION$ on #Natural8 # Experience one of the biggest low-stakes tournaments ever w… https://t.co/s4jN61DX3H

— N8 Best Online Poker & Casino Promotions #GGPoker (@natural8)
The mini MILLION$ series has also not forgotten about Pot-Limit Omaha aficionados with the Omaholic Mini Bounty MILLION$. Stage 1s for the event run right through to October 10 and comes with a modest $5.25 entry fee. Booking your seat at the table will give you the footing to battle it out for a slice of a guaranteed $100,000, which is an amount unheard of at these stakes.
All-In or Fold Side Games Make a Splash on Natural8
Get a Free mini MILLION$ Main Event Ticket on Natural8
If you sign up for a Natural8 account now, you may be able to receive a $10.50 Main Event ticket for free, which you can use to participate in the $10.50 Mystery Bounty Main Event.
Follow the steps below to qualify for the ticket:
Step 1: Sign up for a Natural8 account
Step 2: Complete the account verification process
Once you have completed the steps above, contact our customer service representative to receive your free ticket. This is a limited time offer and only the first 888 players will receive it, so make sure you don't sleep on this.
In addition to the free Main Event ticket, if you sign up now, you will be eligible to our New User Specials, which are worth up to $1,858:
For more information about mini MILLION$, please click here.