Here's Why You'll Pray For Bad Beats at TigerGaming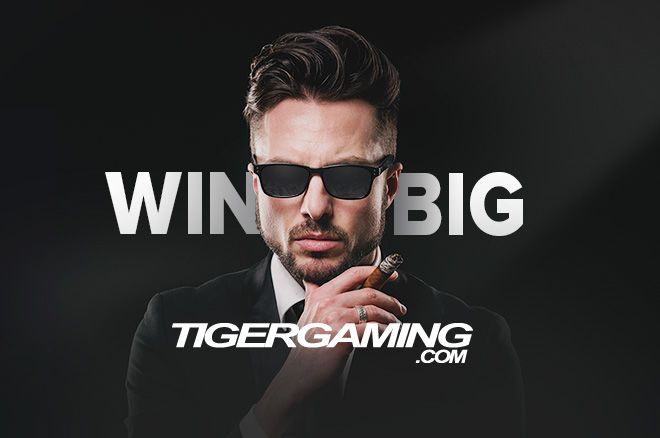 Every poker player has suffered a bad beat during their career. Whether is losing with pocket aces against pocket queens, or something as horrible as an opponent hitting a runner-runner straight to stack you. As infuriating as they are, bad beats are part and parcel of playing poker. So why is it that TigerGaming cash game players pray to the poker gods for a bad beat to happen to them? The site's Bad Beat Jackpot, that's why.
TigerGaming's Bad Beat Jackpot cash game tables are where you need to head if you want to be financially rewarded, and handsomely so, if you endure a bad beat. The online poker site pays out thousands of dollars via its Bad Beat Jackpot, but the beat has to be seriously bad to pay out.
You must lose with four of kind deuces or better to trigger the Bad Beat Jackpot. You must use both of your hole cards when you make a qualifying hand, as does the player who puts the bad beat on you. Furthermore, the hand must go to showdown. Often, TigerGaming reduces the strength of the qualifying hand, usually if nobody has won the jackpot for a while. The qualifying hand is clearly shown in the TigerGaming lobby.
Perhaps the best thing about the TigerGaming Bad Beat Jackpot is you only have to be dealt into the hand or be playing at any Bad Beat Jackpot table to win if the jackpot triggers. This is because the jackpot pays out as follows:
20% to the player with the bad beat
15% to the winner of the hand
12.5% shared among the players at the table where the bad beat happened
12.5% shared among players at other Bad Beat Jackpot tables
35% is used to reseed the jackpot
5% administration fee
Top 5 Poker Bad Beat Jackpots You Won't Believe
The Bad Beat Jackpot tables play like a traditional cash game, except an additional $0.10 per $4 in the pot, up to a maximum of $0.50, is removed to fund the jackpot. You may find play is slightly looser, especially when the jackpot has swelled, as players attempt to make hands to trigger the jackpot.
There have been some very big winners over the past 12 months by players that no longer bore their friends with bad beat stories. "Kalisse" received $91,616.45 on April 4, 2022, while "thisisnotchess" scooped $56,875.98 on July 2, 2022. More recently, on Christmas Day, "DonYagon" banked $24,039.40.
"Tyrant" holds the record for thelargest bad beat jackpot payment at TigerGaming. On January 7, 2018, their bad beat resulted in $273,382.82 landing in their account! Can you imagine?
Help Yourself to a $1,000 Welcome Bonus
You need a TigerGaming account to be in with a chance of winning the Bad Beat Jackpot. If you don't already have an account, download TigerGaming via PokerNews' links, create your free account, and make a deposit of at least $50. Email TigerGaming's support team at [email protected] within 24 hours of making your deposit, ensuring you mention the bonus code "NEWTG" and you 100% match up to $1,000 bonus will be activated.