Flamingo Poker Room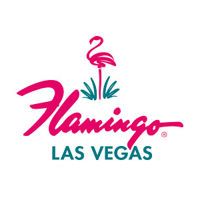 | | |
| --- | --- |
| Name | Flamingo Poker Room |
| Address | 3555 Las Vegas Blvd., Las Vegas, NV |
| City | Las Vegas |
| Country | United States of America |
| Website | http://www.flamingolasvegas.com |
Flamingo Las Vegas is the oldest casino hotel on the Las Vegas Strip in Paradise, Nevada, having opened its doors back on Boxing Day of 1946. Do not worry, the casino and hotel has been updated and renovated several times since then, bringing it up to the quality Las Vegas vistoris demand.
Billy Wilkerson, owner of The Hollywood Reporter, has a vision for a Las Vegas casino that was not like the "sawdust joints" found on Fremont Street in Downtown Vegas. Wilkerson planned a luxury hotel, complete with spa, health clubs, a golf course, and a French-style casino. However, material costs were sky-high during the Second World War, and Wilkerson found himself $400,000 short.
In stepped reported mobster Bugsy Siegel, whi oversaw the rest of the construction. The Flamingo Hotel & Casino opened on December 26, 1946, costing $6 million. The casino's management changed the property's name to The Fabulous Flamingo on March 1, 1947. It gained a reputation for lavish shows featuring the likes of Martin and Smith, Sammy David Jr, and Rose Marie.
The casino changed hands several times over the coming years, with Harrah's Entertainment, now Caesars Entertainment, acquiring Flamingo Las Vegas in 2005.
A $90 million makeover was completed in 2018, but much of the casino and hotel's original Art eco / Miami theme is still there; you can even find actual Flamingos in the pool area! At present, Flamingo Las Vegas has 3,460 rooms and almost 73,000 square feet of gaming space.
The Flamingo Las Vegas Poker Room Contact Details
Flamingo Las Vegas Poker Room Cash Games
Cash Games:
| Game | Stakes |
| --- | --- |
| Limit Hold'em | $3/$6 |
| NL Hold'em | $1/$2 |
| PL Omaha | $1/$1 |
| FL Omaha8 | $3/$6 |
Head to Flamingo Las Vegas if low-stakes no-limit hold'em cash games are your speciality. The room is always bursting with action at the $1/$2 games, with most of the 11 tables taken up by this particular game. Expect to cross paths with plenty of tourists who frequent the Flamingo hotel because of its neon pink, retro feel! More tourists usually means looser, softer games, which are always welcomed.
Limit Hold'em with stakes of $3/$6 runs around the clock too if you fancy some fixed-limit action. Also, there is usually at least one table of pot-limit Omaha running at all times, with $1/$1 being the most common stakes.
Rake is inline with the majority of Las Vegas poker rooms. A 10% up to $5 rake is standard, plus a $1 jackpot drop on all raked pots.
$3/$6 Limit Omaha Hi-Low runs on occasion, but this tends to only happen either on weekends or when other casinos are running major festivals and series.
Flamingo Las Vegas Tournament Poker
Poker tournament players are well-catered for at Flamingo Las Vegas with five tournaments running throughout the day. These shuffle up and deal at 10:00 a.m., 12:00 p.m., 4:00 p.m., 8:00 p.m., and 12:00 a.m., the latter being reserved for the night owls! The daily tournaments come with buy-ins of $60, $80, and $100, with respective guarantees of $500, $800, and $1,000.
Like most cheap daily tournaments in Las Vegas, the structures are not the best, but they do provide plenty of fun. Starting stacks tend to be 20,000 (25,000 for the $100 buy-in MTTs) with blinds starting at 100/200, and a 15-minute clock. Unlimited reentries are permitted for the first six levels of each tournament, in case you want to splash around and fire a few bullets.
Flamingo Las Vegas Poker Room Promotions
There are several promotions open to Flamingo Las Vegas cash game players. First, everyone receives $1 per hour in comps via the Caesars Rewards system that all Caesars properties participate in. There are high hand bonuses running 24-hours per day. Make quads to receive $100; this is boosted to $500 if you flop four-of-a-kind! Straight flushes are worth $200 with a royal flush gifting you $500.
Players logging at least 12 hours of play during the week are invited to a $10,000 freeroll that runs at 10:00 a.m. on Sunday. It is quite common for all the players to chop the tournament before the first hand is dealt because the payout structure is extremely flat! See it as free cash for playing poker at Flamingo!
What Is It Like To Play Poker at Flamingo Las Vegas?
The poker room at the Flamingo Las Vegas gives you an experience that is not too dissimilar to playing poker in Downtown Las Vegas. Caesars has kept most of the original poker room intact, so expect to see lots of pink paint and decorations! What else would you expect from a property that has actual flamingos in its pool area?!
The room is away from the main casino floor, so you are not disturbed by casino revellers. There is a perspex screen dividing the room from the nearby slots so passers-by can check in on the poker action. At the center of the room is the information desk where you can head to register for tournaments, purchase chips, and join any waiting lists for cash games.
As previously mentioned, the Flamingo poker room attracts plenty of tourists, so expect fast and loose cash games throughout the year.
Flamingo Las Vegas FAQs
Does the Flamingo Las Vegas have poker?

Yes, Flamingo Las Vegas has a busy poker room housing 11 tables. Cash games run around the clock, with five tournaments scheduled each day.
Can I play poker at Flamingo Las Vegas?

Yes, you can play poker at Flamingo Las Vegas. Cash games run 24/7 with five tournaments scattered into the mix throughout the day.
What cash games are at Flamingo Las Vegas?

Flamingo Las Vegas offers a variety of cash games including $1/2 and $1/$3 No Limit Texas Hold'em. Most of the cash game action revolves around these stakes, although $2/$5 does run on occasion. The $1/$2 cash games tend to be particularly juicy as tourists frequent them and love to splash around.
Is there free parking at Flamingo Las Vegas?

Yes and no. Flamingo Las Vegas has both self-parking and a valet service in a covered garage, Head east on Flamingo Road, turn left onto LINQ Lane, then your first left. Parking is free for Flamingo Las Vegas guests, Nevada residence with a valid Nevada driver's license, and Caesars Rewards Platinum, Diamond, and Seven Stars members.

Otherwise, your first hour is free, hours 1-4 costs $12, 4-12 hours costs $15,and additional days cost $15 per 24 hours. Valet parking costs $30 for 0-4 hours, and $36 for 2-24 hours.
Is the Flamingo Las Vegas on the Las Vegas strip?

Yes. Flamingo Las Vegas is located in the heart of the Strip, opposite the iconic Caesars Palace. It is super-easy to find thanks to the bright neon pink lighting!