How To Bet On Horse Racing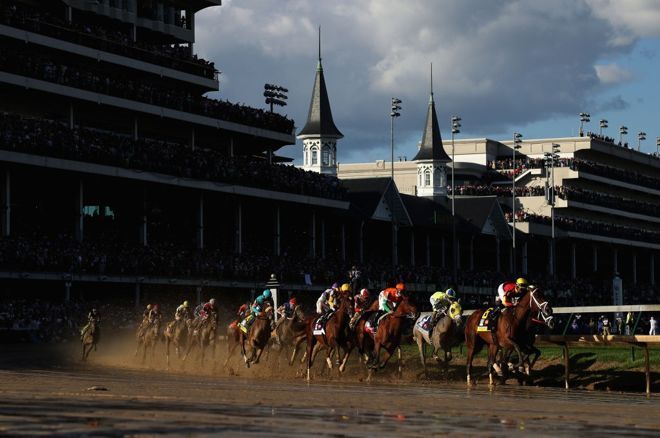 Millions of horse racing fans attend the track, but if you're new to the sport, the terminology can seem like a foreign language. However, betting on the horses can be both fun and profitable once you know what you're doing.
In fact, there are a limited number of factors involved in placing a bet, i.e. track name, race number, horse number, bet type, and bet amount. The only one of these that isn't self-explanatory is bet type. There are numerous bet types available, but only three you really need to know in order to get started:
Win (betting on a horse to finish in first place)
Place (betting on a horse to finish in either first or second place)
Show (betting on a horse finish in either first, second, or third place)
The horse racing calendar features thousands of races each year from all over the world, creating a vast amount of betting opportunities.
Can I bet on horse racing online?
Online betting is taking the vast majority of bets away from the track, with only a small percentage of those betting on any one race doing so from the track itself. There are a number of sites offering opportunities to bet on horse racing; but only a small number, such as TVG.com, stand out over the rest.
TVG offers you access to the tracks, that day's races, and all the handicap information you need. You can see the entire track list, or click on "upcoming races", which will give you a list of everything they have open. Select either a track or individual list, and you'll see all of that event's betting options.
You place your bet by choosing the track, then narrowing it down to an individual race, and making your selection. The wagering interface on TVG is very similar to a betting slip used at a racetrack. The main difference is that here you use a mouse and keyboard, as opposed to a pen and paper.
Join TVG today, they'll double your deposit and give you a free $20 bet!
Where can I get the best horse racing odds?
By opening an account with TVG, you can access 150 racetracks across the U.S., along with a few international tracks. You can choose from these races any day of the week, and bet on the same selections as you would if you were at the track itself. In fact, you're offered the same track odds when you bet online because your bets are combined with the wagers placed by those at the track.
You'll also have access to commentary, news updates, and a number of handicapping tools. These are all benefits that, if you use wisely enough, will give you an advantage over the competition. While online betting may lack the excitement of seeing your horse run live, you have far more information at your disposal, giving you a better chance of betting success.
What does TVG offer?
Television Games Network (TVG) is an Internet-based horse and greyhound racing betting platform and U.S. sports-orientated digital cable and satellite television network owned by FanDuel Group.
Yes, along with being one of America's largest and best online racebooks. TVG also offers live streaming. Once you've signed up, you can log in and watch live horse racing. On the left of the stream, you'll see a list of races, allowing you to quickly switch from one race to another with ease. You also have the option of simultaneously watching the Twitter feed.
If you're on your smartphone, you can stream races on your Android or iOS so you can keep up-to-date on the races on the go. TVG2 is also available, which is a horse racing-based television network in collaboration with TVG's website.
Can I get a free bet on Horse Racing?
Online racebooks are keen to attract and retain users, and one of the more popular ways they do this is through free bets. Free bets can be offered for a number of different reasons, but the most common is as an incentive for new customers. So, in this instance, in order to be eligible for the free bet bonus, you must be brand new to the racebook in question. You also need to meet any other criteria, as laid out in the terms and conditions, although this is usually fairly straightforward, such as being of gambling age.
With the industry being so competitive, almost every bookmaker in the industry offers free bets. They can come in many different forms, although the most common is a first-deposit matched bonus. TVG offers a deposit matched bonus and a free $20 bet when you place your first deposit. All you need to do to claim the offer and start betting is to take 30 seconds to sign up to the site by entering a few details.
It's also common for racebooks to offer additional free bets, such as for a major race like the Kentucky Derby.
Join TVG today, they'll double your deposit and give you a free $20 bet!
When is the Kentucky Derby?
Held each year in Louisville, Kentucky, the Kentucky Derby is the most celebrated horse race in America. The first of the three races is known as the "Fastest Two Minutes in Sports.", with the other two races, the Belmont Stakes and the Preakness Stakes, making up what is known as the Triple Crown.
There are a number of long-standing traditions associated with the event. There's a high standard when it comes to what attendees are expected to wear, for instance, with the event often regarded as a showcase of the season's fashion. Another tradition revolves around the red rose, which is the race's official flower- the winner is presented with roses during the awards ceremony, hence the event's nickname, "The Run for the Roses."
The race, which takes place on the last Saturday of May, is a competition between 20 three-year-old Thoroughbreds on a 2.01 km dirt track, To win the Triple Crown, a horse has to win all three races. Only 12 horses have managed to achieve this feat in the history of the Derby.
Where can I find Kentucky Derby odds?
While there are no odds available for the Kentucky Derby 2020 at the time of writing, you should keep checking back with Oddschecker for updates.
Closer to the time, there'll be numerous websites offering odds on the event, such as TVG.com and the Churchill Downs-owned BetAmerica. These sites will also provide news, updates, and tips to help you make your selection. The Kentucky Derby always takes place on the first Saturday in May.
Oddschecker provides an odds comparison service so you can see all the odds, offers, and promotions from every single sportsbook in one place. They also provide free picks and analysis across every single sport. This means that at Oddschecker, you will always be able to see the best NFL odds and picks the market has to offer.
Offers available in New Jersey only. 21+
FAQ
Can I bet on Horse Racing online in the US?
Yes, numerous websites such as TVG offer this service.
Can I watch Horse Racing online in the US?
Yes websites such as TVG provide online streaming.
What are the most common Horse Racing bets?
Win, place and show are the most common.
When is the Kentucky Derby?
The Kentucky Derby takes place on the first Saturday in May.
Who won the 2019 Kentucky Derby?
Country House won the race after Maximum Security was disqualified.