The Five Most Important Things To Check Before Becoming A Poker Pro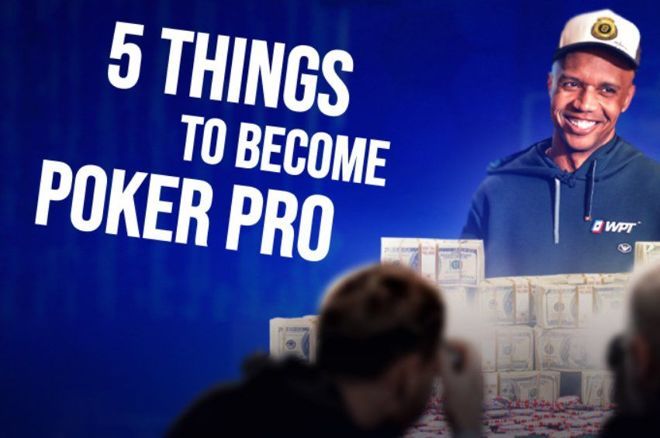 Most people who play poker have at one time or another wondered if they should go pro. The more optimistic players might do so after a good session, while others might wait till the first time their monthly winnings outstrip their monthly paycheck.
However, before you take the plunge, there are some things you should consider.
From making sure you have a plan for continued professional development and record keeping to how to approach bad beats, here are WPT Global's top five things to think about before becoming a professional poker player.
1. Put A Study Plan In Place
If you want to go pro and stay pro, you can never stop learning. The average player gets better and better year on year. So, like the Red Queen in Alice Through The Looking Glass, you need to run if you want to stay in place and sprint if you want to gain ground.
It's not just that your opponents know more, but the very nature of poker strategy is also constantly evolving as the community studies the game, tests out new ideas, and runs ever more accurate simulations on their solvers. Books, articles, and old 2+2 threads are great to learn for broad strategic ideas, but for more granular study, you need to review hand histories, discuss spots with other players, and get to grips with the worlds of game theory and solvers.
In particular, having a supportive group of peers whose strategic insight you trust is a great way to learn and give you some roots in the poker world.
When putting together your study plan, it's important to factor in your poker strengths and weaknesses, how you best learn, and what kind of study is sustainable and fun for you.
Read More About How To Improve Your Online Poker Game
2. Specialize… But Not Too Much
Specializing in your best (or most profitable) poker variant is the most efficient way to improve and turn a profit.
After all, "jack of all trades, master of none," goes the saying. However, the largely forgotten end of that platitude is, "but often times better than a master of one."
While the bulk of your play and study should be aimed at your best games, make sure to branch out. Having a good grounding in all the variants and formats of poker allows you to be flexible. On days when your favorite tables won't fill up (or seem to only fill up with regs), you can seek out other pastures.
Being a jack of all trades also allows you to move into new niches as they become available and can help prevent burnout by giving your workweek some variety.
Check Out Five Must-Know Variations Of Poker
3. Start Tracking Your Vital Statistics
Keep comprehensive records. How many hands, how many hours, and how much profit (or loss) are the most important. Online players can use software like Poker Tracker 4, but live players will need to invest in a notebook (or notebook app) and stopwatch (or stopwatch app).
Knowing how profitable you are at different stakes and in different games keeps you honest, helps with your tax returns, and guides your study plans. However, the most important reason to keep records is simply to know whether or not you are actually profitable — a vital piece of info for any professional poker player.
4. Remain Objective
Another way in which tracking your statistics can help is in handling the vicissitudes of variance. When you lose a hand, objectivity is what keeps you from writing off your bad play as a bad beat and learning nothing from it. At the other extreme, objectivity is also what keeps you from altering your play when you did everything right but still lost because of luck.
Reviewing the hand with a solver or a coach can help with this, as can the yellow line in PT4.
Earn Your Share Of $14,000 With WPT Global Leaderboards
5. Treat It Like A Job
It is easy to treat poker like a game — because it is one. However, when you start playing professionally, you have to start acting like a professional.
This means obvious things like putting in the hours at the poker table and in the study hall, keeping your bankroll separate from your general expenses, and making sure you file the appropriate tax paperwork. But it also means making sure you are well-rested, well-fed, and distraction-free during your work day.
If you have a study plan, some good general poker knowledge and some great specialist poker knowledge, a paper trail demonstrating profitable play, an objective eye to variance, and a professional attitude then you might just be in a position to consider going pro.
Take Your Poker Game To The Next Level With WPT Global's Welcome Bonus
If you want to take your game to the next level, you can download WPT Global from PokerNews.
If you are a new player, you can also take advantage of WPT Global's generous matched deposit bonus of 100% (up to a maximum of $1,200). This bonus is available to any new player on WPT Global who deposits $20 or more. The playthrough requirements allow you to release the bonus in $2.50 increments. Each increment requires you to generate $10 in rake from either cash games or tournaments.
Just remember to factor in the 90-day expiry period when considering how best to release your bonus.
To further sweeten the deal, WPT Global also awards depositors (both new and returning) with tournament tickets. The exact reward depends on whether you are a new player and how big your deposit was.
| Players | Deposit No. | Min Deposit | Reward | Total Rewards |
| --- | --- | --- | --- | --- |
| New only | 1st | $20 | $11 Mini Slam ticket | $11 Mini Slam ticket |
| New and Existing | 2nd | $20 | $11 Mini Slam ticket | 2x $11 Mini Slam tickets |
| New and Existing | Deposit of $300+ | $300 | $110 Sunday Slam ticket | $11 Mini Slam and $110 Sunday Slam ticket |
| New and Existing | Deposit of $1,200+ | $1,200 | 2x $110 Sunday Slam tickets | $11 Mini Slam and 3x $110 Sunday Slam tickets |