888poker: Can You Make This Hero Fold Close to the Bubble?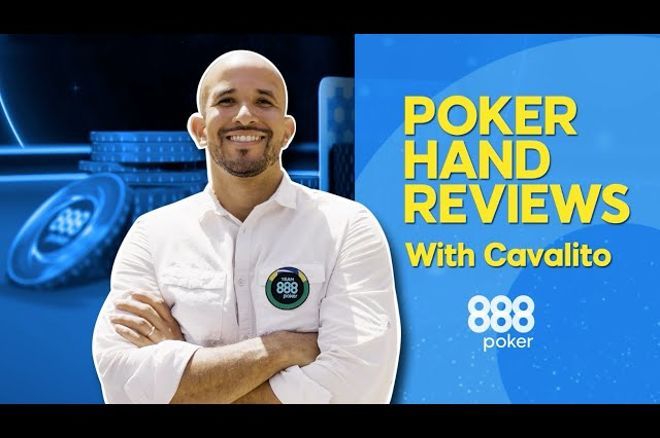 It's a busy time for the folks over at 888poker, as the platform's $2 million guaranteed XL Autumn Series recently kicked off. At the same time, the company is also getting ready for its upcoming 888poker LIVE Coventry festival.
And with all these action-packed tournaments scheduled, you'll probably want to brush up on some poker strategy to give you the best chance of booking big wins. Luckily for you, 888poker ambassador Alexandre "Cavalito" Mantovani has put together this video to help you when you're facing tricky spots around the money bubble.
Montavani's breakdown will help you put the pieces of your future bubble puzzles together so you can book your spot in the paid places more often.
Can You Make This Hero Fold?
The hand that Mantovani covers is from the 2023 888poker LIVE Barcelona Main Event, with the money bubble looming.
With that in mind, Mantovani mentions that he's starting to tighten up his opening range due to being close to the money. The hand starts with him in the cutoff with A♠10♣ and 26 big blinds. For Mantovani, this is a very clear raise from this position, and he opened raised to two big blinds (8,000). The action then folded to Edu Riego in the small blind who three-bet to just over six big blinds (25,000) with A♥J♣, which forces Mantovani into his first decision.
"He [Riego] three-bets on the smaller side, which is standard when we have ICM in play," said Mantovani. "Ace-ten is an awful hand to jam because if I go all in here, he is always calling me with ace-jack or better and folding all of his ace-nines and weaker aces."
Montavio opted to call the three-bet despite playing tighter than usual at this point as "folding a hand as strong as ace-ten, I'm probably going to be easily exploited, so I go with the call."
"We get the A♦9♦3♣ flop with a flush draw. This is a board that the small blind is going to continuation bet with his entire range for a small sizing, and I'm not going to be folding any pair to his first bet."
"The 9♠ turn is interesting because it pairs the board, and Edu goes with the check. I expect him to give up on this turn somewhat often because I think he will be three-betting a lot. I played with him on Day 1, and I saw him four-betting ace-five suited. He was three-betting king-nine suited, so he was playing very aggressively with his preflop strategy, and he knows I really don't like folding."
"I don't think he's going to try to bluff me a lot, but if he does pick a spot to bluff me, then the bubble is a good spot to do so. However, I don't have any reason to bet the turn. I'm still losing to his value hands. It's the same reason I didn't go all in preflop. If I bet my hand here, he will probably be folding every hand I beat, and he's continuing with every hand that beats me, so there's no point in betting here."
"On the very blank 5♣ river, he goes with the jam, and now I have a decision."
The question then Mantovani asks himself is, will his opponent value bet worse? Mantovani thinks the answer is no. He does not value bet any hand worse than ace-ten in this situation.
Mantovani then thinks about blockers and whether his hand blocks any value hands.
"I do block 10♣9♣, some good aces, but that's pretty much it. My blockers aren't that good."
The third question Mantovani poses pertains to how high up in his range he is.
"Funnily, I'm not super high up in my range. I mean, I'm going to have the flush draws that are worse than this, but I'm going to have suited 9x[x] because he three-bet small, so I'm going to have hands like nine-eight and king-nine suited. I'm going to aces that I trap, I'm going to have ace-nine suited so I'm going to have a lot of better hands, so I'm not that high up in my range."
Mantovani then points out that he should be more conservative with his bluff catchers on the bubble. The final question he asks himself is: How does the villain (opponent) perceive him? and suggests that Riego wouldn't consider him much of a folder, being that he hadn't seen Mantovani fold in any big situation on Day 1.
"So I think that when you put all of the puzzle together, this an easy fold. But if I didn't have all of that process, I probably would have called. I have top pair, I'm short, and I'm glad I folded this one."
Keep Track Of All The Action With The PokerNews Online Tournament Calendar
You should give the PokerNews Online Tournament Calendar a try. This free-to-use tool keeps track of the poker tournaments on major online poker sites like 888poker.
You can filter and search the tournaments to find what you're looking for quickly and easily, including the PokerNews exclusive freerolls held on 888poker.
Sign up for 888poker today, and you can register for poker tournaments without ever leaving the calendar!
Calum has been a part of the PokerNews team since September 2021 after working in the UK energy sector. He played his first hand of poker in 2017 and immediately fell in love with the game. Calum's proudest poker achievement is winning the only tournament he has ever played in Las Vegas, the prestigious $60 Flamingo evening event.