Learn.PokerNews Weekly: A WSOP Lesson Learned, Dealing with Maniacs, and Selling Action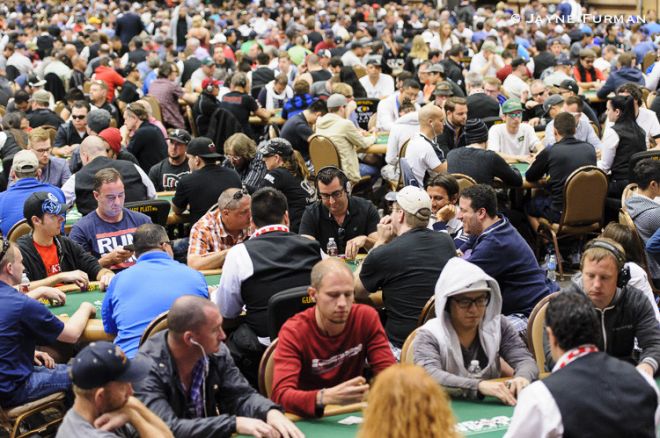 Over at Learn.PokerNews one can find a wealth of strategy advice, features, interviews, and more with numerous items of interest both to brand new poker players and those with more experience. New articles from Learn.Pokernews' many contributors are posted regularly, so there's always something new to see when checking the site.
Every Sunday the Learn.PokerNews Weekly highlights a couple of articles from the previous week while also pointing back to an earlier item or series you might have missed.
This week we share a couple of recent strategy pieces, one considering the importance of remaining observant at the tables and the other having to do with dealing with rapidly shifting table dynamics. We also point back to an explanation of what it means to "sell action" for a tournament, a topic we're hearing a lot about during the World Series of Poker.
Listen Up!
Our own Matthew Pitt had a chance to play a WSOP event this summer, Event #1: $500 Casino Employees No-Limit Hold'em, and this week wrote about the experience.
Rather than offer a thorough review of his tournament, Matthew focused on a particular sequence in which he realized he had missed picking up on some worthwhile information from an opponent because of the tunes he'd been listening to in his headphones.
The story inspired me to write a couplet about Matthew:
He listened to the Libertines,
Not to the man with pocket queens.
Crazy Drivers Driving You Crazy?
Meanwhile Neil Gibson was driving around this week when an encounter with a reckless driver inspired him to think about "reckless" play at the poker tables, in particular the way a table full of loose-playing "maniacs" can sometimes influence even tight players to play in ways to which they aren't accustomed.
Along the way, Neil addresses a much-shared piece of advice that suggests it is better to play in a style that opposes that of the rest of the table — e.g., if they're loose, play tight, or if they're tight, play loose, or "to go against the flow of traffic, so to speak," writes Neil.
However, there are other, perhaps better ways to steer your way through such situations.
Learn.PokerNews Call Back: Selling Action
Finally, for beginning players the idea of "selling action" in tournaments may be an unfamilar concept. Even for those who aren't playing a lot or at levels where selling action might be worth exploring, the topic is intriguing enough that many are curious to understand more clearly how the process works.
Josh Cahlik provided a quick, handy tutorial explaining some of the basics of selling tournament action that's worth a look if you'd like to learn more about the topic.
Get all the latest PokerNews updates on your social media outlets. Follow us on Twitter and find us on both Facebook and Google+!