Learn.PokerNews Weekly: Calen "Big Wheel" McNeil Keeps the Game Fun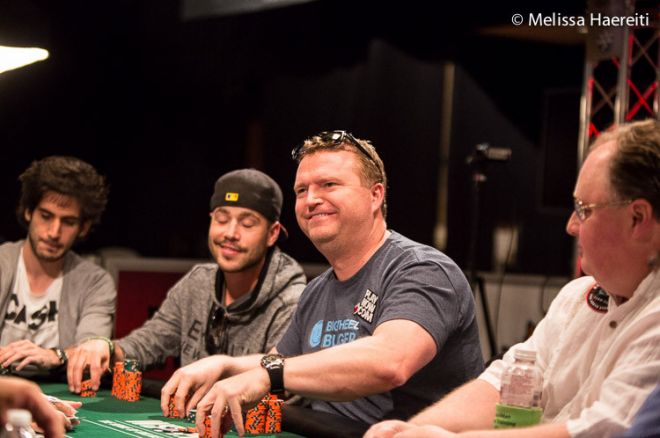 Each week Learn.PokerNews brings strategy articles and other features for new poker players. The advice covers both cash games and tournaments, and both live and online play, with a lot of helpful information about getting started with poker as well as more in-depth discussions about strategy and theory useful to players of all skill levels.
The Learn.PokerNews Weekly highlights recently-posted items on Learn while also pointing back to earlier pieces you might have missed.
This week we pass along one strategy piece focusing on the practice of late-position limping we've occasionally been seeing at World Series of Poker final tables this summer, another item for those new to casino poker regarding seating at tables and associated expectations, plus a "call back" to an interview with Calen McNeil who on Friday was nearly successful defending his WSOP bracelet win from a year ago when he finished fourth in Event #14 $1,500 Limit Omaha Hi-Low.
Never Limp? Not So!
Learn contributor and co-host of the Thinking Poker podcast Nate Meyvis chimed in this week with some observations about a particular strategy we've begun to see more frequently in recent years in no-limit hold'em tournaments, that of limping in before the flop rather than open-raising, especially when playing from late position.
Not long ago it was generally accepted that it was almost always better to raise than limp preflop. But now many are starting to recognize that limping with position can achieve a lot of desirable goals in hands that get to the flop, a few of which Meyvis outlines in his article.
Talking Elbow Room, Leg Room, and Get a Cupholder for That Drink!
After spending several years living in Las Vegas and playing poker full-time, Robert Woolley accumulated a lot of experience with live poker including a wealth of advice for new live players that he's been sharing in his "Casino Poker for Beginners" series.
This week Woolley covered some of the etiquette and unwritten rules governing how players are expected to share the space around a poker table, which can get a little crowded especially when playing ten-handed. For new players, just trying to figure out what's expected of them can add another layer of anxiety to the experience of playing in a casino.
Learn.PokerNews Call Back: "Big Wheel" McNeil Says Roll With It
As noted, on Friday Calen "Big Wheel" McNeil of Canada nearly pulled off the rare feat of defending a WSOP title. After topping a field of 1,014 to win the 2013 WSOP $1,500 Limit Omaha Hi-Low event, McNeil outlasted another thousand-plus this week in the 2014 version of the same tournament to finish fourth out of 1,036.
McNeil's deep run this week was all the more remarkable as he began Day 2 of the event near the bottom of the counts with 220 players left, starting that day with less than four big bets! He came up short to finish fourth, with Nick Kost — grinning along with McNeil in the photo above — eventually triumphing, but it was still an amazing run and McNeil's presence at the final table helped excite the rail and make for a fun finale.
McNeil sat down for an interview with our Josh Cahlik not long ago, the theme of which concerned the importance of keeping control of your emotions at the table, including not letting your ego lead you to bad decisions. In the second part McNeil also spoke at length about respecting your opponents, too, and not criticizing others' play.
In the context of that latter point, McNeil shared a terrific story about having finished runner-up in a World Series of Poker Circuit event to a recreational player, and how despite being disappointed not to win McNeil couldn't have been happier for his opponent. It's a story that illustrates much that is great about the game, and is well worth a read (see the end of Part 2).
Get all the latest PokerNews updates on your social media outlets. Follow us on Twitter and find us on both Facebook and Google+!