Learn.PokerNews Weekly: Satellite Strategy, WSOP Jitters & Poker Tells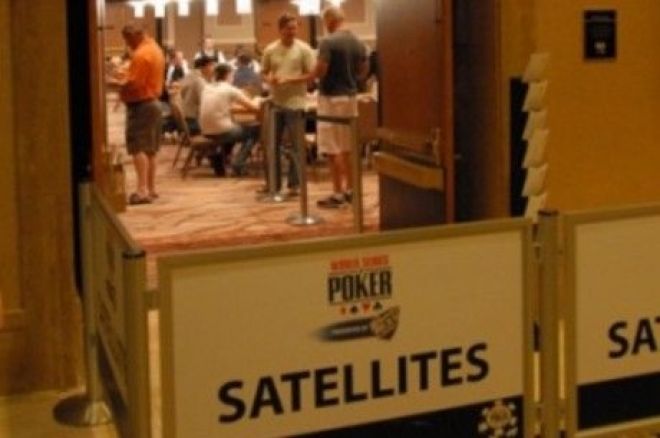 There's a wealth of strategy advice and more to be found at Learn.PokerNews. New articles are posted daily that focus on both tournaments and cash games. The instruction is geared toward those just getting started with poker, but is also of use to more advanced players.
Like everyone else in the poker world, the upcoming 2014 World Series of Poker is on our minds at Learn, where among recent offerings have been several pieces offering WSOP Player Tips as well as some WSOP Fan Guide articles for those planning to follow the coverage.
The Learn.PokerNews Weekly highlights recently-posted articles on Learn while pointing back to earlier pieces you might have missed. Here are a couple of recent, WSOP-related strategy pieces plus a "call back" to an earlier item by poker author Zachary Elwood providing a good introduction poker tells.
Get Satellite Strategy at the WSOP
Soon multiple bracelet events will be kicking off with tournaments played around the clock at the Rio All-Suite Hotel and Casino. There will also be no shortage of satellite tournaments available via which players can win their way into events rather than pay the full buy-ins.
Single table satellites are especially popular at the WSOP, and this week Carlos Welch drew upon his experience to share several concrete tips for how to approach them, including suggestions for how to play small suited connectors, set mining, deal-making, and more.
If you're planning to play some WSOP satellites this summer — or if you're just looking for general strategy advice for fast-structured tourneys and sit-n-gos — read and learn:
Alson's Advice for Overcoming WSOP Jitters
Among the best and most popular nonfiction narratives about the World Series of Poker is Peter Alson's Take Me to the River: A Wayward and Perilous Journey to the World Series of Poker recounting his experience playing at the 2005 WSOP.
This week Alson shared with Learn readers the story of his first ever WSOP event. Like many making their Series debuts, Alson was "a bundle of nerves" during his first event, finding it hard initially to focus on the game he'd been playing all of his life.
"I was like an actor who forgot all his lines as the curtain goes up," writes Alson. "I stared at my imagined audience, and just drew a complete blank. In this state, I was thankful to look down at a bad starting hand and be able to throw my cards away."
Read more about how Alson managed to overcome his "stage fright" and compete in that first tournament and in many more WSOP events since:
Learn.PokerNews Call Back: Getting Introduced to Poker Tells
Speaking of poker authors, Zachary Elwood's Reading Poker Tells is well regarded for its insightful discussion of the subject of tells in live poker, including the importance of putting such information in a proper context at the tables.
Elwood has written a helpful introduction to the topic of tells for readers at Learn in which rather than suggest new players worry too greatly about reading other players' tells, he advises them to do what they can to control their own actions in an effort to become as "unreadable" as possible.
Check out Elwood's list of suggestions for minimizing your own tells:
Meanwhile, for a rundown of other highlights from the past week at Learn.PokerNews, check out "The Sunday Review."
Get all the latest PokerNews updates on your social media outlets. Follow us on Twitter and find us on both Facebook and Google+!