Learn.PokerNews Weekly: Vanessa Selbst Shares Stories and Strategy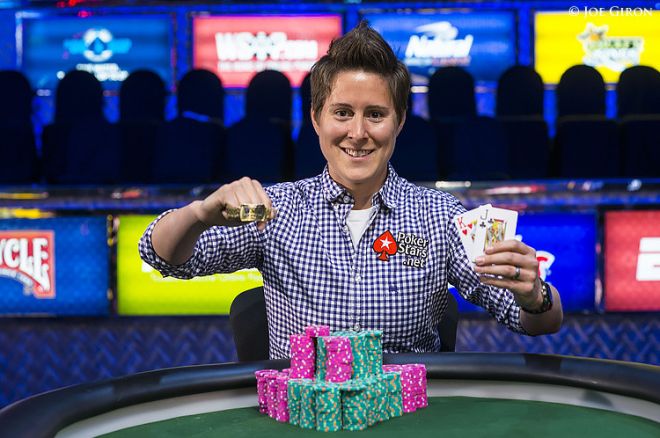 Every week Learn.PokerNews features brand new strategy articles primarily geared toward the beginning poker player. There's plenty else there, too, for those with more experience, including more advanced tips for cash games and tournaments, features exploring poker's history and culture, player interviews, and more.
The Learn.PokerNews Weekly highlights recently-posted articles on Learn while pointing back to previously-appearing items you might have missed. This week we share a couple of articles offering advice to those heading to the WSOP while pointing back to a recent interview with the player everyone is talking about this week after winning her third career WSOP bracelet, Vanessa Selbst.
Going to the Rio? Carry These "Need to Know" Items
Several Learn.PokerNews contributors have been offering "WSOP Player Tips" of late with much of the advice being particularly directed toward the new WSOP player.
This year the Rio All-Suite Hotel and Casino is celebrating its 10th year of hosting the WSOP, and it just so happens this also marks Nate Meyvis's 10th year of going to the WSOP to play. Thus has Nate gathered a lot of experience with how tournaments are generally run at the Rio, and has helpfully compiled a few items from the "need-to-know" category to share with those making the pilgrimage to the WSOP for the first time.
Read Nate's catalogue of things players can expect to encounter when playing at the WSOP:
Take Your Tourneys, Tommy Angelo Would Rather Play Cash
Tommy Angelo is a well respected poker author (Elements of Poker, A Rubber Band Story and Other Poker Tales), coach, and player whose ongoing series "Tilt for Beginners" has proven popular among Learn.PokerNews readers.
This week Tommy provided a special "WSOP Edition" of his series in which he shares in entertaining fashion his experience over the last two decades-plus going to the WSOP to play in the many cash games going around the clock alongside the bracelet events.
Here's how Tommy begins:
If you are going to Vegas for the World Series of Poker, and you're new at this, and you're super-stoked, and you want some advice on what to do and not do, here's mine: Check out Hoover Dam. And if that's too ambitious, then drive out to Red Rock Canyon and walk around.
See where Tommy goes from there with his advice — and just try to read without grinning:
Learn.PokerNews Call Back: Valuable Advice from Vanessa
Among the ongoing features at Learn.PokerNews is Michelle Orpe's interview series "Orpe's Top Ten" which finds her picking the brains of the game's top players not only to find out their advice for poker success but also to learn more about how they got started in the game.
It wasn't too long ago that Michelle had the chance to speak with this week's WSOP star, Vanessa Selbst, whose victory in Event #2: $25,000 Mixed-Max No-Limit Hold'em in which she topped an especially talented 131-player field not only gave Selbst her third WSOP bracelet, but also carried her over the $10 million mark in career tournament earnings.
See what Selbst had to say in response to Michelle's questions about what advice she has for new players, the top elements to consider when playing a hand, and the craziest thing she's ever seen at a poker table:
Meanwhile, for a rundown of other highlights from the past week at Learn.PokerNews, check out "The Sunday Review."
Get all the latest PokerNews updates on your social media outlets. Follow us on Twitter and find us on both Facebook and Google+!