Pros and Cons of Multi-Tabling Cash Games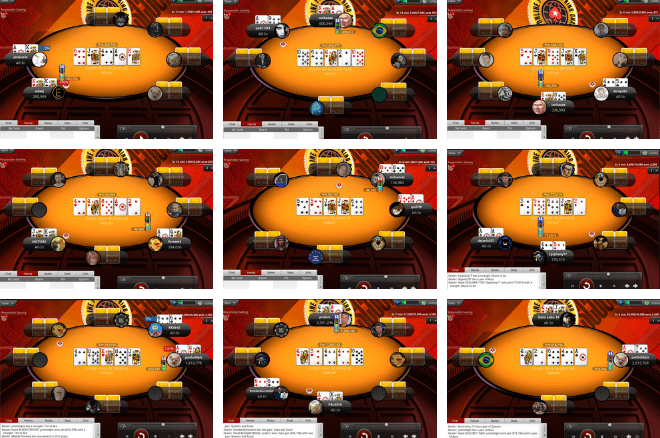 Multi-tabling online poker cash games is nothing new but is it something you have ever done? There are plenty of benefits to playing more than one table at a time. However, there are also a few pot-holes you need to weary of before playing, which are explained in the article.
Two of the most well-known multi-tablers are Bertrand "ElkY" Grospellier and Randy "Nanonoko" Lew, who both hold Guinness World Records for multi-tabling. The former holds the record for most online poker tables played in one hour while the latter recorded the most hands played in an eight-hour session.
Grospellier was able to compete in 62 Sit-n-Go's in 60 minutes and finished with a profit while Lew recorded 23,493 hands playing from 25-40 tables at a time. Lew also finished in the green, notching a profit of $7.65 upon completion.
Top Tips for Multi-Tabling
Before you channel your inner Elky or Nananoko, be sure to use these helpful tips to make your transition to multi-tabling online poker cash games that bit easier.
Use a Four-Color Deck
Use Hotkeys
Use the Notes Feature
Tile Your Tables, Do Not Stack
Always Sit in the Same Position
Pro: Potential to Increase Your Winnings
Winning poker players maximize their earnings by multi-tabling. In online poker, a player usually sees around 60 hands per hour. If that person is competent at playing at five tables, they're seeing 300 hands an hour instead.
As multi-tablers are playing more hands per hour, and as long as they are a profitable player, they have a higher earning potential than a winning player who only plays at one table at time.
Best Free to Play Slots
Pro: Variance Isn't as Damaging
Variance in poker can sometimes cause people to lose their minds. Everyone has had a session where they seem to get it in good every time but by the time the board has run, your stack now belongs to someone else. If this resonates with you, multi-tabling may be an option you should consider.
The reason multi-tabling reduces variance is that as you are playing more hands, you absorb losses in a way that is less damaging to your bankroll. Especially if you are only playing big hands.
Pro: Save on Time
If you only have a few hours spare each week but want to put in as much volume as possible then multi-tabling poker cash games is a great way to do that.
For argument's sake, let's say your usual routine is playing for three hours, three times a week. Using the 60 hands per hour we discussed earlier, over those nine hours you can expect to see around 540 hands.
Add a second table, that figure balloons to 1080, a third table lets you see 1,620 and if you can manage a fourth, that takes it to over 2,000 hands.
Win 2022 WSOP Main Event Seats NOW on ClubGG!
Best Free to Play Slots
Con: Experience More Bad Beats and Coolers
While it's been said that multi-tabling will help you absorb losses better, it is also true that you will experience more bad beats and coolers while playing online poker cash games.
By seeing more hands, the chances of you experiencing more bad beats also increases.
There's also the danger of allowing one bad beat to affect you across all the tables you are playing. If you are someone who is easily tilted by coolers then you need to work on your mental game before multi-tabling.
Click here to see the 2022 WSOP Full Schedule
Con: Cannot read your opponents
Part of the fun of live poker is picking up tells on your opponents when face to face, Phil Hellmuth for example, often points to his reading ability as one of the reasons why he has been so successful.
Now when playing online poker, you do not have the luxury of being able to stare at an opponent in the eye. Instead, you're facing a desktop. And while you may pick up on some behavioural patterns of your opponents when playing just one table, when you add several more tables into the mix it becomes extremely difficult.
You'll be up against a wide variety of player types and as you'll almost always be in a hand, you do not get the opportunity to study your opponents as effectively. This is when you need to use note tools to build up these profiles on your opponent.
Must Have Rooms
Home to the biggest tournaments online, these online poker rooms also have the largest player base, great bonuses, tons of action and the best software. If you don't have accounts here, you are missing out on the best that online poker has to offer.
Calum has been a part of the PokerNews team since September 2021 after working in the UK energy sector. He played his first hand of poker in 2017 and immediately fell in love with the game. Calum's proudest poker achievement is winning the only tournament he has ever played in Las Vegas, the prestigious $60 Flamingo evening event.