Reading Poker Tells Video: Verbal Checks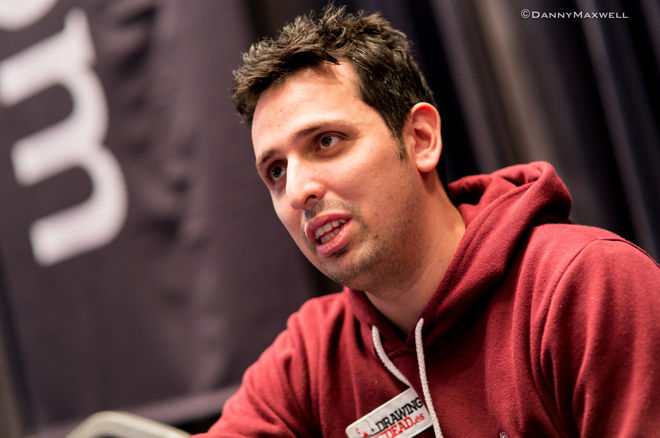 (This article is part of a series. Each article discusses a specific poker behavior and features a short sample clip from Zachary Elwood's Reading Poker Tells Video series.)
In general, when a player verbally indicates a check, this makes it more likely the player has a weaker hand. This is a weakly reliable tell you might use when on the fence between bluffing and checking.
Below is a short compilation of a few verbal checks from players with weak hands.
Reasons
What are the reasons for this pattern?
Players who check very strong hands have an instinct not to draw attention to themselves. They want to remain inconspicuous and not set up any obstacle to an opponent betting. This makes players who decide to slow play more quiet in general.
Players checking with weak or vulnerable hands sometimes have a motivation to act confident, which can make verbalization more likely. Checking verbally with a weak hand can be a defensive reaction to communicate confidence and try to intimidate an opponent out of betting. This is especially true for the more forceful verbal checks.
Sometimes players with weak or vulnerable hands have a motivation to verbally misdirect away from the reasons for their checking. One example of this behavior: a player first-to-act on the river says, "That's a bad card, I better check." He's trying to communicate something like: "I have a strong hand and I would usually be betting it, but that's such a scary card, I should check." He likely has a weak hand and is directing attention away from his true reason for checking.
Another example of a misdirecting statement accompanying a check: a player checks a weak hand last-to-act on the turn by saying, "Okay, I'll check." He's implying that there was some sort of decision for him, and that his hand was strong enough at least to warrant thinking about betting. The "Okay" can be thought to represent the end of an internal discussion he went through about whether to bet or check.
These kinds of misdirections, which imply thoughtfulness on the part of a checker, can be one factor in verbal methods of checking, even for simple, one-word checks. In other words, even for simple verbal checks, there can still be an intent to communicate thoughtfulness.
Loudness and emphasis
Verbal checks that are more loud and emphatic are more likely to adhere to the pattern than softly spoken checks. The more loud and emphatic verbal checks are, the more likely it becomes that the player is behaving in a defensive way.
To put this another way — you should be much more willing to bluff someone if they check loudly than if they check softly.
Reading Poker Tells Video Series: This has been an article featuring info and a video sample Zachary Elwood's poker tells series (as well as a clip from the World Series of Poker). You can sign up for a free 3-part email course on the front page of this site: www.readingpokertells.video. Signing up for the email course also gets you a 15% discount off of any of the video series packages.
Want to stay atop all the latest in the poker world? If so, make sure to get PokerNews updates on your social media outlets. Follow us on Twitter and find us on both Facebook and Google+!