Rebuilding the Bankroll
GladeMellor1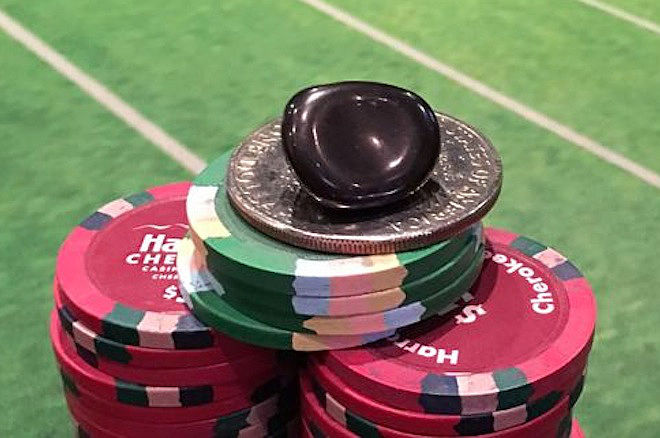 I started 2016 with $310 and a lot of hope and ended the year up over $15,000. Here I am in the second month of 2017 and hope is again the largest component of my bankroll.
My bankroll went to some unplanned medical bills, kid's activities, family vacations and the general black hole of life. I don't regret it, but it is frustrating having to start back at baseline again. In fact, since I'm actually being staked by a friend, it feels even lower than baseline. I have to keep looking back at my poker graph from the last few years to keep reminding myself that I've done it before and can do it again.
So here I am again on the road up to Cherokee to take advantage of the two nights comped by Harrah's. Of course, being a low-limit poker player only gets me comped rooms during the months of January and February in the middle of the week. My laptop is packed so I can work from the business office during the day where the internet access is free. WiFi costs $11/day here, so there won't be any wireless access in my room. When you're rebuilding, you really have to watch every small expense. Maybe one day when I'm a regular $2/$5 high-roller again I can afford WiFi, but it's not in the budget on a $1/$2 bankroll.
The action isn't very great mid-week up here in the mountains, and even with a free room, it can sometimes be barely worth the gas for the three-hour trip. But I do know most of the regs and they're usually weak enough to squeeze out a few dollars to at least cover expenses.
I listened to the last two episodes of the PokerNews Podcast on the trip up and heard about the new blog feature, so here I am. Writing about my adventure since I think a lot of other part-time grinders can relate. I'm not looking to quit my day job, but just make a little extra money and play the game we love.
After checking in and doing a few minutes of meditation, I head downstairs and get on the waiting list. It's already 9 p.m. but I'm still wired on my homemade cold-brew coffee and a matcha-kale-protein smoothie I had before I left. I figure I will play until midnight then get some sleep. I haven't been running as much as I should be lately and I want to get in a long early morning run. There is a nice eight-mile loop that I like to do from the casino up into the mountains and back.
I talked to my friend on the drive up and he got me pumped about short-stacking the $2/$5 game, and so I sign up for both the $1/$2 and $2/$5 waiting list and decide to let fate determine what I will play tonight. I have a $2,000 stake and although I'm a little short on the roll for $2/$5, I figure I can afford to give it a couple shots if I just buy-in for $300.
Sure enough, I get called to the $2/$5 tables and sit down to what looks like a fairly tight table. Standard for a Tuesday night. Luckily the one active player is to my right. He's opening a lot of pots and seems to really like to raise limpers in an attempt to pick-up the weak money. A few hands into the session and I pick-up
in the big. We get two limpers and he squeezes to $20 from the small blind. I hope it just looks like I'm wise to his light raising ways and make it $55 to go. The limpers fold and he contemplates for a bit, says "I believe you," and tosses it in the muck. Damn.
Things are going slowly and I keep oscillating around my initial buy-in amount. It's about an hour into the session and I'm up exactly $45. The tournament starting at 10:00 p.m. is exactly $45. It feels like fate. I flip my lucky silver dollar and it comes up tails three time in a row. Tails means don't play. But our table is now six-handed and it's all tight regs. The active player to my right has decided to quit and the other soft spots have busted out. I look over at the gathering tournament players and it looks super soft. I wait for the blinds to come around and go cash out and use the proceeds to freeroll the nightly tournament.
There are 29 players in the tournament tonight. By the second level, I have 30 big blinds and I'm actually slightly above starting stack. These definitely play like a turbo. I make a bad fold with
after it was limped around to me in the big blind and the flop came
with two clubs. I bet out, got called by three players and after it checked around on the turn, another
fell on the river. I check-called, then it got check-raised and called before it got back around to me.
My
couldn't possibly be good so I threw it in the muck, proud of my discipline. The under the gun player flipped up
an the raiser showed
. I would have split a good-sized pot. Instead, I was now down to 15 big blinds. Two hands later, I find
on the button and attempt to squeeze by pushing all-in over two late-position limpers. The big blind immediately pushed all in over the top and UTG snaps. Damn. I'm going to need some help. Two diamonds come on the flop to give me a good sweat, but another king on the turn and a black card on the river sends me to the rail.
Well, I'm back to even so far for the trip. I get back on the $1/$2 list and find a fairly tight but soft table and manage to grind up a $100 profit over the next hour. It's midnight and I need to get some sleep if I'm going to be productive tomorrow. That at least covers my gas and I brought my food for the two days I'm here, so that leaves a small profit for the trip so far. That will make for a good night of sleep. Tomorrow is a new day, but at least we're off to a good start.
Big wins are nice, but rebuilding the bankroll takes a lot of small wins. It's singles and doubles to drive in the runs. I'll use my comps to have a double vodka on the rocks, then off to bed and prepare for battle again tomorrow.
This article was written by one of our community members as part of the PN Blog. The thoughts, opinions, and strategy are those of the user only and do not necessarily reflect the positions of PokerNews. We appreciate your feedback, but ask that you be respectful of our PN Blog users who have generously donated their time. You can learn more about the PN Blog here.
Finding a trustworthy room to play online poker can be a monumental burden. That's all the more true if you're just looking for a place to play poker for free. We've listed five of the best play-money poker sites to enjoy and help hone your skills.