Strategy with Kristy: John Racener Discusses Pot-Limit Omaha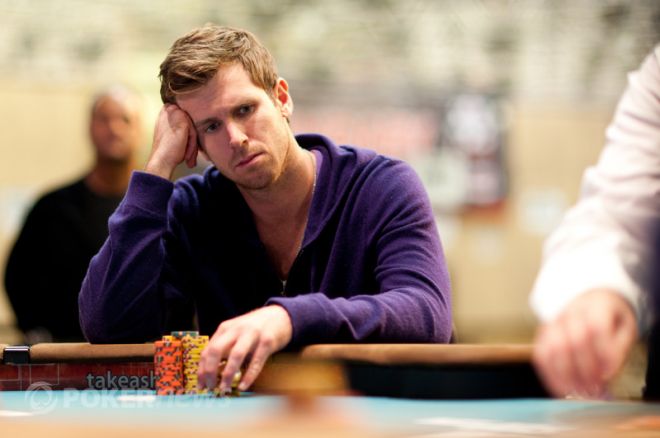 John Racener is best known for coming in runner-up at the 2010 World Series of Poker Main Event, but he's gained a respectable reputation as a pot-limit Omaha player as well. Racener made it through Day 1 of the $10,000 Pot-Limit Omaha, and came on the Strategy with Kristy podcast, just after play.
Here is a snippet from the interview where Racener discusses a tough spot he had during Day 1:
I called a raise out of the big blind with a hand that is at the bottom of my calling range. I had pocket tens with king-six, and it was double suited. It went five ways with a pot-size raise preflop. The flop came eight-jack-queen with the jack and queen of hearts. I had two blockers, the tens, for the nut straight, and I also had king-ten of hearts.
The first guy led out for the size of the pot with no money behind. It would have been over half my stack. I thought about it for awhile, and I decided to fold. I just thought that he could have a better flush draw with a pair. I thought it'd be possible that I didn't have a lot of outs.
It turned out that he had the nut straight, so it was a good fold. But, I actually had more outs than I thought I did. If I knew he had that hand, I think I might have gone with it because of the odds. He showed me, that's why I knew his hand, by the way. I just thought about it for so long because I had the blockers and royal flush draw. If he has the ace-high flush draw though, I'm kind of screwed. So, I decided to fold. Actually, the guy sitting next to me rabbit hunted, and it came brick-brick. I would have lost. That made me feel really good. [Laughs]
Tune in every week for new episodes of Strategy with Kristy. Feel free to send in questions, ideas or suggestions for the podcast to kristy@pokernews.com. Also remember to follow PokerNews on Twitter for up-to-the-minute news.