Stud Poker Strategy - Stud in Las Vegas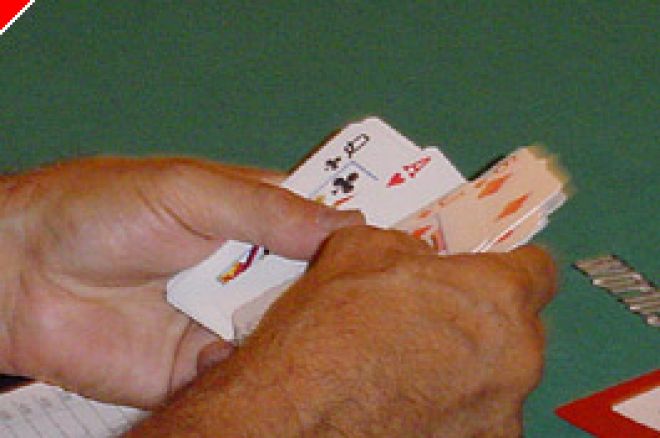 The title is sexy and seductive I suppose. It's every guy's fantasy — to be a stud in Las Vegas. All those showgirls. But my tale is not that tail. It's a more somber report.
The state of 7-Card Stud in Las Vegas, Nevada is a pretty dim one I'm afraid. Let me give you the latest news.
There is only one room that consistently spreads stud — and they don't spread it all the time. That's the Bellagio on the Strip. When they have it it is $20/40. I went by there a few times during the World Series of Poker. A couple of times during the week there was no game at all. On Sunday night there was a game. There was a list of 15 or so players. "That's an all night list" the brush told me — meaning that it would be on there all night and that my chances of getting a seat were poor.
The other rooms, for the most part, have nothing. The Mirage, once a hotbed of stud, had a $15/30 game as recently as my last trip in February. This trip in August — nothing at all. They told me that they might have a $5/10 game later in the day. They may have had a $1-5 spread limit game a couple of days before I visited, I was told. But on each of three or four times when I called the room, and on the one occasion when I stopped by, the closest they came to a game was having a list for one.
I checked around at other poker rooms on the Strip. Admittedly, I didn't check them all out. But Caesar's didn't have a game. They reported that they never got one. Same thing with the Hilton. Though their new room was beautiful and the hold 'em games plentiful — absolutely no stud. No stud at the MGM — at least not when I was there. The floor said that they spread it occasionally. The Tuscany had two tables of Hold 'em but "never stud". Imperial Palace never spreads stud, I was told — though they used to spread a low limit no ante game I was assured. "Thank you. If I can ever manage time travel that will be very useful information." I mumbled to myself as I left disappointed once again.
The Orleans still posts a bad beat jackpot for stud. But the floor told me that the last game was, "Gee, I don't know, maybe we had one when some guys showed up here who wanted to play a few months back". Not very encouraging.
How about the Rio during the World Series of Poker? They have thousands of players every day coming in for tournaments, for the poker convention that is the World Series and the Lifestyle show as well. Maybe super high limits for the high limit players? Nope. Stud 8? That they had — a $50/100 game every day. But for the week I was there — during which time there was a Stud8 event — there wasn't one stud "hi only" game. When I asked the brush if they expected to have a game he said, sadly that they hadn't had a game at all that he knew of. He pointed out that they had a couple of big tournaments with stud8. That I knew of course. But if you don't' have live stud cash games during the World Series of Poker — well that's pretty sad. Not their fault of course. They'd spread 5-card stud if they had interest. But it's sad nevertheless.
No stud at any of the following places I visited either: Red Rock Casino, Main Street Station, Binions, Aladdin, Gold Coast, Palms, Golden Nugget, Fitzgerald's, the Plaza, Stratosphere. What, did all of those old stud players who used to rock around in the low limit games finally all die? Gee I hope not. Maybe someone came through all of these rooms and offered them a $5 chip to switch to hold 'em. Or maybe a meal voucher. Alas, they are all gone.
Even the old reliable $1-3 no ante rock fest at the El Cortez wasn't going when I was there. "We usually have one" they added helpfully. And all along I thought that the players in that game were literally attached to the table. Must have gotten some special kind of acid to pry them loose. Sorry, but I'm still a bit shook up over how things have changed since stud's apex in the early 90s.
I heard they might sometimes spread stud at Sam's Town. I called and was told that they had a regular $1-5 no ante game. But twice when I called and once when I visited there was no stud. Hold 'em to be sure but no stud. I guess the definition of regular could mean that the players were regular. Thank you Metamucil.
There was one slightly positive sign at Treasure Island and the relatively newly opened and gorgeously appointed Venetian — run by Kathy Raymond (formerly of 7-Card Stud capital of the world Foxwoods). They each spread rotation games — upon request and regularly throughout the week. During those rotation games you can usually get a round of stud. I even was fortunate enough to sit down while they had these games going: $3/6 at Treasure Island and $6/12 at the Venetian. But that's a story for another day.
Bottom line: stud at the Bellagio and no where else. Some stud I was.
Ed Note: There is always Stud at Poker Stars Sign Up Today.