Brush Up on Your Omaha Skills with 888poker's Vivian Saliba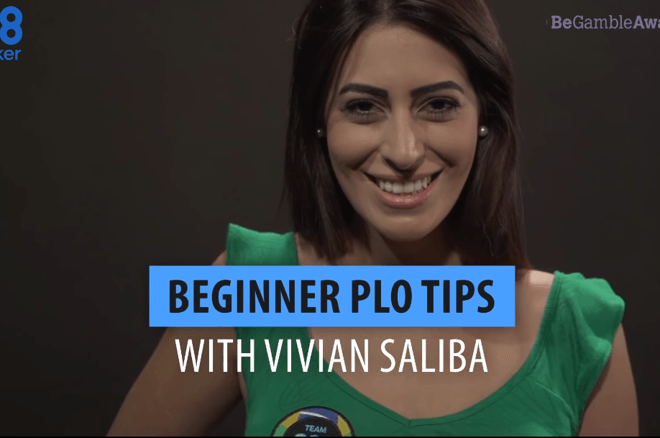 We're very excited that Omaha has finally been added to the new 888poker mobile app. The mobile app was already 'Made to Play' offering a new portrait mode, smooth multi-tabling, and an unprecedented level of customization.
To celebrate this latest update, Team 888's Vivian Saliba has recorded a video with her top tips to this "simple game."
Very Simple Game
Saliba says that Omaha or Pot-Limit Omaha is a "very simple game," as instead of two cards, you receive four cards. However, the difference is that you must use two cards from your hand.
"In PLO, bets and raises are limited to how much is in the pot"
"I've been playing PLO for the last nine years. Personally, I love to play PLO - it's my favourite game. There is so much fun, you have double the cards - so double the fun!"
Saliba's Top Tips
1. Play Connected Cards
Saliba explains that in general, a more connected hand will play better in Omaha. That means that a hand like
is worse than
because of the straights and flushes the second hand can create.
Double-suited cards are also good for aiming at flush draws.
2. Play Fewer Hands
Although players may be excited to have so many cards in their hands, and therefore seemingly so many options, Saliba says that it's important to play tight preflop to ensure you're putting yourself in a position to make as strong a hand as possible.
---
Related: 888poker Giving Away $100,000 in 24/7 Freeroll Festival All This Month
---
3. Focus on Making the Nuts
Just because you have a strong hand pre-flop - maybe pocket kings or something similar - don't fall into the trap of overestimating these high cards or big hands.
A lot of Omaha play comes down to post-flop. Only if you're playing heads-up or with fewer tables, then you can think about widening your range.
4. Bluff with Blockers
Although it's important to play fewer hands and focus on making the nuts like the previous points, because there are so many cards in play it's important to pay attention to potential blockers in your hands.
For example, if the board has four spades but you hold the
then you hold the nut-flush blocker. Watch out for these good bluffing opportunities should the occasion arise.
5. Double-check your hand.
You don't want to get to the river and have an unexpected surprise! Don't be afraid to double-check your hand - whether you're playing live or on the 888poker mobile app - just to make sure you have what you think you have
---
How to Download the 888poker Mobile App
The 888poker mobile app is available for free download on iPhone and Android devices. Follow the links below to get yours.
If you don't have an 888poker account you are eligible to a free bonus as soon as you register an account to play.
888Poker bonuses vary depending on your location and range from a free $88 bonus to a £20 UK poker bonus with no deposit needed.