WSOP 2023: How to Play the Bubble at the World Series of Poker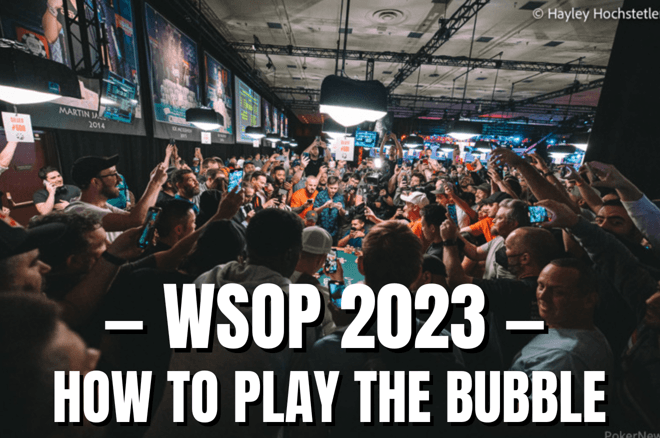 Anyone in Las Vegas this year for the 2023 World Series of Poker (WSOP) has one goal in mind — walking away with a coveted WSOP gold bracelet. However, before you can even start thinking about getting your hands on the one thing every poker player wants, you have to make the money.
So before you get blindsided by the glory, be sure to knuckle down and brush up on some poker strategy tips when it comes to playing the bubble at the WSOP.
Don't worry, there's plenty more strategy articles here on PokerNews to help you get ready for what might be the biggest Series ever!
2023 World Series of Poker Hub
Bookmark this page! All you need to know about the 2023 WSOP is here.
When it comes to the bubble of tournaments at the WSOP, you don't necessarily need to be an ICM whizz-kid. That's why we're going to boil down things to just three key tips that will help even the most beginner of poker players. We'll then offer some more advice for advanced players.
The three tips are:
1. Get Ready
2. Be First
3. Avoid Risks
We'll now go into more detail on these three pieces of advice: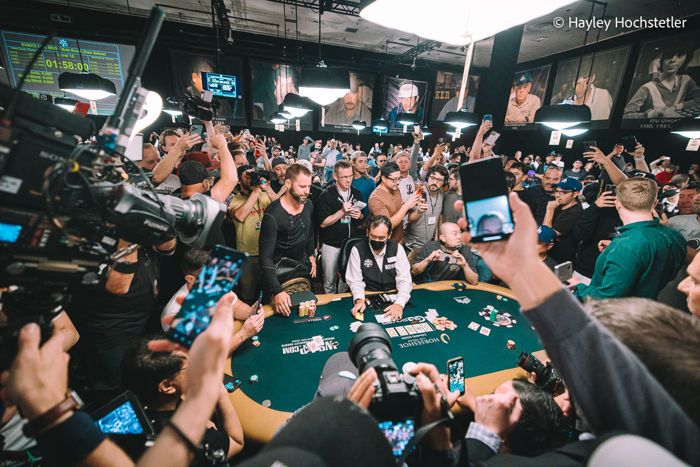 1. Get Ready
The bubble of a poker tournament isn't just the moment one player leaves with nothing, and the rest of the field lock up a min-cash. It can cover the entire period leading up to that moment, the so-called pre-bubble. Depending on how big the tournament is, this can be anything from 5-50 players away from the money.
If you've got a big stack, then you should be putting it to work. Shorter stacks won't want to take risks with the bubble looming, and the chance to secure a cash, therefore push them around with steals, resteals and traps.
If you've got a medium stack, then you should still be looking to isolate short stacks, playing position poker to avoid being trapped by the big stacks. Be sure to keep an eye out for any big stacks failing to put it to good use. Use this as an opportunity to grow your chip stack further.
If you've got a short stack, you should be keeping your options open. If you're in the 6-8 big blind danger zone, then you'll only have one move - all-in. When the moment comes, make it count. Which brings us onto our second piece of advice.
What Would You Do? Pocket Tens on WSOP Main Event Final Table Bubble
2. Be First
When you enter a pot approaching the bubble, or even on the bubble itself, you want to be the first player entering the pot. This is relevant whether you are the table big stack or a short stack looking for a double.
This is not the time for passive play, so you should be opening good starters, and continuation betting more, especially if opponents are looking to play fit-or-fold poker postflop to ensure they remain in the tournament.
Another thing to be aware of, is that you shouldn't force things. If you are card dead on the bubble, keep to your strategy and don't try to win pots you have no chance of winning. Or trying to win pots you shouldn't have entered in the first place!
---
Related: Poker Terms Explained - Bet in the Dark? Bubble? Paint Cards?
---
3. Avoid Risks
As explained above, it's important to be active on the bubble, taking advantage of players who are slowing down, tightening up and wanting to ensure they cash above all else. You meanwhile are looking ahead to after the bubble, and increasing your chip stack all the while.
However, one poorly-timed call or bet can be your downfall, therefore it's imperative to avoid risks. The fundamentals of poker still apply, even if you're on the verge of cashing in the WSOP Main Event for example. Pay attention to things like position, pot odds and obvious strength from opponents such as check-raises or all-in shoves.
This is not the time to be a hero. Play a strong range and play it well. If you do have to call someone's shove, make sure you're doing it because you think you're going to win, and not just to get one player closer to the bubble.
Read About The Latest Winners At The 2023 WSOP
More Bubble Strategy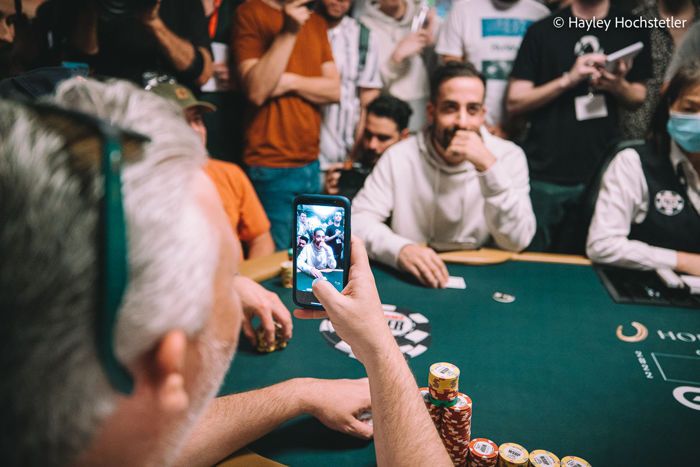 Obviously, bubble strategy can be far more complex than just three simple tips. One key piece of advice that applies to entire tournaments, not just the bubble, is to recognize how each of the opponents at your table plays.
If they are loose and aggressive, see if that continues into the bubble. Or will tighter players tighten up even further. One curious thing that could happen is that tighter players may feel that they need to open up a little bit more on the button. With them out of their comfort zone, this might be an opportunity for you to capitalize on.
As in all poker, your strategy is going to be dictated to you by two different things:
Your stack size
Your opponents' stack sizes
---
Read More: PokerNews Strategy - The Importance of Stack Sizes
---
Your stack size will decide what approach you will take to the bubble. That could be you looking to enter as many pots as possible to increase your stack further, looking for opportunities by picking off short stacks desperate to survive, or you being one of those shorter stacks wanting to survive yourself.
Your opponents' stack size will also dictate what role you're going to play as the bubble approaches. Are there lots of short stacks at your table? Even if you haven't got mountains of chips, these will represent opportunities that you will be able to capitalize on. Is everyone at your table sitting fairly comfortable? Then perhaps the pace at the table will slow as people await the bubble bursting, allowing for you to enter some pots and accumulate chips.
You can check out more great bubble strategy content here on PokerNews:
Will Shillibier is based in the United Kingdom. He started working for PokerNews as a freelance live reporter in 2015 and joined the full-time staff in 2019. He graduated from the University of Kent in 2017 with a B.A. in German. He also holds an NCTJ Diploma in Sports Journalism.