XL Inferno #10 - $150,000 Tune Up
Day: 1
XL Inferno #10 - $150,000 Tune Up
Day 1 Started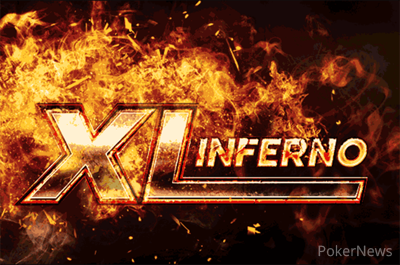 Welcome to the XL Inferno #10 - $200,000 Tune Up taking place online at 888poker at 6 p.m. GMT. Players begin XL Inferno #10 - $200,000 Tune Up with 15,000 chips and blinds will increase every 20 minutes. Players will be able to rebuy for 15,000 additional chips for $160 during the 240-minute late registration period provided that they lose all their chips.
PokerNews will provide you with live updates throughout the event so you can keep track of who's winning and who's losing if you're not able to follow along with the action in the 888poker client. We'll bring you all the big hands, all the bad beats and all the drama of this phenomenal event!

In just fifteen minutes, the tenth event of the XL Inferno Series will kick off. Players are entering for $160 and over 100 players already registered for this event.
Level: 1
Blinds: 25/50
Ante: 5

Level 1 : 25/50, 5 ante
The guaranteed prize pool is $150,000 so the tournament needs 1,000 entries to make it. There will be four hours of late registration, so that shouldn't be a huge problem.

Level 1 : 25/50, 5 ante
Level: 2
Blinds: 50/100
Ante: 10

Level 2 : 50/100, 10 ante
The tournament just started, but many big names have chosen to enter the tournament at this stage. When will the enter? They have still three hours and thirty minutes to register.

Level 2 : 50/100, 10 ante
Download 888poker via PokerNews and you'll receive a free $88 worth of cash and tournament tickets just for creating your free account; this is a free £20 to residents of the United Kingdom. When you come to make your first deposit, 888poker matches it 100 percent up to a maximum of $888. All you need to do then is bring your A-game to the table and see if you can become an XL Inferno champion.

Level 2 : 50/100, 10 ante