Borgata Winter Poker Open: Things To Do at the Borgata Hotel Casino & Spa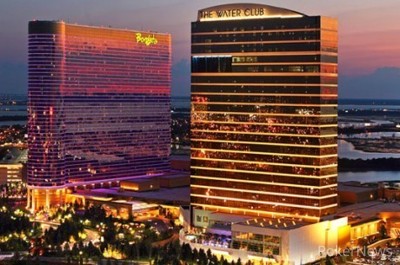 The 2014 Borgata Winter Poker Open is underway here in Atlantic City, New Jersey, kicking off with a $560 no-limit hold'em reentry event on Tuesday, Jan. 14. Taking place at one of the finest gaming destinations Atlantic City has to offer, the Borgata Hotel Casino & Spa is a definite crowd pleaser featuring a luxurious spa, a variety of fine-dining restaurants, and a stylish nightlife to help get your mind off the bad beats taken at the poker tables.
There are a number of different dining options available inside the Borgata making it convenient to never require leaving the hotel. Whether you are looking for something quick and easy, or something a bit higher-end, the Borgata has a taste to satisfy and meet your needs.
Bread + Butter is the perfect place to enjoy an afternoon bite serving up sandwiches and gourmet beverages. One perk is the breakfast menu left as an all-day selection, making it a great spot for those late-night craves. The classic grilled cheese is a patron favorite, or you can also try the Portobello and provolone griddled sandwich, both of which — along with most of the menu — are $10 or less and won't break the bank.
As a man who has revolutionized the culinary industry, Wolfgang Puck has served up bold and innovative cooking for years and now offers contemporary American cuisine in an upscale setting at the Borgata, as part of his first East Coast venture. Enjoy truffled potato chips, spicy lamb chorizo pizza, or a prime burger from the tavern menu as a less-expensive dinner option. Or you can treat your taste buds and choose one of the many options from the main course on the fine dining menu.
Once you've had your fill of the action at the poker tables, take the time to sit back, relax and enjoy a glass or two of your favorite drink.
Gypsy Bar specializes in tequila but also offers an eclectic beer selection and compliments your drink with a roaring atmosphere of live music. The intimate space has seating at the bar, traditional pub tables, and comfortable armchairs for a lounge-type feel. Low lighting also helps to keep the mood mellow. Oh, and don't be afraid to get a little crazy. Gypsy Bar comes complete with a dance floor allowing you to move your feet to the best sounds in town.
Never been to the Atlantic City or to the Borgata? Then MIXX is the first place to check out because it fully captivates what the Borgata is all about. As a performance-driven dance club, MIXX is home to some of the most renowned DJs and official concert after-parties. With its high ceilings, two levels, and plenty of VIP tables, MIXX has more of a mega club feel than its local counterparts. You will find trapeze artists swinging from the rafters, and celebrities passing through on any given night.
OK so maybe the club scene isn't for you. Don't worry, because Borgata comes fully equipped with the most luxurious of spas on the east coast. Dedicated to undoing the effects of your day, Spa Toccare offers relaxing treatments guaranteed to exhilarate. It is definitely the place where tensions melt and knots disappear. Sounds like a typical effect from a 12-hour poker session. So emerge yourself into the comforts of their many services and elevate your well being, if even just for an hour or two.
Surely, whatever you choose to do while staying at the Borgata Hotel Casino & Spa, you will be surprised to have a Las Vegas experience with an East Coast twist.
For a full schedule and more information about the venue, visit theborgata.com.
Article written by PokerNews' Pamela Maldonado