It was another huge day at the Cash Game Festival Bratislava at Banco Casino Bratislava with tons of action and fun both on and away from the felt.
The action has been full all day long with nine tables running as of midnight and more expected to open with many players now attending the VIP party at Club Bratislava.
During prior Cash Game Festivals, many of the players came back renewed with energy from the party and ready to play until the morning if not longer.
Cash Game Festival co-commentators Henry Kilbane and George Sandford were at it once again hosted two streams live on the Cash Game Festival Twitch channel and embedded in our coverage at PokerNews. After the streams were over, George Sandford took almost 15 minutes out of his day to appear live on Facebook to learn more about his experiences.
The first feature table was a fun €1/€2 no-limit hold'em affair with three players from Cash Game Festival partner 32Red Poker at the table.
As fate would have it, 32Red Poker qualifier Edgars Armans was the biggest winner at the table after booking a profit of €224 or 112 big blinds.
Armans' big day was overshadowed by the night by Karol Masarovic, who won €4,557 or 455.7 big blinds playing at the late €5/€10 no-limit hold'em. Masarovic won a massive pot for €4,600 when his ace-queen suited got there for a flush against ace-king and four-three after the trio of players were all-in preflop.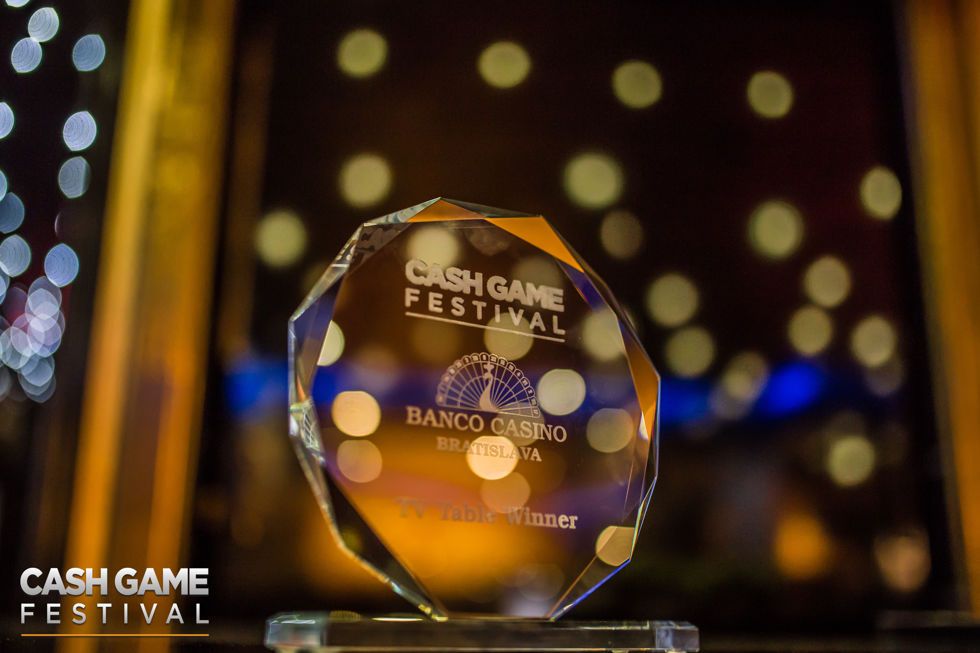 Masarovic is also now in the lead for the most big blinds won at a feature table. The player that wins the most big blinds at a single feature table will walk away from the festival as the Cash Game Festival Bratislava champion. Along with the honors, this player will be awarded a trophy and a hospitality package to the next Cash Game Festival at Olympic Park Casino in the Estonian capital of Tallinn on April 25-29.
Until Masarovic's big win, 2017 Cash Game Festival London trophy winner and the player with the most Cash Game Festival lifetime feature table wins Jon Kyte had the lead after winning €3,736 or 373.6 big blinds at the huge €10/€10 pot-limit Omaha late feature table on Day 2.
Here is a look at all of the biggest winners at the first six feature tables of the Cash Game Festival Bratislava:
| Day | Player | Game | Profit | Big Blinds Won |
| --- | --- | --- | --- | --- |
| Day 1 | David Lappin | €1/€2 NLHE | €651 | 325.5 |
| Day 1 | Luca Sebastiani | €2/€5 NLHE | €1,688 | 317.6 |
| Day 2 | Paolo Caverzaghi | €2/€5 NLHE | €1,182 | 236.4 |
| Day 2 | Jon Kyte | €10/€10 PLO | €3,736 | 373.6 |
| Day 3 | Edgars Armans | €1/€2 NLHE | €224 | 112.0 |
| Day 3 | Karol Masarovic | €5/€10 NLHE | €4,558 | 455.8 |
The trophy isn't yet a given for Masarovic with four more feature tables taking place over the course of the last two days of the festival.
Tomorrow is expected to be a huge day both on and away from the tables. Players with the hospitality package will be traveling about 80 kilometers for a winery tour to remember for a lifetime. Meanwhile, the action at the tables is expected to hit its peak on Day 4 with many players coming to the Slovakian capital to play poker for the weekend.
Stay tuned at PokerNews as some of the biggest action of the Cash Game Festival is still yet to come.