For the sixth time in the festival's history and the second time this year, the Cash Game Festival returns to Aspers Casino Westfield Stratford City in London for five days of nonstop poker action from July 11-15.
The action officially kicks off at 5:30 p.m. BST with welcome drinks inside the poker room. Shortly afterward, the first of two daily televised tables begins and will be streamed on a 20-minute delay with stakes at £2/£2 no-limit hold'em on the Cash Game Festival Twitch channel.
For the first time ever, the Cash Game Festival Twitch channel will be co-hosted by PokerNews Editor Jason Glatzer at PokerNews Twitch channel and will also be visited on the site and in our coverage.
Also co-hosting the commentary will be charismatic British duo of George Sandford and Henry Kilbane, who both have previously entertained viewers on numerous occasions.
The game will change to £2/£2 pot-limit Omaha for the later feature table which kicks off at 8:30 p.m. BST and visible to viewers on delay slightly before 9 p.m. BST. During both streams, hole cards will be revealed.
As has been the case during the past three Cash Game Festivals, a trophy and prize will be awarded to the player that wins the most big blinds during any of the 10 main feature tables. Last time in London in January, Gang Wang impressively won £9,064 in profit or 1,812.8 big blinds on the £5/£5 pot-limit Omaha feature table to claim the trophy.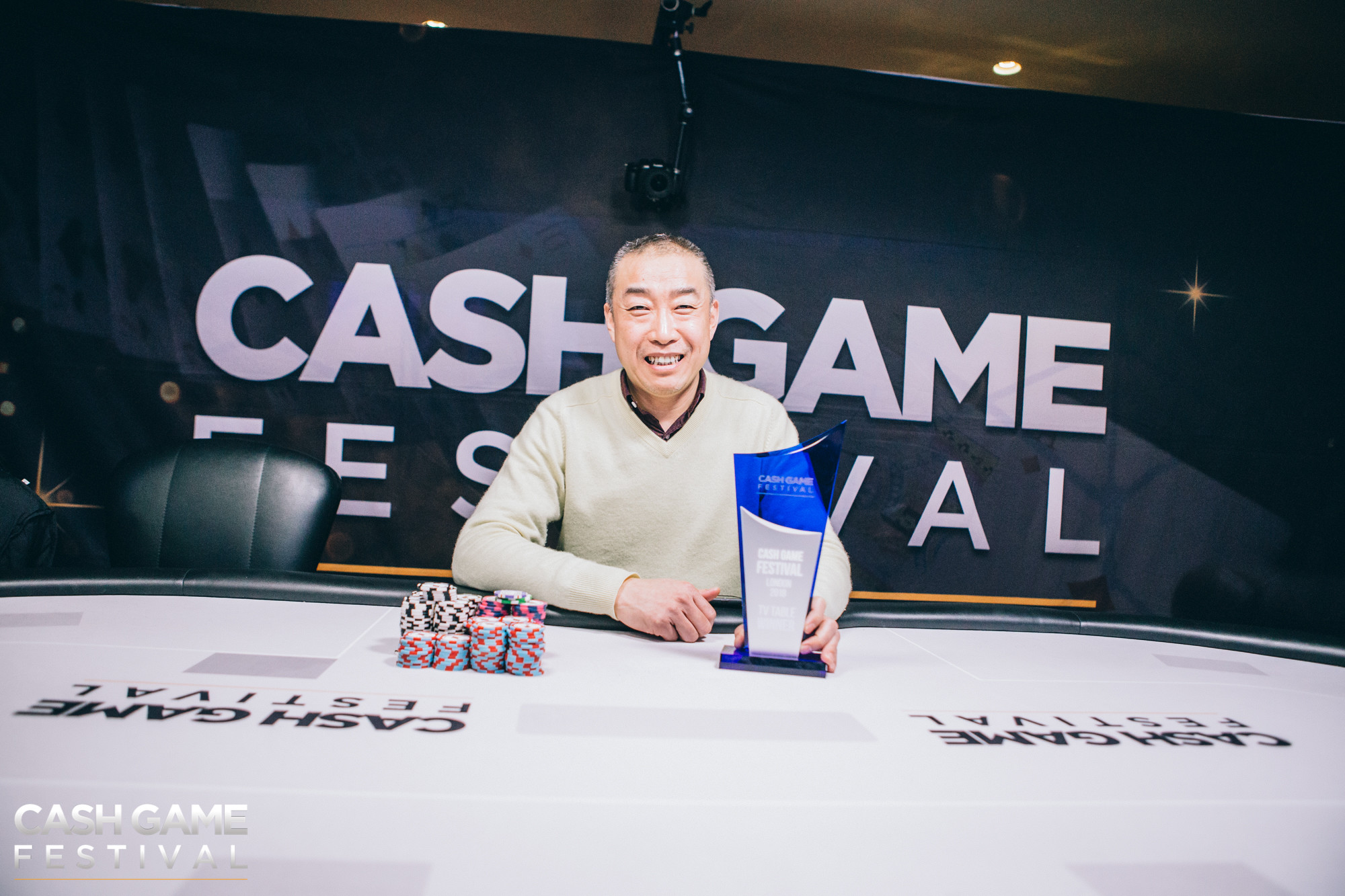 The festival will also feature two bonus televised feature tables at 2 p.m. BST on Friday and Saturday that will not count towards the competition.
Away from the feature tables, festival organizers expect at least 20 tables today with stakes low and high across a variety of games including no-limit hold'em, pot-limit Omaha, Sviten Special, and super dealer's choice.
The Cash Game Festival has organized many activities away from the felts throughout the festival for players with the hospitality package. In addition to opening drinks today, there will also be a sporting event on Thursday, a VIP party on Friday, a players' party on Saturday, and a guided tour on Sunday.
Here is a look at some of the hot action both on and off the poker tables during the Cash Game Festival's last stop in London and a trailer for what to look forward to this year in the British capital.
In addition to providing commentary, the PokerNews Live Reporting team will be covering the festival with player interviews and recaps of some of the most exciting action.