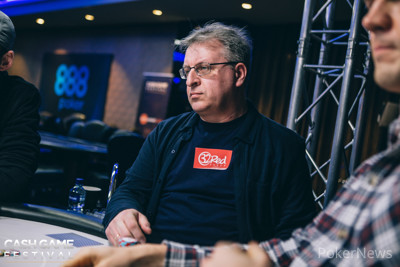 Elliot Hay, in Seat 1, is a 22-year old aircraft engineer. Despite his young age, he has some experience under his belt as he has been playing poker for eight years.
Stefan Dimitrov Bratanov, in Seat 2, is a software developer by day and has been playing poker since 2014. He last appeared on a Cash Game Festival feature table when the tour last visited the British capital in September.
Betsafe Ambassador Monika "HeyMonia" Zukowicz, in Seat 3, was on the women's only feature table yesterday. She was the big winner for awhile but after a bad run of cards she wound up more or less breaking even at the table. She is hopeful she can do better for herself and her many fans this time around.
Henry Charles Kilbane, in Seat 4, is a 23-year old professional poker player. Both Kilbane and Zukowicz have been to enough Cash Game Festivals in the past to be considered members of the ever-growing Cash Game Festival family.
British sales executive Alireza Safarabadi, in Seat 5, admitted he hasn't play much poker lately. However, he does have experience thanks to been playing the game since 2006.
Software developer Duncan Higgins, in Seat 6, attends every festival when it visits Aspers Casino and has been on the feature table countless times in the past. He has also served as a cohost and might join the commentary booth for the last stream of the festival taking place at 9 p.m.
Angus Dunnington, in Seat 7, is a 32Red Poker ambassador. He appeared at the feature table on Day 3 along with two other 32Red Poker players. In addition to being adept at poker, Dunnington is also someone to be feared on a chess board as well.
Rounding off the table is sports trading analyst George Sandford in Seat 8. He is friendly with Kilbane with the duo both handling the commentary during yesterday's early feature table. They know each other well and don't be surprised if they play hard at each other.
You check out each hand on a 20-minute delay on the televised feature table on the Cash Game Festival Twitch channel and within our PokerNews coverage by clicking on the Live Stream tab.