Welcome to Day 1c/d of iNinja World Championship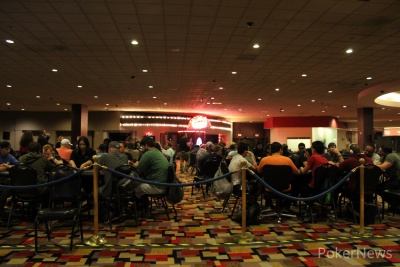 Two flights are in the books and two flights remain for the iNinja World Championship at Planet Hollywood.
Once again, two Day 1s are scheduled for today, the first beginning at 11 a.m. and the second at 4 p.m. local time. They will have considerable overlap, so expect Day 1d coverage to start after Day 1c bags, whenever that proves to be — both Day 1a and Day 1b hit their hard stops with 17 percent of the field remaining yesterday.
When all was wrapped up after Day 1a/b it was Matt Lushin who set the bar by bagging 439,000. Other runners making it through included Jeremy Kerbel (418,500), Jason Smith (223,500), Michael Sanders (190,000), Ryan Phan (160,500), iNinja Pro and World Series of Poker bracelet winner John Reading (160,500), and Jose Montes (86,500).
If yesterday is any guide, Day 1d will prove to be the bigger flight as it accommodates a bunch of players who take their shots at World Series of Poker events and come up empty-handed.
Again, unlimited reentry is available through the start of Level 13 for both flights. Expect things to end sometime during Level 16 if things play out as their did during Day 1a/b. Players will begin with 22,500 in their stacks and blinds at 50/100, with 30-minute levels throughout the day until Level 16.