Eveslage Crushing
Level 5 : 150/300, 50 ante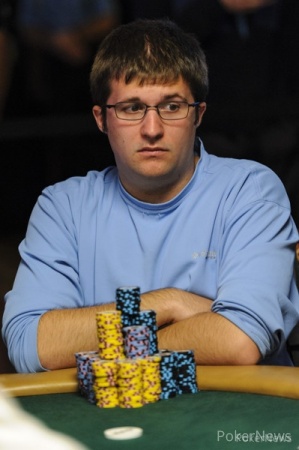 Chad Eveslage checked from the big blind on a
board and an opponent in early position bet 3,600. Eveslage made it 11,000 and his opponent jammed for about 21,000. Eveslage snapped with
for the nuts but he had cards to fade as his opponent had a set of nines. The
river was a blank.
The next hand, there was an open to 750 from Joey Weissman and a call from Duwayne Kosi. Eveslage made it 3,500 and both opponents called. The flop came
and Eveslage checked. Weissman did likewise and Kosi bet 8,100. Eveslage was the only caller, and he check-called another 15,600 on the
turn. Check-check on the
, and Eveslage revealed
that his opponent couldn't beat.
Player
Chips
Progress

Chad Eveslage

86,400

43,400

Duwayne Kosi

26,000

-25,000