$10,000,000 Guarantee Championship
Days: 5
$10,000,000 Guarantee Championship
Day 5 Completed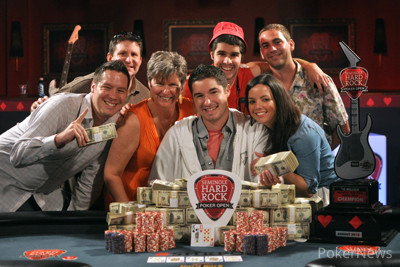 The Seminole Hard Rock Poker Open $10 Million Guarantee Championship Event came to a close on Wednesday, and the winner was professional Blair Hinkle. With the win, Hinkle now has over $3.5 million in career tournament earnings. Hinkle defeated fellow pro Justin Bonomo, who recorded his second career seven-figure score, and now has over $7 million in career tournament earnings.
| Place | Player | Prize |
| --- | --- | --- |
| 1st | Blair Hinkle | $1,745,245 |
| 2nd | Justin Bonomo | $1,163,500 |
| 3rd | Mukul Pahuja | $872,625 |
| 4th | Ray Qartomy | $639,925 |
| 5th | Samuel Bernabeu Guilabert | $494,490 |
| 6th | Greg Lehn | $378,138 |
Greg Lehn started the day last in chips with just 14 big blinds, and was the first player to exit. On the 12th hand of the final table he found himself all in preflop with
against the
of Bonomo. Bonomo held as the board ran out six-high, and Lehn hit the rail.
Just three hands later, Samuel Bernabeu Guilabert was also eliminated. Mukul Pahuja opened on the button, Guilabert three-bet from the small blind, and Bonomo made it three bets. Pahuja folded, Guilabert called all-in with two deuces, and he discovered Bonomo's pocket queens had him crushed. Guilabert turned a gut-shot wheel draw, but the river bricked off, and he was eliminated.
On Hand #52, Ray Qartomy lost a race to Hinkle to hit the rail. With the blinds at 100,000/200,000/25,000, Qartomy moved all in for 2.375 million in first position, and Hinkle called in the big blind. Hinkle's
was slightly behind Qartomy's
, but Hinkle hit a queen on the flop and the turn to make trips and eliminate Qartomy.
Three-handed play lasted only six hands, and on Hand #56 Pahuja opened to 550,000 on the button. Bonomo three-bet to 1.5 million in the small blind, Pahuja moved all in for 7.45 million, and Bonomo called. Bonomo's
dominated Pahuja's
, and the flop, turn, and river all produced blanks.
For the next 167 hands, Hinkle and Bonomo battled heads up. Hinkle started with a slight lead, and extended it, but Bonomo started to narrow the gap. On the 96th hand, both players made a straight, but Bonomo's nine-high straight bested Hinkle's eight-high straight, and suddenly Bonomo had a more than two-to-one chip lead.
It was Hinkle's turn to mount a comeback, and slowly but surely he climbed back. After nearly evening things up in Hand #151, forcing a fold from Bonomo in a big pot, Bonomo distanced himself once again. The two then played the first all-in pot of heads-up play on Hand #183, but it was anticlimactic as the two players both held ace-three.
The next all-in pot happened three hands later, and this time Hinkle doubled with aces against Bonomo's middle pair. The two passed the chip lead back and forth for the next few hands, and once again Bonomo found himself with a three-to-one advantage. Hinkle doubled for a second time, getting the rest of his chips in the middle with pocket sixes against Bonomo's pocket deuces, and a dozen hands later Hinkle was in the lead once again.
Finally, on Hand #223, it was over. Bonomo check-jammed on a board of
, and Hinkle snapped it off with
for the nuts. Bonomo was drawing dead with
, and the two competitors shook hands.
Congratulations to Hinkle, the winner of the first ever $10 million guarantee for $1,745,245, and of course, the guitar. Bonomo also deserves credit for showing off his supreme skills in this near six-hour heads-up battle.
This concludes PokerNews' coverage of the Seminole Hard Rock Poker Open, but be on the lookout for updates from the European Poker Tour Barcelona stop, which begin this weekend.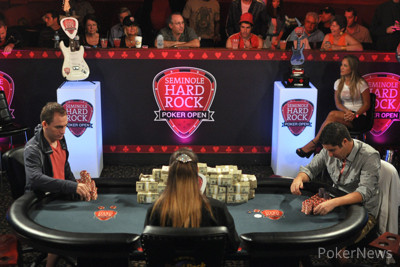 Roughly three and a half hours into the Seminole Hard Rock Poker Open $10 Million Guarantee Championship Event, on the 58th hand, Mukul Pahuja was eliminated in third place, earnings $872,625. The two remaining players, Justin Bonomo and Blair Hinkle were separated by only 1.275 million chips, which is less than two percent of the chips in play.
The two left the table to presumably do some business – this is a fair assumption because Bonomo asked the tournament staff for the exact chip counts – and a few minutes later they returned. They didn't say anything about a deal; rather they took their seats, took some photos, and started to battle.
And battle they have.
We're now four hours into the heads-up battle, and Bonomo has a three-to-one chip lead, but Hinkle is still very alive with 35 big blinds. Hinkle started with the slight advantage, and extended his lead much to the delight of his younger brother Mason Hinkle (Ohhhhhhhhhhh yeaaaaaaaaaaaaahhhhhhhhhhhhhhh!).
Hinkle's lead increased to a two-to-one lead on Hand #80. Hinkle won the 80th hand with a simple three-bet preflop, but on the previous hand he received three streets of value after flopping a top pair of nines.
Bonomo bounced back however, making trip kings on Hand #83 and then winning seven consecutive hands. The stacks then evened out, and Bonomo took a massive lead in Hand #96. On an
board, after betting out on flop and check-calling a bet on the turn, Hinkle check-called one last bet on the river. He showed
for an eight-high straight, but it was no good against Bonomo's
fir a nine-high straight. Bonomo suddenly had a more than two-to-one lead of his own.
On the 100th hand, Bonomo increased his lead to three-to-one, and after sharing a few dozen pots, he then extended his lead to five-to-one. Not to fear, Mason, Blair then took down a near 10-million chip pot on Hand #134, flopping top two with
.
Hinkle started to close the gap, but Bonomo pushed out in front once again, calling two bets with
on a board of
. Both players checked on the river, and Hinkle mucked when he saw Bonomo's wired pair.
Bonomo now has a three-to-one chip lead once again on break, and is very close to capturing his first major title. Hinkle, a World Series of Poker bracelet winner, still has a lot of fight in him, and with one double up (there have been no all-in hands heads up thus far), he'll be right back in it.
| Player | Chips |
| --- | --- |
| Justin Bonomo | 54,350,000 |
| Blair Hinkle | 17,075,000 |
Get all the latest PokerNews updates on your social media outlets. Follow us on Twitter and find us on both Facebook and Google+!
The fifth and final day of the Seminole Hard Rock Poker Open $10 Million Championship Guarantee is set to begin shortly, and leading the six-handed final table is Blair Hinkle. Hinkle bagged 22.8 million chips at the conclusion of Day 4, and has a small lead over Justin Bonomo, who finished with 18.5 million.
Here's a look at the entire final table:
| Rank | Player | Chips |
| --- | --- | --- |
| 1 | Blair Hinkle | 22,800,000 |
| 2 | Justin Bonomo | 18,500,000 |
| 3 | Ray Qartomy | 13,050,000 |
| 4 | Mukul Pahuja | 10,200,000 |
| 5 | Samuel Guilabert | 4,675,000 |
| 6 | Greg Lehn | 2,200,000 |
The cards will be in the air at noon EDT, and the six will play down until a champion is crowned. Be on the look out for more feature pieces and interviews coming to you straight from the Seminole Hard Rock here in Hollywood, Fla.
$10,000,000 Guarantee Championship
Day 5 Started