Sinishtaj Takes a Massive Lead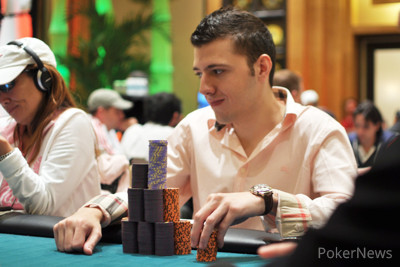 Gjergj Sinishtaj entered Day 2 of the Seminole Hard Rock Poker Open $10 Million Guarantee Championship Event with 376,000 chips, second to Jesse Chinni by less than a big blind, and after two levels of play he's rocketed into the chip lead by a wide margin. At the time of this interview, he had well over 800,000 chips.
At just 21 years old, the pot-limit Omaha specialist already has a big score on his live tournament résumé. Back at the World Series of Poker, he finished sixth in the $10,000 Pot-Limit Omaha Championship Event, earning $153,372. After Sinishtaj was eliminated, fellow PLO specialist Jared Bleznick made a bold statement about the young grinder.
"He's got a bright future," Bleznick said. "He's going to win the Main Event before he's 25. I'll bet it."
Sinishtaj was kind enough to talk with us during the first break of the day, and told us how he got his chips, how he felt after finishing sixth over the summer, and what makes a hold'em tournament intriguing.
PokerNews: You've already doubled your stack today. How have the first two levels been?
Sinishtaj: Actually really crazy. First, some guy absolutely punted to me. I opened preflop and I had jack-queen. The flop came
, I continued, some guy called, another guy folded. The turn was an
, so now I have a gut-shot [straight draw], and it went check-check. The river was a
. I made a bet, he raised, I re-raised, and he went all in.
It was a 100-yard punt. He's going to make the all-star team for that one. He flopped a set and slow-played it.
For some amateurs, when they get a big stack they might get nervous or they feel like they have to play table captain. As a pro, how are you feeling? Do you feel the need to chip up even further?
No, I don't think I have to increase my stack, because right now I'm so far ahead in the chip lead. I can just play my game and play solid. I don't have to rush anything.
You have Tony Gregg and Joe Serock at your table. All of the tables are pretty tough in this event, but how is yours in particular?
I just got moved to my table, and fortunately I picked up aces and ended up stacking Nelly, so I knocked him out. I have some tough players at my table, but we're breaking soon, which is a good thing.
You're 21 years old. You played in your first World Series this year and went deep in the $10,000 PLO event. Were you happy with that result?
The $10,000 PLO was bittersweet. If you told me before the tournament started that I was going to get sixth place, I would've said, "Oh, sweet!" Sixth place is cool.
But when you go that far — no matter what tournament you're playing — if you get that deep you want first. So it was a little disappointing. It would've been nice to go there my first series and win a bracelet, but what do you do?
PLO is the game you enjoy playing the most, right?
Yeah, I started playing poker when I was 11 or 12 years old, and I started playing hold'em. But around 16 or 17 years old, I transitioned into PLO and I found out that that's the game of the future. So since then, I've been playing straight PLO — both online and live — and it's been going good.
At the WSOP, did you skip a lot of the no-limit events to play PLO cash?
Unfortunately, I did play PLO cash [laughs]. I didn't do so well, but that's the game. There's a lot of variance.
So being a PLO cash game player, what made you come to Florida for this event, a no-limit hold'em tournament?
There were two things. The tournament's guarantee, of course, and then there's a good cash game here that we play. The private game.
Have you played in the private game here before?
I come down here a few times a year to play when there's (sic) tournaments. I'll play the main event and then play cash games the rest of the days.
What are the most important things for a tournament to attract cash game players?
The big guarantees. I won't go grind the circuit or any $1,500 buy-in events.
So the "trophy mentality" doesn't attract you that much?
Yeah, but the trophy in a big event like the [WSOP] Main Event or this $5,000 buy-in event would be big. That attracts me.