The 2018 Super High Roller Bowl is down to its final six runners in contention for the monstrous $5 million top prize, and none other than poker icon Daniel Negreanu remains in contention among the leaders.
It's essentially a three-way tie at the top with high roller superstar Mikita Badziakouski holding a slight lead toting 4,205,000 into the final day. Negreanu trails with 4 million and the player with a big lead on the 2018 money list, Justin Bonomo — $8,907,138 already — has 3,965,000.
Shorter stacks looking to overtake the leaders will be Jason Koon (1,185,000), Nick Petrangelo (600,000) and Christoph Vogelsang (445,000). Vogelsang advanced to his second straight SHRB final table after claiming victory last year for $6 million in a slightly larger field.
It's certainly an intimidating field, with nearly $120 million in combined tournament cashes. Going into deep-stacked play — nearly 40 minutes remain at 10,000/25,000/25,000 — with the likes of Bonomo and Badziakouski represents a challenge for even the most battle-hardened player. However, it's a moment for which Negreanu has spent months preparing.
"The structure being as deep as it is...I didn't work on short-stack play the entire three months of training," Negreanu told PokerNews. "All I worked on was 100 big blinds. I feel very confident that the preparation is going to pay off."
"Kid Poker" said he's experienced surprisingly smooth sailing considering the ultra-elite nature of the field.
"I really feel great about this tournament. I got off to a big chip lead early. I was able to hang on to those chips without having any real big adversity."
A few huge hands helped. Negreanu made at least two sets, hit trips and got lucky with a straight in select key pots. However, he also made a big calldown in a tough spot against Petrangelo in one of the more memorable hands of the day.
Petrangelo limped and called a big raise, flopping an open-ender and backdoor flush draw against Negreanu's top pair of aces with a backdoor flush draw and ten kicker. Petrangelo check-raised, barreled turn and then barreled river when a third spade hit the board.
Holding the ten of spades as his kicker and a blocker, Negreanu called the last barrel of 580,000.
"It's an interesting situation," he said. "It's a call where in 2004, if you would have said you called because you had the ten of spades, people would have said what kind of stupid logic is that?
"It was before the game evolved to where combinations of cards mattered in that people understood them. I basically had the best bluffcatcher I could, so if I fold that, what the hell am I doing?"
Badziakouski looked like he might bag a huge lead after a midday heater saw him far outdistance his competitors. He got lucky and flopped top set with eights against Bonomo's kings in a three-bet pot and earned a full double despite an ace appearing on the turn.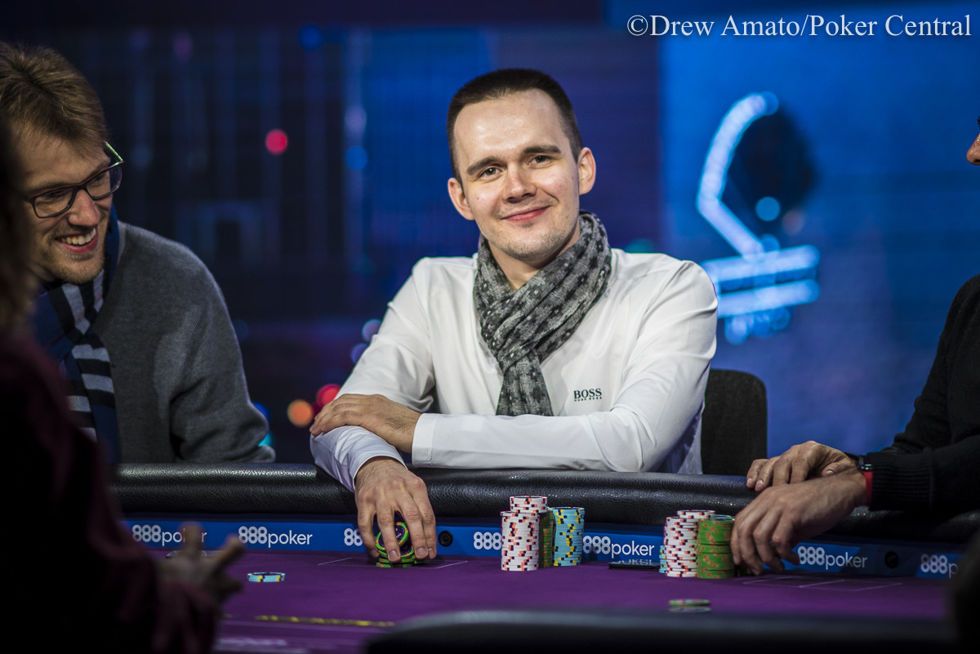 Then, he flopped top set again in a four-bet pot with aces against Chidwick, who flopped a combo draw and jammed the turn and bricked.
Badziakouski then had his own savage moment as he bluffed Chidwick off kings on the bubble after missing a straight draw and three-barreling off with third pair.
Chidwick did manage to sneak into the money as he busted seventh for $600,000, but that'll likely be small comfort to him after he had a massive stack early in Day 3. Seth Davies also got a little money, but only $90,000 in forfeited deposits for an eight-place finish. Steffen Sontheimer was the final player to bust and leave empty-handed.
As for Bonomo, he had a swingy day that included a massive sweat on the big bubble for the $600,000 payout. He got it in with ace-ten shoving over a Badziakouski open only to have Vogelsang wake up with kings. Bonomo flopped a ten and hit an ace on the river to survive, running his stack up again from there.
The tournament resumes at noon with a delayed stream to follow on PokerGO and updates synched with the stream here on PokerNews.