Hand #39: Pius Heinz Drags a Monster
Level 37 : 300,000/600,000, 75,000 ante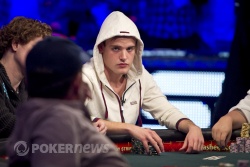 Bob Bounahra had the button. Pius Heinz raised to 1.3 million, and Ben Lamb flatted next door. The action came around to Eoghan O'Dea, and he figured a squeeze was in order. From the small blind, he reraised to 4.1 million, and that brought the decision back to Heinz. After a minute, he just flatted, and Lamb folded out of the way to let the other two go at it.
There was already more than 10 million in the pot when the dealer spread out a
flop, and O'Dea reached for chips. Heinz had just over 20 million chips left in his stack, and he was faced with a follow-up bet of 4.6 million. Once again, he just flatted, and the
landed on fourth street.
Now there was 19.975 million piled in the middle of the table, by far the largest pot we've seen today. O'Dea wasn't slowing down now, and he fired a second bullet worth 8.2 million. That was more than half of what Heinz had left, so he was essentially considering the decision for his tournament life. His whole Main Event.
Heinz spent several long minutes starting across the felt at O'Dea, who was sitting like a statue with his eyes facing front.
Even staring at the back of his hoodie, we could feel the pain in Heinz's decision. It had to be at least five full minutes before he acted, and he did so by raising all in for 16 million flat. Wow.
O'Dea took only about 15 seconds before folding, and the stadium erupted in cheers.
O'Dea has been relieved of most of his chips, dropping all the way down to the second-shortest stack of 11.5 million. On the flip side of things, Heinz is now all the way up into second place with 41.175 million!