Yaniv Birman might not be a household name in $10k Championship events but he impressed on Day 2 of Event #38: $10,000 Seven Card Stud Championship. Birman sailed through the 10 scheduled levels high in the standings, handling a big stack for the vast majority of the day. Birman never found himself in trouble of getting short and eventually parked in the top spot on the leaderboard.
He's pacing the eight-handed final table which features a star-studded line-up of players who made it through a tough 83-strong field. Birman will return to 40 big bets, having bagged 958,000. On one of the final hands of the day, he scooped a modestly sized pot to put his name just ahead of multiple bracelet winner Jesse Martin (916,000).
It will be interesting to see whether Birman can prevail on such a talented table. His WSOP résumé reveals just three cashes, two of them earned at the main series. But he's already been to a final table full of renowned mixed games grinders. Back in 2016, Birman took sixth place in the $1,500 Stud event, competing against the likes of Shaun Deeb, Adam Friedman, Max Pescatori or John Monnette.
This time, he finds himself in slightly different company but the quality is pretty much identical. The aforementioned Martin to his left, followed by Chicago's Stud specialist Matt Grapenthien (507,000) and two of the most versatile poker players in the world: Ben Yu (559,000) and James Obst (216,000).
Birman is certainly not scared of anyone. He was by far the most active player on Day 2, entering more pots than anyone in the room. He was often seen caught bluffing on the river or making a hardly predictable two pair. That promises an interesting chip-flow for the final stages.
Final Table seating and chip counts
| Seat | Player | Country | Chips | Big bets |
| --- | --- | --- | --- | --- |
| 1 | Jesse Martin | United States | 916,000 | 38 |
| 2 | Lee Salem | United States | 473,000 | 20 |
| 3 | Matt Grapenthien | United States | 507,000 | 23 |
| 4 | Joseph Cappello | United States | 360,000 | 21 |
| 5 | Ben Yu | United States | 559,000 | 15 |
| 6 | James Obst | Australia | 216,000 | 9 |
| 7 | Lars Gronning | United States | 168,000 | 7 |
| 8 | Yaniv Birman | United States | 958,000 | 40 |
Obst and Lars Gronning are the only two players in possession of fewer than 10 big bets, but nobody among the final eight is devastatingly short. The two-hour levels on Day 2 helped the deeper structure. The play during the middle stage was rather slow, even though big pots have been traded and play seemed entertaining all the way through.
The field was slowly dwindling down to final two tables after a dinner break. The bubble was looming around, and while Obst was somewhere in the second half of the rankings at the time, he was the main hero of the key stretch. He guarded his stack with a masterful precision during bubble play and eventually became the man responsible for breaking the deadlock.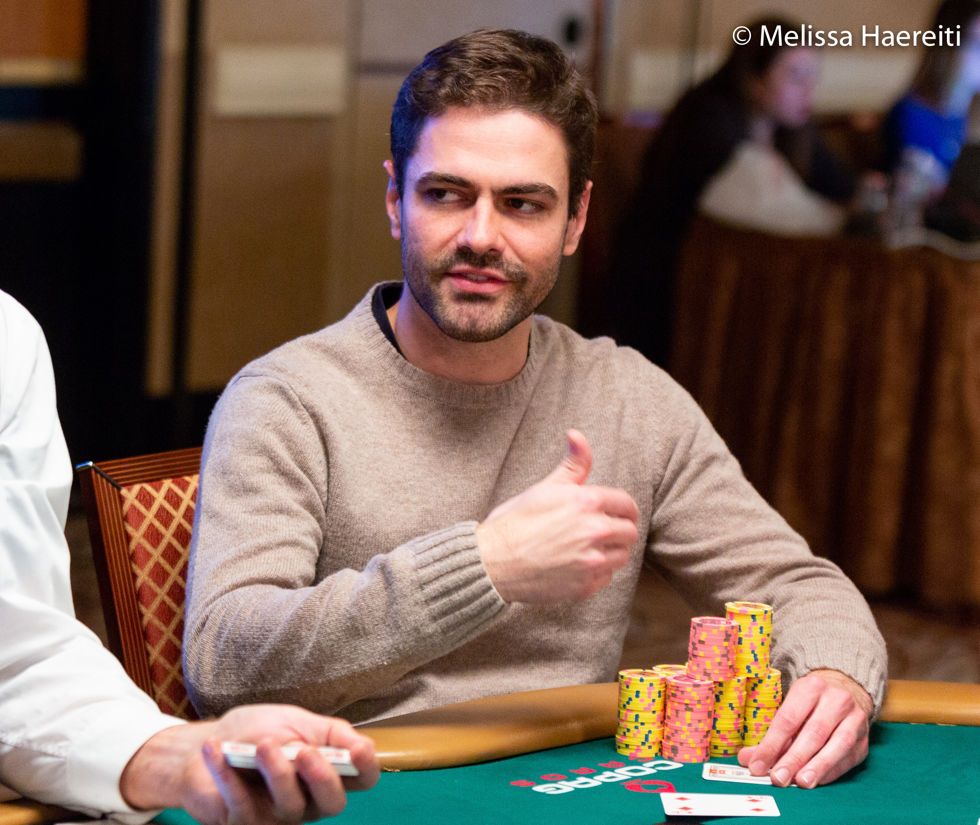 Obst first dispatched Daniel Negreanu in 15th place and then eliminated Jordan Siegel on the stone bubble, which lasted about an hour. Michael McKenna was the one who capitalized the most. McKenna was close to becoming the unpopular bubble boy, running with aces into trip tens of Nicholas Seiken. McKenna survived after hitting another ace, eventually filling up, and sneaked inside the money.
Still, McKenna would be first to go thereafter, followed by Seiken and former bracelet winners Perry Friedman and Todd Brunson. Al Barbieri walked away in ninth and the final eight exchanged a few jabs at the final table before wrapping it up for the night.
They'll return on Wednesday, June 20 at 2 p.m. to continue battling in front of the TV cameras in the "Thunderdome" stage in the Amazon Room. Whoever will claim the bracelet will also take home $236,238 so make sure to come back to PokerNews for the continuous live updates from the final table battle.