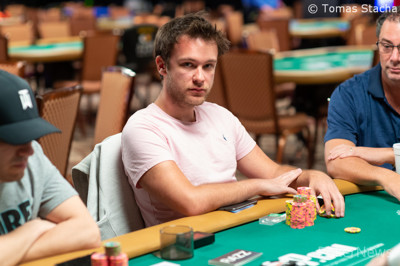 Hold'em
Laurent Manderlier was eliminated from the tournament after he got his money in preflop. He raised from the hijack to 50,000 with only 57,000 behind and small blind Alex Dovzhenko put in three bets. Big blind Gary Kosakowski put in four bets and Manderlier put his last 107,000 all in the middle. Dovzhenko and Kosakowski called.
They continued to check it down on the
flop,
turn, and
river.
Manderlier opened up
but that wasn't good against either the
of Kosakowski or the
of Dovzhenko.
The Belgian did get to collect $11,415 at the payout desk.