Poker Room Review: Rockingham Park Poker Room, Salem, NH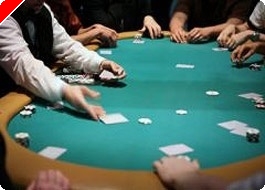 If you are closer to Salem, New Hampshire than to Ledyard, Connecticut, an excellent venue for your poker pleasure is the racetrack poker room located at Rockingham Park Racetrack (known familiarly as "The Rock") in Salem, New Hampshire. It took me only 45 minutes to drive there from my house in Boston. It's even closer to the nearest major airport in Manchester, New Hampshire – only about 20 minutes away.
This place has much to recommend it, besides its geographic convenience. It hosts a wide array of games, has great tournaments, is next to a large mall, and is open from Tuesday until Sunday. And if you're interested in the ponies – well it couldn't be any more convenient.
They play five different poker games here: no-limit hold'em, limit hold'em, limit stud, limit omaha8, and limit crazy pineapple. For those of you only familiar with hold'em and stud, let me briefly explain the other two games, each a version of hold'em.
Omaha8 is the more common of the two, spread in nearly every poker room in the United States and on line. Each player receives four cards, with the board eventually having five cards; just as in hold 'em. The cards are dealt the same as in hold 'em: your hole cards, then the flop of three cards, then the turn, and finally the river. The differences are two. First, the game is played high/low; the highest hand and the lowest hand split the pot. The low hand must be no higher than an 8-low to qualify for low. Hence the full name of the game: "Omaha high/low, eight or better". So it is a split-pot game. The second difference is that when making either the high or the low hand, the player must use exactly two of his four hole cards and exactly three of the cards on the board. Without going into any more detail, leave it to say that it is a somewhat wilder game than hold'em – with the experienced player having a large advantage over the new player, since he is much more likely to correctly figure out his hand.
Crazy pineapple is just like hold'em, except the players are each dealt three down cards. They must discard one
after
the flop (not before the flop as in "uncrazy" pineapple). The hands tend to be bigger and the action greater.
All of these games, as well as stud and limit hold'em games are played with a $2 limit – imposed by New Hampshire law. There is movement afoot to change the law to allow a maximum $5 bet. But until they do, the 10% rake with a $5 maximum cuts seriously into any potential profit – even for the good player. That being said, the games seemed very, very wild and loose when I was there. Some players claim to make a considerable profit. Few, if any, players seemed to be worried too much about the rake.
The principal features of the room are the many multi-table, sit-and-go, and "mini" no-limit hold'em tournaments they spread. There are often as many as three or four multi-tables each day, from $40 to over $100. Sit-and-goes run continuously, at all stakes from $40 to over $150. They also run these sit-and-goes as "minis" – meaning only six players sit at a table. The rakes range from 25% down to 10%, depending on the specific tournament. I'd suggest checking with the room before you go to see what they actually are spreading. Poker rooms tend to vary their tournament structures regularly.
There is a nice, clean bar bordering the poker rooms. You can bring drinks to the table. Beyond the bar is the racetrack, separated from the poker room by a huge glass window. I was not there when the track was in session, but it would be a fun place to play some poker and watch some races. They also have many screens of simulcast races with wagering windows right next to the poker room.
The poker room itself is smoke-free. There is an "international food court" located outside the poker room, where smokers congregated (though by the time this goes to print the entire building may be smoke free). There was no international food, unless you consider French fries, frankfurters, hamburgers, pizza, and chicken strips to be international food. The prices seemed reasonable but some regular patrons warned me off – and it did not tempt me in the least.
This place lacks the higher-end ambiance and furniture of the best poker room in New Hampshire – the poker room at Seabrook's racetrack. But the games are every bit as live and fun. If you're a poker player and either live in or are planning a visit to New England, it's surely worth a visit.
www.granitestatepoker.com
Rockingham Park Race Track
79 Rockingham Park Blvd
Salem, NH 03079
(603) 898-2311
Comments
No comments yet. Be the first to post one!