Lamb Chopped by Raskin
Posted
01-13-2013 16:09 GMT-4
by
SantanaBandana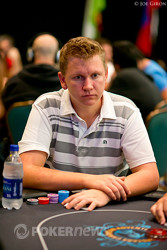 Ben Lamb opened to 8,000 from the cutoff seat, and Micah Raskin three-bet jammed for effectively 80,000 from the big blind. Lamb tank-called.
Lamb:

Raskin:
Lamb was ahead, but there was a nine in the window of the
flop. Raskin's pair held as the turn and river came
,
respectively, and Lamb was eliminated.
Tags: Ben Lamb, Micah Raskin.
Chip Counts
Micah Raskin
1,430,000
70,000
Ben Lamb
Busted
Comments
No comments yet. Be the first to post one!