PokerStars European Poker Tour Barcelona: Everything You Need to Know
The European Poker Tour kicks off its ninth season this week in Spain with the EPT Barcelona at the Casino Barcelona. The EPT has partnered with the Estrellas Poker Tour from Aug. 15 through 25, 2012, to create Spain's largest poker festival, the Barcelona Poker Festival.
After the Estrellas Poker Tour, which will take place from Aug. 15 through 19 and feature a €1,000 + €100 Main Event to end Season 3, the EPT Barcelona will feature a €50,000 Super High Roller, €10,000 High Roller, and the banner €5,000 + €300 Main Event.
EPT Barcelona, which has been on the EPT schedule since Season 1, continues to prove itself one of the most popular stops year after year. Over the years, the event has made many transitions, each to the satisfaction of the players. For instance, the buy-in, which started at €1,000 and went as high as €8,000, is now €5,300, which resulted in a record-setting 811-player field in Season 8.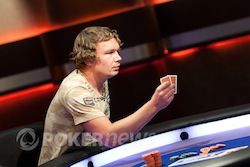 Season 8 champ Martin Schleich.
Last year's Main Event, which featured a €850,000 first-place prize, was won by Martin Schleich of Germany. Schleich emerged victorious and joined Kent Lundmark (Season 7), Carter Phillips (Season 6), Sebastian Ruthenberg (Season 5), Sander Lylloff (Season 4), Bjørn-Erik Glenne (Season 3), Jan Boubli (Season 2) and Alexander Stevic (Season 1) as former winners.
Here's a look back at the Season 8 final table:
EPT Barcelona Season 8 Final Table
| Buy-in | Entrants | Prize Pool | Number of Payouts | Date |
| --- | --- | --- | --- | --- |
| €5,000 + €300 | 811 | €4,055,000 | 120 | Aug. 27-Sept. 1, 2011 |
| Place | Player | Country | Prize |
| --- | --- | --- | --- |
| 1st | Martin Schleich | Germany | €850,000 |
| 2nd | Dragan Kostic | Spain | €532,000 |
| 3rd | Eugene Katchalov | Ukraine | €315,000 |
| 4th | Raul Mestre | Spain | €244,000 |
| 5th | Tomeu Gomila | Spain | €185,000 |
| 6th | Saar Wilf | Israel | €145,000 |
| 7th | Juan Manuel Perez | Spain | €105,000 |
| 8th | Isabel Baltazar | France | €73,000 |
Last year, Dragan Kostic came close to becoming the first Spaniard to win the EPT Barcelona title but was stopped one spot shy, matching the runner-up finish of Spain's Jesus Cortes Lizano from the previous year. Here are a few other interesting facts about EPT Barcelona:

No player has ever made the final table twice.
Many Americans have made the final table over the years including Phil Ivey (2nd place in Season 3), Jason Mercier (6th in Season 5) and Adam Junglen (6th in Season 4), but Carter Phillips is the only American to win the event to date, doing so in Season 6 after conquering a field of 479 players for €850,000.
There have been two winners from Sweden (Season 1 & 7) and two from Germany (Seasons 5 & 8); while the other winners have hailed from France (Season 2), Norway (Season 3), Denmark (Season 4) and United States (Season 6).
Be sure to follow live updates from the EPT Barcelona all week long right here on PokerNews. Visit our Live Reporting Section for more details.
The €50,000 Super High Roller Tournament
Season 9 of the EPT will kick of in Barcelona with Spain's largest buy-in poker event: the EPT Barcelona €50,000 Super High Roller tournament on Friday, August 17. It is just one of four high-roller events to take place during the 11-day Spanish poker festival and features unlimited reloads on Day 1.
Thus far nearly 40 players are confirmed, including Phillip Gruissem, who took home €1.4 million in high-roller tournaments in Season 8 after making five final tables, and winning the £20,000 tournament in EPT London and the €10,000 event in EPT Barcelona.
In addition, Team PokerStars Pros Daniel Negreanu and Bertrand "ElkY" Grospellier are both confirmed to play. "I'm really excited to play in another High Roller event at my favorite EPT stop in Barcelona," Negreanu said. "I've had great success in high roller events and this season there will be an award for High Roller player of the year. I'll be shooting for that."
Here's a look at the confirmed participants so far:
Confirmed EPT Barcelona Super High Roller Confirmations
| | | |
| --- | --- | --- |
| Jonathan Duhamel | Eugene Katchalov | Sam Chartier |
| Dan Smith | Dan Shak | Masa Kagawa |
| Juha Helppi | Jani Sointula | Leo Fernandez |
| Jason Mercier | Jim McCrink | Alec Torelli |
| Kyle Julius | Talal Shakerchi | Tobias Reinkemeier |
| Philipp Gruissem | Simon Ravnsbaek | Bertrand "ElkY" Grospellier |
| Peter Jetten | Daniel Negreanu | Igor Kurganov |
| Scott Seiver | Daniel Stern | Erik Seidel |
| Kristijonas Andrulis | Mike "Timex" McDonald | Timothy Adams |
| Artem Litvinov | Steve O'Dwyer | Andy Moseley |
As Negreanu mentioned, the tournament will count toward PokerStars' recently announced High Roller of the Year award for the EPT Season 9, which will go to the player who accumulates the most points in Season 9 events with a 10K €/$/£) buy-in or higher.
"High Stakes poker action is as exciting as any sport in the world and features the best players competing against each other and others with enough confidence and cash to take on poker's elite players," said Edgar Stuchly, President of EPT. "These high-stakes tournaments provide high-drama, deep strategy and potentially life-changing rewards."
The €50,000 Super High Roller in Barcelona is the first of 16 "High Roller" events including three Super High Rollers (Barcelona, PCA and Monaco), two 25K events (PCA and Monaco), 10K Reload tournaments at every EPT stop, and the new 10K Championship events.
PokerNews will be live reporting the €50,000 Super High Roller tournament, which will also be broadcast online with a one-hour delay exclusively on PokerStars.tv on Sunday, Aug. 19 from 13:00 CET (0400 PDT) (1-hour delay).
EPT LIVE WEBCASTS
| Event | Date | Language |
| --- | --- | --- |
| €50,000 Super High Roller event | Sunday, August 19 13:00 CET (0400 PDT) | English Only |
| €5,000 Main Event: Final Table | Saturday, August 25, 14:00 CET (0400 PDT) | English, German, Spanish, Italian and Russian |
If you want to follow live updates from both the EPT €50,000 Super High Roller and €10,000 High Roller, visit our Live Reporting Section for more details.
The European Players Council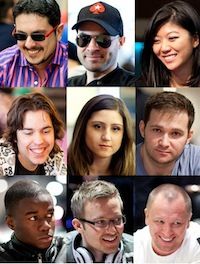 *Picture courtesy of the PokerStars Blog.
On Thursday, Aug. 9, the PokerStars Blog announced the formation of the European Players Council (EPC), which will meet for the first time prior to the EPT Barcelona and "will work with PokerStars going forward to make any necessary changes or improvements. Then, at the end of the end of Season 9 of the EPT, the council will meet again in Monte Carlo at the Grand Final."
Here's a look at the inaugural members of the EPC:
EPC Members
| Player | Country |
| --- | --- |
| Arnaud Mattern | France |
| Luca Pagano | Italy |
| Alex Kravchenko | CIS |
| Eugene Katchalov | North America/Eastern Europe |
| Ana Marquez | Spain |
| Dominik Nitsche | Germany |
| Xuan Liu | North America |
| Martins Adeniya | UK |
| Martin Jacobson | Nordics/Scandinavia |
"I am honored to have been selected to be a member of the inaugural EPT Player's Council," Xuan Liu told the PokerStars Blog."The first meeting is at EPT Barcelona which was also my very first EPT stop on my first trip to Europe in 2010. It's a beautiful city, and I can't wait to stay by the beach at the Hotel Arts!"
In addition to focusing on the EPT, the council is also expected to play a hand in improving structures, payouts, rules, etc.
*Picture courtesy of the PokerStars Blog.
Get all the latest PokerNews updates on your social media outlets. Follow us on Twitter and like us on Facebook now!
Comments
No comments yet. Be the first to post one!