DeepStacks Poker Tour Players Poker Championship Aruba Returns for a Second Year
September 25 2012, Donnie Peters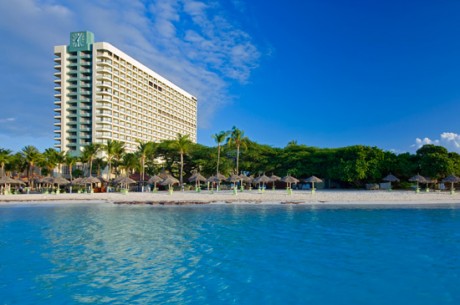 Last Thursday, the schedule for the 2013 DeepStacks Poker Tour Players Poker Championship at Aruba was released. The event begins on Thursday, May 2, 2013, at the Westin Resort in Aruba for eight days of poker action. In its second installment, PPC Aruba boasts eight total events with four feature events. Those four feature events all have guarantees worth a total of $300,000. The $2,500 Main Event will run from May 5 through 9 and garner a $200,000 guarantee.
Last year, only 31 players came out for the $3,300 Main Event, but the PPC is positive things will be a bit different this year. First, the guarantees will do their part in securing much larger field sizes and prize pools, but there's another twist. Partnering up with the DeepStacks Poker Tour, the PPC will grab much more attention. DeepStacks Pros and top level players Michael "The Grinder" Mizrachi, Mike "The Mouth" Matusow and Tristan "Cre8ive" Wade have all committed to the event. Between those three, seven World Series of Poker gold bracelets and two World Poker Tour titles are represented. Joe Serock, 2012 PPC champion, is also planning on attending.
Upon the release of the schedule, PokerNews reached out to PPC Commissioners Sandy Swartzbaugh and Bryan Oulton to talk about the event and answer a few questions.
What can players expect from PPC Aruba and why should they attend?
First off, Aruba is one of the most naturally beautiful locations a player could visit to play poker and also have a great time day and night. With the addition of PPC Aruba to the DeepStacks Poker Tour, players can look forward to a large-scale event with top pros and players of all levels coming for not just the event, but also, to coin a new word, have a "poker-cation."
In its inaugural year of bringing poker back to Aruba, the PPC Main Event attracted just 31 entries. How do you feel things will be different this time around?
With DeepStacks adding PPC Aruba as a stop, players can expect larger crowds due to a much larger reach. In year one, we ran small, but with a fierce field of competitors. The event went off without a flaw and all who came really enjoyed themselves. Also, now that the event has run once, we've added guarantees to the event, which is always a great draw for players. There are four events with guarantees, topped by the DeepStacks Poker Tour PPC Aruba $2,250+$250 Main Event with a $200,000 guarantee. The professionalism and reach of DeepStacks will only help to enhance the product and field size.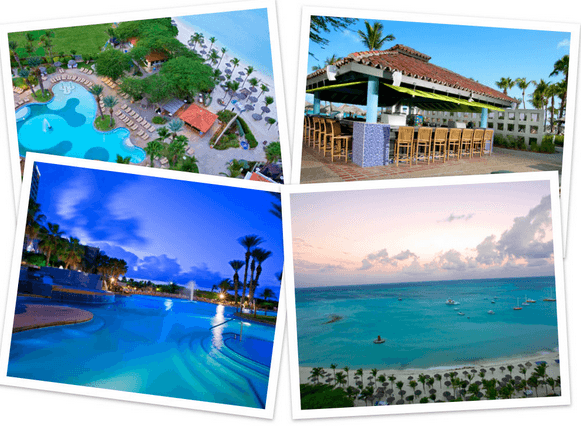 The buy-in has been dropped to $2,500 from $3,300. What was the decision behind this and how do you feel the tournament will benefit from this change?
After we assessed 2012, we got overwhelming feedback from the poker community to lower the buy-in. Looking at the poker landscape right now, we felt that a $2,500 buy-in suited more players and broadened the reach of the tournament for all levels of players. We, Chris Torina and our entire PPC Advisory Board are ecstatic we were able to make it work and besides the $200,000 guarantee on the Main Event, we added an additional $100,000 in guarantees as well [through other events].
The event has two starting days, and a lot of events nowadays use a reentry format. Will the PPC Main Event use a similar format or are players only allowed to buy-in once?
All of our events will offer reentries and late entries up until a certain point on each Day 1, which will be posted on each of the tournament structures in a few weeks. On multi-day tournaments, players can also late enter/reenter up until the cards fly on Day 2. Also, players will always start with a full stack no matter when they enter the tournament. Our events are designed for the players, by the players.
Will there be online and live satellites running prior to the event? If so, when and where can these be found?
We have planned satellites in locations in Florida and on the DeepStacks Poker Tour stops. We are working on both planned satellites and a DeepStacks Poker Tour PPC Circuit event at The Isle Casino in Pompano as well. Additional live satellite locations will be announced over the coming months. As for online, we are in talks with a few sites and hope to have something announced later this year.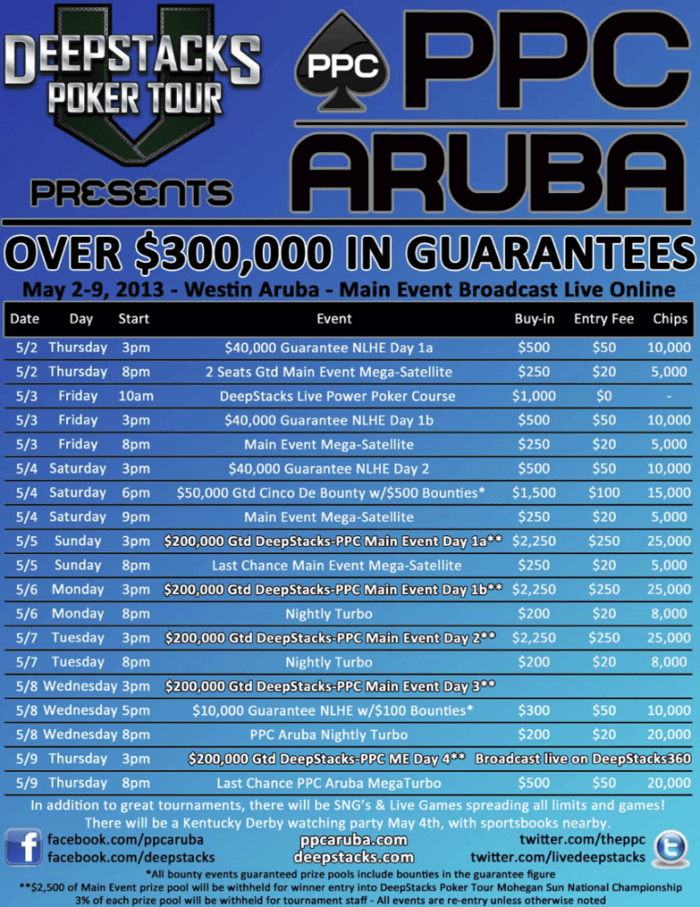 Click to enlarge schedule
What type of media coverage will be provided at the PPC?
We will have PokerNews there. In addition, we will have a prominent blogger like Kevin Mathers or Jay Newnum there as well. Last, and definitely not least, we will have DeepStacks 360 broadcasting the Main Event live online.
Do you have an idea of any players planning on or confirmed to be attending the event?
We have many prominent players who have already committed. Foremost are Michael "The Grinder" Mizrachi, Mike "The Mouth" Matusow and Tristan "Cre8ive" Wade. Also committed are Steve Karp, Darryl Fish and Hayden Fortini. Plus, defending champ Joe "Floes" Serock upon hearing that PPC Aruba was now part of the DeepStacks Poker Tour told us that it was another great reason to come back to Aruba.
Do players receive any perks or comps for playing in the Main Event? Are there any special room rates available?
The winner of the Main Event will win a seat in the DeepStacks Poker Tour National Championship at Mohegan Sun in 2013. The players receive a special of $149 plus tax nightly poker rate for single or double occupancy and can apply it three days before and after the events on May 2 through 9. Normally the rates are closer to $229 per night during that time frame. In addition, the suites are discounted for players. The only way to get those rates will be through a link on PlayersPokerChampionship.com. That link will be published on the website in late October and we'll be releasing that information out via social media and press release.
Get all the latest PokerNews updates on your social media outlets. Follow us on Twitter and like us on Facebook now!
Comments
No comments yet. Be the first to post one!