He's Heating Up!
Posted
07-05-2010 21:10 GMT-7
by
donpeters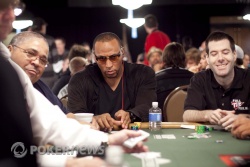 With the board reading
, Shawn Marion called a bet of 7,100 from his opponent. The river then completed the board with the
and Marion's opponent fired 8,500. Marion thought and then raised all in for about 22,000. His opponent open-mucked the
. Marion showed the
.
Winning that pot put Marion up to 53,000 in chips.
Tags: Shawn Marion.
Comments
No comments yet. Be the first to post one!