Korman Flying High After Taking Warne Out
Posted
01-29-2013 20:28 GMT+10
by
Happy_Freaked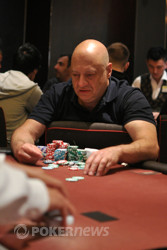 In a post earlier we brought to light that Australian cricket legend Shane Warne was knocked out. The gentleman that put a dagger into the hearts of poker and cricket fans goes by the name Sam Korman. Korman was kind enough to give us his story on how he took all Warne's chips in back-to-back hands.
Korman explained how he limped for 400 on the first hand, and two players followed suit. Warne was sitting in the small blind and raised it up to 1,500. All three limpers called. The flop came down
and Warne fired out 6,000. Korman was his only caller.
On the turn the
hit and Warne bet 10,000. Korman made the call once again, and the river brought the third heart. Both players checked and Warne showed pocket aces. Korman took the pot down with
.
"We were playing pretty deep and I had around 50,000 to start the hand. He wasn't happy at all after the hand and asked why I was playing that hand," Korman added as he started talking about the very next hand in which he knocked Warne out.
Warne raised it up with
and Korman decided to make the call with
. The flop brought
and Warne bet 2,500. Korman raised to 6,100 and Warne moved all in for around 20,000 chips according to Korman. No help on the turn or river and Warne was knocked out.
Korman wasn't done, because a few hands later he was at it again. Our new chip leader raised to 1,000 and the players to his left put in a three-bet. Former November Niner Steven Gee was next to act and moved all-in for 10,950. Korman called the shove and the three-bettor moved all in for the top for 20,050. Korman called once again creating a three-way showdown.
Korman:

Three-bettor:

Gee:
The board ran out
and Korman knocked out two more players! It's been an amazing level for Korman who's now atop the chip counts.
Tags: Sam Korman, Shane Warne, Steven Gee.
Chip Counts
Sam Korman
140,000
140,000
Steven Gee
Busted
Shane Warne
Busted
Comments
No comments yet. Be the first to post one!