Posted
01-14-2013 13:45 GMT-7
by
MrCleverFox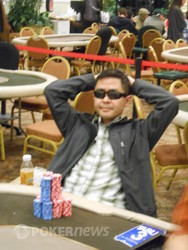 "Today's just not my day," is a classic line from Doug Lee, and it fits for what just happened to him.
Under the gun, Lee made it 60,000. From the button, Baptiste Chavaillaz made a reraise to 130,000. Action folded back to Lee who called.
Flop:
.
Action went check, check.
Turn:
.
Lee decided to bet out 130,000 here. Then Chavaillaz took little time to move all in for more than 1,000,000, covering Lee's stack. Lee stood up from his chair, collected himself, then announced, "Alright, I call."
Lee:

Chavaillaz:
Lee was ahead and just needed to fade a ten on the river. He fist pumped, excited he was ahead.
River:
That wasn't the right river for Lee, and it sent him right to the payout desk.
"That's brutal," he said after the hand. "At least I made the right call."
Lee collected $16,415 for his efforts at the Bike. Chavaillaz is now close to the chip lead with 2,400,000 chips.
Chip Counts
Baptiste Chavaillaz

2,400,000
617,000
Doug Lee

Busted
Tags: Doug Lee, Baptiste Chavaillaz.