Faisal Siddiqui Wins WSOPC Horseshoe Baltimore Main Event for $113,143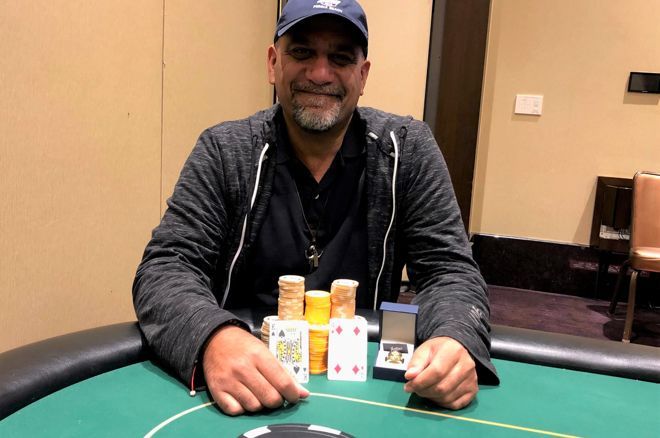 Table Of Contents
Faisal Siddiqui just became the latest Main Event Champion of the 2019/2020 World Series of Poker Circuit season. Siddiqui topped a field of 303 players to walk away with the Horseshoe Baltimore Main Event title, $113,143 and his first Circuit ring.
Siddiqui only plays poker as a hobby but he has multiple deep runs on his poker his resume. In fact, he got extremely close to claiming the title of this event in 2015 before breaking through in this one. Becoming a Circuit Main Event Champion meant much more to Siddiqui than the top prize and the ring.
"When the Circuit came to Horseshoe for the first time, I got second in the Main Event so it was very fulfilling to make the final table again, surpass that, and actually take it down," he told tournament reporters. "The thing that I find really exciting is that poker is a sport that allows us to play against the professionals. There is no other sport in the world that is like this. I also play golf. I could never beat Phil Mickelson at golf. But at the final table today, there were multiple pros, and I was able to beat them, which is a great feeling. It's not about the money; it's about playing the best in the world and coming out ahead."
It's not about the money; it's about playing the best in the world and coming out ahead."
Siddiqui had to navigate through a tough field to get to the finish line and the final table included multiple experienced Circuit grinders. However, Siddiqui never lost composure and focused on his performance. He started the final day second in chips and with the support of his family and friends, he was able to play his best game, and close it out.
"It was a great final table. All the players were really good, there were solid players. Initially I was a little overwhelmed but my friends supported me a lot and special shout-out to my friend John Gorsuch. He's been kind of coaching me and he guided me throughout. A lot of the messages that I was getting were: 'The others are equally afraid of you as you are of them.' That kind of helped me get into the right state of mind."
His family also helped take the pressure off. "Obviously the support of my family mattered a lot as well. They were telling me: 'Just go out there, have fun, and let it come to you.' Those two things really helped me and I was really relaxed throughout the final table, I didn't feel pressure at all, even when I went down in chips. If I haven't finished at the top I would have been fine with that. I just wanted to play good poker."
"Initially I was a little overwhelmed but my friends supported me a lot and special shout-out to my friend John Gorsuch."
The final table was fast-paced; Day 3 started with eight players remaining and within two levels, the field was whittled down to only three players. Siddiqui had played with most of his final table opponents throughout the tournament and being familiar with their games helped him pick his spots, as well as his strategy, throughout the final table. He was especially impressed with the play of two-time Circuit Main Event winner, Ryan Jones.
"Shout-out to Ryan [Jones]. He was at my table on the Day 1a flight and went down to six big blinds at Level 3. It was very admirable how he kept on going about playing right poker and letting things come his way. That was inspiring for me. When I lost a few chips, I decided to keep doing what he did, so playing with him I actually learned a lot. In the end it was bittersweet that I actually knocked him out."
Siddiqui had to defeat Joseph Malebranche to close it out and although they were extremely close in chips when the heads-up match started, it was all over within a couple of hands.
WSOP Circuit Baltimore Main Event Final Table Payouts
| Place | Player | Country | Prize |
| --- | --- | --- | --- |
| 1 | Faisal Siddiqui | United States | $113,143 |
| 2 | Joseph Malebranche | United States | $69,925 |
| 3 | Ryan Jones | United States | $49,810 |
| 4 | Michael Wang | United States | $36,089 |
| 5 | Shinya Shimada | Japan | $26,605 |
| 6 | Joseph Cashen | United States | $19,961 |
| 7 | Mark Redding | United States | $15,247 |
| 8 | Ryan Tamanini | United States | $11,860 |
| 9 | Chris Grove | United States | $9,399 |
Final Day's Action
Ryan Tamanini was the first elimination of the final day. After doubling Malebranche up in an all-in preflop situation, Tamanini was left short. A couple of hands later, he three-bet jammed his last twelve big blinds with eights and got called by Jones who held ace-queen suited. Jones made two pair ending Tamanini's run in eighth place.
Mark Redding was out next in seventh place. Redding three-bet shoved his last 18 big blinds with ace-nine and got called by Malebranche with sevens. Redding couldn't hit and that was it for his run.
Joseph Cashen hit the rail in sixth place. Cashen was in the big blind and exposed the ace of spades thinking he got a walk when in fact Jones had raised under the gun. Cashen said he was obviously calling and the floor stepped in and said the hand will be played with Cashen's ace of spades exposed.
Cashen check-called a bet from Jones on the flop and the turn was checked. But Cashen shoved the river with ace-high only to get snap-called by Jones who held a pair of aces and took him out of the tournament.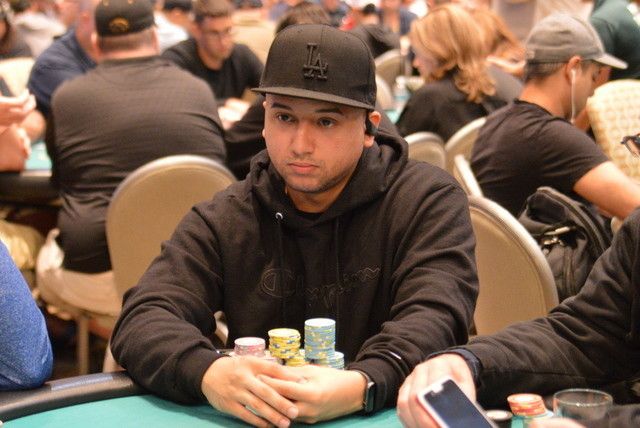 Shinya Shimada was Jones' next victim. Shimada three-bet shoved with ace-jack suited from the big blind and Jones called with ace-eight from the cutoff. Jones rivered trip eights to take down the pot and Shimada headed to the exit in fifth place.
Michael Wang headed to the payout desk in fourth. Wang lost a huge pot of 130 big blinds after losing a flip with ace-king against Siddiqui's queens. He was left with three big blinds and was eliminated the very next hand.
The three-handed portion of play lasted a few hours and Jones was eliminated in third place. Jones made two pair and raised all in on the river only to get called by Siddiqui who had a better two pair to send him out.
After losing multiple pots heads up, Malebranche was left with less than a big blind and was eliminated with ten-deuce when Siddiqui made trips with king-four.
WSOPC Horseshoe Baltimore Ring Winners
| Tournament | Entries | Prizepool | Player | Prize |
| --- | --- | --- | --- | --- |
| Event #1: $250 NLH | 152 | $69,500 | John Megahan | $8,054 |
| Event #2: $400 NLH | 545 | $250,000 | Patrick Lacey | $49,386 |
| $250 Seniors NLH | 121 | $24,200 | Bernard Maiden | $,6595 |
| Event #3: $400 NLH Turbo | 51 | $16,830 | Shizhe Zhou | $5,853 |
| Event #4: $400 NLH 8-Handed | 103 | $33,990 | Justin Liberto | $9,712 |
| $135 Ladies Event | 79 | $7,900 | Dorothy Adams | $2,444 |
| Event #5: $400 NLH 6-Handed | 101 | $33,330 | Michael Wang | $9,522 |
| Event #6: $600 Pot-Limit Omaha | 76 | $39,140 | Stan Yang | $12,112 |
| Event #7: $400 Monster Stack | 227 | $74,910 | AJ Kelsall | $17,730 |
| Event #8: $600 NLH | 103 | $53,045 | Michael Wang | $15,156 |
| Event #9: $1,700 Main Event | 303 | $500,000 | Faisal Siddiqui | $113,143 |
| Event #10: $400 NLH | 65 | $21,450 | Daniel Fox | $6,994 |
| Event #11: $400 NLH | 74 | $24,420 | Ryan Van Sanford | $7,557 |
| Event #12: $3,250 High Roller | 29 | $87,000 | Nick Verderamo | $34,730 |
| Event #13: $400 NLH Turbo | 92 | $30,360 | Lonnie Butler | $9,009 |
That wraps it up for the PokerNews coverage of the Main Event at Horseshoe Baltimore. Be sure to follow along as we bring live coverage from Rozvadov for the ongoing WSOP Europe festival.